Arthur Phillips appeared on The Bat Segundo Show #288.
Arthur Phillips is most recently the author of The Song is You.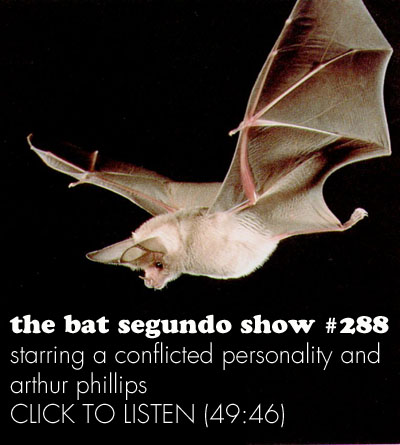 Condition of Mr. Segundo: Reconsidering the playlists and those who play him.
Author: Arthur Phillips
Subjects Discussed: Characters who are enslaved to culture, partisan positions in relation to hoarding facts, being in denial about larger arguments within novels, Nabokov's Lectures on Literature, aesthetic concerns, muses and playing against reader expectations, the myth of an author's personal connection, listening to headphones, ghosts and Jeopardy experiences gone awry, personal experience and lies within fiction, speculating on the specific conditions in which a man can be a muse, being a male model and a musician, the myth of writing what you know, getting excited about emotion, the distance required to contend with a fictive location, the wall between the personal and the artistic, the magic souffle, predicting 2009 weather in New York, reading time, the danger of boredom, William Gaddis's The Recognitions, outlines and improvisation, reinventing the wheel, the little changes within a manuscript vs. changing as a writer, the value of urgency, being a metaphorical roofer and upholsterer, Re-Flex's "The Politics of Dancing," and the crazy amounts of money one must pay to republish lyrics.
EXCERPT FROM SHOW: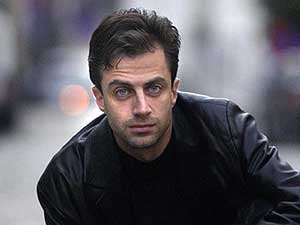 Correspondent: If we're talking about time, there's also the notion of reader's time. And as a stylist, you have some control over how frequently or how long or how short the reader's going to turn the page. When I read your book, I found numerous passages when I would slow down. And then when dialogue would bump up, particularly with the scenes with the cop, it then sped up.
Phillips: Right.
Correspondent: And so I'm curious. If time on a structural level was important, I'm curious if there was any importance you placed in terms of thinking of the reader and thinking of this notion of how fast the reader's going to turn the page?
Phillips: That's such a great question. And on one hand, I want to say, "Jeez, I wish I had more conscious — and I will vow in the future to have more conscious — understanding of those technical matters." On the other hand, it seems a little impossible to control. Well, not just a little. It's entirely impossible. I think any time you start getting into what does the reader or what does a reader expect, react to, experience, you're doomed. I mean, you're just — it can't be. If you have one or ten or a hundred or ten thousand or a hundred million readers, they're just different. And this is just so obvious that it's just not saying anything. But it says everything. Because if everybody's going to have a slightly different reaction, even taking a smaller subset of the people who "like" it, they're going to all have a different reaction. You can't plan for them. So the only reader that you can really have much planning for is yourself. At which point, I don't really have to think very consciously about "I need to speed it up here, I need to slow it down here." All I have is the feeling of "I'm bored." And so when I'm writing and I go back and I read the draft, I say, "Oh this is just — I'm just bored." Something has to happen here that is different from what's happening. Because I don't like it. And then at the end of it, when I've gone and I've done that twenty-five times, and I say, "I like the whole thing," then it's done.
Correspondent: Well, to deflate my own interlocutory souffle…
Phillips: (laughs)
Correspondent: I should point out that this may very well be the difference between having lots of dialogue and having lots of imagery. I guess the question here is how intuitive is it really. I mean, when you're getting lost in a long sentence, whether as a writer or even as a reader, you're going to be aware of the slowness. Or maybe you're lost in such a fugue state that there really is no sense of time.
Phillips: Right. I'm reading The Recognitions right now and…
Correspondent: First time?
Phillips: First time.
Correspondent: Oh wow.
Phillips: And I'm having all kinds of temporal feelings about that book as I work with it. There are times when I am lost in a fugue state, although not often enough for my taste. And often I'm feeling, "I think Gaddis was lost in a fugue state. And I just can't join him for some reason." I don't know that it's just images and dialogue. I think that you can have some very impenetrable, hard-to-wrestle-with dialogue. And actually that's what brings The Recognitions to mind. Because there are passages. Long passages.
Correspondent: The party scenes, I know.
Phillips: You know, there's a forty page party scene with almost nothing but dialogue. And you have to go, "Oh wait a minute. Is this the same person who four pages earlier was talking? And where is that in relation to the little girl asking for sleeping pills?" And all the rest of it. So it goes on and on. So you can have some very slow-moving dialogue. And actually I was thinking about Gaddis writing that in '55, and Nabokov in some period around the same time doing one of his customary unappealing little digs at novels that are all dialogue, and thinking, "I wonder if he read this, looked at it, had any feeling about this, would have included or excluded it from that grouping." Generally speaking, light dialogue goes faster than description or internal thought. But not necessarily, I guess is the short answer. I could have said "Not necessarily" about fifteen minutes ago.
Correspondent: (laughs) That's all right.
Phillips: There you go. Just cut it down to the dialogue.
BSS #288: Arthur Phillips (Download MP3)
This text will be replaced