Kathryn Schulz appeared on The Bat Segundo Show #339. Ms. Schulz is most recently the author of Being Wrong: Adventures in the Margin of Error.
Listen: Play in new window | Download
Condition of Mr. Segundo: Feeling wrong about whether or not he's right.
Author: Kathryn Schulz
Subjects Discussed: [List forthcoming]
EXCERPT FROM SHOW: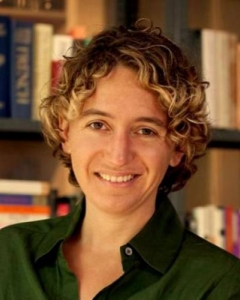 Correspondent: I wanted to first of all start off with Thomas Kuhn, who you bring up a few times. You note his observation that the breakdown of one belief system and the dawning of another is always characterized by an explosion of competing hypotheses. But he also argued that it was impossible to conduct science in the absence of a preexisting theory. This brings to mind the F. Scott Fitzgerald maxim that the sign of a first-rate intellectual is to be able to hold two opposing notions in the brain at the same time. How can the two opposing viewpoints viewpoint be reconciled with the Kuhnian viewpoint? Do you have any thoughts on this? Or is it really a matter of cognitive dissonance taking care of this problem?
Schulz: I don't know that those two things are at odds with each other. I suspect that Thomas Kuhn would have been very much in favor of Fitzgerald's notion that really sophisticated thinking involves the capacity to hold a belief while also being willing to entertain its antithesis, or entertaining evidence that potentially undermines it. And, of course, that's what practicing scientists — at least in theory — do all the time. Now in practice, is everyone always out there in their labs questioning their own theories? Probably not. But it is part of the ethos in science in general. And there's a political scientist I quite like named Philip Tetlock, who I cite in the book, who describes this kind of thinking as self-subversive thinking. Which is a phrase I really love. It's this notion that you can believe something and simultaneously have this undercurrent in your brain that's saying "Well, what if it's not true in this situation?" or "What if this part of it's right or that part of it's wrong?" or "What if the whole thing falls apart?" And to me, that is the sign. Fitzgerald got it right. That is the sign of sophisticated thinking. And unless I'm missing something, I think Kuhn would have supported that.
Correspondent: Yeah. Well, he believed in this kind of halfway house. Of having competing hypotheses. Or even just having some middle ground. Some transitional middle ground. That's why I ask the question of whether that middle ground is really reflective of the same Fitzgeraldian viewpoint.
Schulz: Right. I think one distinction is whether you're talking about an individual person or a system. And I think what Kuhn was getting at was that when you have a scientific paradigm collapse. Like let's say that we think that the sun revolves around the earth. And suddenly there's a lot of challenges to that. And we start seeing some counter-evidence. Then there's this exciting, but also panicky air where everybody is generating new theories to account for this evidence that doesn't seem to make sense under the old theory. And so you have a whole system that's in crisis and is generating new theories. And then you're exactly right. You shift the pedals down. And you arrive at one that new established theory. And I do think that that's how systems work. Whether it's science or, for that matter, book publishing. Book publishing is in the middle of a Kuhnian paradigm crisis right now. Where we have an old model. we don't know what the new model is. And in the meantime, there's a million competing hypotheses. But within any given individual, I still think that you can hold a belief. And if you are a sophisticated thinker, undermine it, question it, and challenge it in all these ways.
Correspondent: I want to shift tacks and bring up the case of Penny Beerntsen, who you bring up in the book. She was absolutely insistent that Steven Avery had raped and assaulted her. DNA testing demonstrated that Avery was innocent. Then Avery got out of jail and proceeded to murder Teresa Halbach in 2005, the first and only time in the history of the Innocence Project that an exoneree has gone on to commit a violent crime. Penny though, which is a very interesting case — despite the assault, the misidentification, the murder trifecta – she was able to accept the objective evidence of Avery being innocent in relation to her, but guilty in relation to this other woman. What do you think factors into account for that fixed belief? Of being able to look upon the scenario with some objective quality? Is it a matter of having gone through the act of denial? Do you have any particular speculation? Or does it go back to this Kuhnian idea? That once she had gone through the bridge, she was able to reconcile the truth, so to speak. She was not wrong.
Schulz: Well, a couple of things. I mean, first, I will say that having spent quite a lot of time with Penny Beerntsen to get this story out of her and hear all the details, she impressed me as someone who is exceptionally, exceptionally thoughtful about wrongness. And in that respect, could be, probably should be a role model for all of us. And then I think the underlying question is, the one that I assume you're getting at, is that, well, why? What is it that makes her so able to be responsive in the face of shifting evidence? Because it's very, very hard to do. Especially in a situation where the stakes are so high, so emotional, so personal. And I asked her that question straight up. You know, how is that when so many people around you were unable to face this evidence — and for that matter, when so many people are unable to face very trivial instances in coping with wrongness — what do you think it is about you that made you able to do this? And it was obviously something she'd thought about a lot, and didn't have a completely clear answer. In part because personalities are so complicated. And at the bottom of what's going on, it has something to do with her personality. But one thing she said that was very interesting was that she had spent many years between her assault and Steven Avery's exoneration working in the prison system. She essentially decided to take the horrible experience that had happened to her and tried to heal herself and other people by working with violent criminals and try and help them understand the impact of their crimes on their victims and on their communities, and really work within a rehabilitation law of criminal justice. So she spent years and years and years talking to people about facing up to being wrong. And I think that she ultimately felt like her turn came. And she could not fail to practice what she had preached.
The Bat Segundo Show #339: Kathryn Schulz (Download MP3)
This text will be replaced