Steven Greenhouse appeared on The Bat Segundo Show #213. He is the New York Times labor reporter and the author of The Big Squeeze. My review of the book can be found here.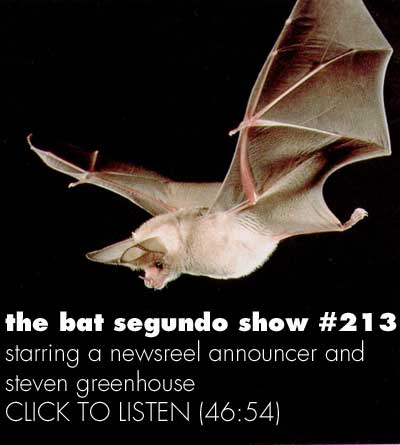 Condition of the Show: Reporting upon the darker truths of America.
Author: Steven Greenhouse
Subjects Discussed: Whether economic factors of the 1970s or Eleanor Roosevelt's famous maxim caused the current strife between corporations and workers, the social contract that came from 20th century labor negotiations, why workers settle for less, temps exploited by HP, being treated like dirt, mock memos circulated to cope with downsizing, The Office, why workers aren't revolting, Bowling Alone, The Pursuit of Loneliness, how what we do for fun has transformed in the past few decades, the worker-friendly company policies of Patagonia, prodigious cafeteria options for workers, the shocking disparity of parental leave policies in different nations, tracking the lunch hours of workers, computers vs. martinet managers, call center workers, workers who slack off vs. a robust economy, Cooperative Home Care Associates and the benefits of workers on the board of directors, independent contractors, job security, the New York Times hiring freeze, Neutron Jack Welch, The Disposable American, companies who display "too much loyalty" to workers, workers who "get used to" hard and immoral company tactics, climbing the Wal-Mart ladder, the workplace as a cult, unrealistic American dreams, billable hours, the allure of promotion, Greenhouse's proposed solutions, and a living minimum wage.
EXCERPT FROM SHOW: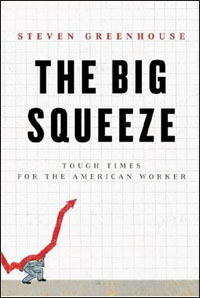 Correspondent: Look at Jennifer Miller, who is this woman who worked at HP for ten years. She didn't have to work as a temp for that long. She could have easily cut out. She could have gone and demanded more from the HP managers. So I would argue that the workers who have allowed themselves to be placed in these particular conditions are perhaps just as responsible as these businesses and these corporations that are trying to squeeze out more profits and also trying to combat the influx of low-cost imports.
Greenhouse: Again, Ed, you ask a good question, and it's hard to say. Jennifer Miller was a worker at HP. High school graduate. Very little college. She started as a McDonald's worker. She became a McDonald's manager. She got tired of that. Then she got a permanent job at HP. That job was sent overseas. So she was kind of bought out. Then a few months later, she was approached. "How would you like to return to HP as a temp?" She thought it was going to be a two-month gig. And as I explained in the book, she was there for ten years as a temp. She said that the job was good. It used a lot of advanced skills. She was often treated with respect, but she said the bad thing was she was a temp and didn't get the same benefits as HP workers. She didn't quite get the respect. So you ask why didn't she quit?
Correspondent: And I should point out that she was even barred from the company parties. I mean, this is a key indicator. In my view, I would say, "Well to hell with this. I'm going to find someone who I can be on staff with."
Greenhouse: It wasn't just she. But all temps were barred from the company — you know, they might create a wonderful new piece of software, created a wonderful printer, and all the regular permanent employees could go to the party and celebrate and go for the two-day ski holiday to celebrate. But the temps who work alongside the regular workers in a crazy situation, they weren't invited to the parties. So yeah, for someone like Jennifer, there was some eating humble pie there. So the question is why didn't she quit? She said, "For me, Jennifer Miller, a mere high-school graduate living in Idaho, that was a terrific job. I was making $30 an hour. I was really using my brain. I was often working alongside terrific people. Sort of semi, somewhat treated as an equal. But on the other hand, no." And she said, considering what else was out there, going back to McDonald's working as a manager, which isn't such a bad job, but she said working at HP as a temp was better. Her argument was HP was good in many ways, but there was this one big negative. That she was treated as a temp.

BSS #213: Steven Greenhouse
[ 46:55 ]
Play Now
|
Play in Popup
|
Download