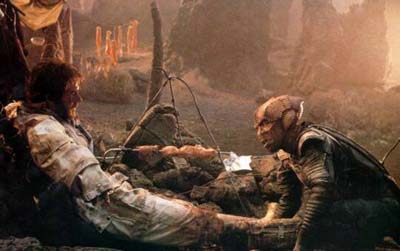 My review of The Reel Stuff, an anthology of horror and speculative tales turned into Hollywood films edited by Brian Thomsen and Martin H. Greenberg, appears in today's Los Angeles Times. In addition to the reading (in most cases, rereading) I had to do for the review, I watched many films: hence, the crazed kudos for Candyman posted at some ungodly hour not long ago.
Johnny Mnemonic had the consolation of some unintentionally hilarious moments and Screamers was a hoot, complete with a distinguished Canadian actor licking a knife and scowling, "It's never sharp enough."
But the worst film of the bunch was Enemy Mine. I hadn't seen the film in almost two decades, but time had not been kind. Its failure, however, had less to do with its sweeping production value (even with the visible matte lines) and more to do with its almost total bastardization of Barry Longyear's Hugo and Award-winning novella. Aside from changing the book's ending to include a literal mine (did they really think the audiences were that dumb?), screenwriter Edward Khmara and director Wolfgang Petersen placed less emphasis on Davidge's unexpected role as surrogate father, introduced over-the-top meteor showers, and otherwise muted the novella's themes of war and camaraderie. There is even a terrible moment in which Pepsi product placement gets Dennis Quaid excited.
Longyear's novella was collected in a handsome book put out by White Wolf called The Enemy Papers, which also featured two other stories, "The Last Enemy" and "The Tomorrow Testament," set in the same universe. But this went out of print. Thankfully, the book is also available through Back in Print. Longyear also has a website and an interesting history.