For his most recent project, Jonathan Ames collaborated with friend and artist Dean Haspiel for The Alcoholic, a graphic novel in which a character named "Jonathan A.," who bears more than a few physical and character similarities to Jonathan Ames, is depicted in various alcoholic, sexual, and relationship states. To clear up some of the many staggering questions which emerged during my reading of the graphic novel, I emailed Mr. Haspiel five unusual questions. Mr. Haspiel graciously consented to answer these queries. The results are posted here for the benefit of future scholars.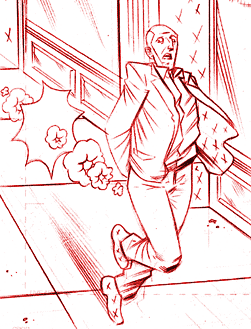 Word on the street is that Mr. Ames wrote the bulk of his script at your place. To what degree did you indoctrinate Mr. Ames with comics? Did he come up with any of the paneling and art ideas (such as the frequent head splitting)? (I think of the mice snorting coke at the bar, which is something of a nod to Spiegelman.) Or, like your work with Harvey Pekar, did he defer most of this to you? Was Mr. Ames's continued proximity to your drawing table of benefit to you in brainstorming ideas? Were there situations in which you would quickly sketch out an idea and Mr. Ames would run with it?
Jonathan has written screenplays and is familiar with writing for a visual medium and he wrote the entire script for The Alcoholic far away from my art table. The script he delivered had clear descriptions of what he wanted me to draw while allowing me the collaborative leeway to visually design and interpret portions of the story to befit my comic book sensibilities. To use your example, I designed the head splitting shots [a classic comix trope] while Jonathan wrote the snorting cocaine rats. Ultimately, The Alcoholic was a great collaboration between two like-minded auteurs who also happen to be great friends.
Jonathan A. shares striking physical similarities to Jonathan Ames. And this is also very evident in the artwork, where the parties and events you depict are 80-90% similar to their real-life counterparts. To what degree did you rely upon reference? And visually speaking, did you and Mr. Ames establish any specific ground rules on how this graphic novel blurred from the truth?
Cartooning is all about shortcuts and, like Dick Tracy's Rogues Gallery where every villain looks like their name, it's a cartoonists job to exaggerate features and with Jonathan, whom we based the protagonist's likeness on, I was fortunate to have his aquiline nose and his receding hairline to define the characters "face." And, since The Alcoholic spans the protagonists childhood to adulthood, I relied heavily on that nose. As for the rest of the supporting cast [except for Bill Clinton and Monica Lewinsky], I drew characters based on my studio mates and friends and/or actors that Jonathan suggested. Some of the sex scenes were fun to draw because I got my girlfriend to pose with me for the "sake of making art."
There is one tragic moment on page 46, in which Jonathan A. falls asleep naked in a trash can. Did you persuade Mr. Ames to pose in any way for this? Or was it necessary to recruit another figure to recreate these sordid conditions? What lengths were you and Mr. Ames willing to go in the interests of verisimilitude?
I didn't have the guts to ask Jonathan if this event actually happened to him and if he would pose for me. So, I asked my studio mate, Tim Hamilton, to pose for me and it was the best time he had in a garbage can in years. In general, I don't use much photographic reference for the figures in my comix — I make most of it up. However, Jonathan furnished me with a bunch of photographs from his past to present and that helped me make iconic the lead character.
There are many instances in which the positioning of figures demonstrates developments over time. On Page 20, we see two panels: Jonathan A.'s girlfriend replaced by Jonathan A. himself, and young Jonathan replaced by the old woman. On Page 75, we see Jonathan A. in November 2000 and February 2001 waiting for San Francisco to call back. But not only has Jonathan A. sunken, but his drawer is slightly open, with socks and underwear sticking out. In changing the illustrative details ever so slightly, the panels are both static and slightly dynamic. Are slight changes along these lines what comics and graphic novels need to matter? To what extent was this a case of you wanting to shake things up so that you wouldn't get bored drawing the same panels over and over?
Sometimes I draw action adventure [as seen in my Billy Dogma webcomix] and sometimes I draw semi-autobio situations [as seen in my Street Code webcomic and in my collaborations with Harvey Pekar]. Luckily, working with Jonathan, he made sure I would draw action to compliment the mundane. Because real-life yields less adventure than we'd probably like to admit, characters are often talking to each other in a room, on the street, and/or on the phone when they're not escaping from horny geriatric dwarves or experiencing a diarrhea explosion in their pants on the streets of France. It's the artists challenge to help contextualize action, no matter how mundane, and make it look damned interesting on the comic book page or the reader is left with a series of talking heads reacting to one another and that can get boring to look at.
On Page 120, there is a panel of Jonathan A. swimming that rather disturbingly resembles David Duchovny in Playing God. Mr. Duchovny, of course, is now known for his portrayal of a fucked up writer who drinks and sleeps with women on the Showtime television series, Californication. Rather interestingly, there are billboards now depicting Mr. Duchovny standing on the bottom of a swimming pool. And Mr. Ames has indeed worked with Showtime. I am now becoming slightly concerned that there is perhaps a conspiracy that currently involves Mr. Ames, Showtime, and Mr. Duchovny, and that you have perhaps unwittingly been ensnared within the plot. Are you aware of such a cabal? Did Mr. Ames brief you in any way about any connection? Did Showtime or Mr. Duchovny control your mind at any point?
Seriously?