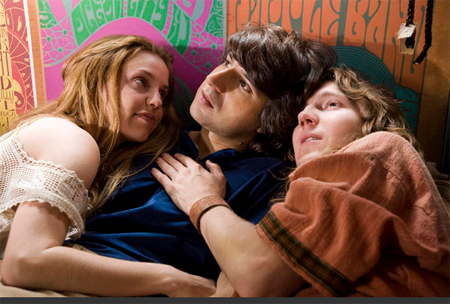 The realities were already fixed; the illness was understood to be terminal, and the energies of The Movement were long since dissipated by the rush to self-preservation. — Hunter S. Thompson, Fear and Loathing in Las Vegas (1971)
Altamont's fixed realities are thankfully mentioned at the end of Taking Woodstock, when organizer Michael Lang, portrayed here by Jonathan Groff as a perpetually calm Brian May type, mentions "a truly free concert" in the making that involves the Rolling Stones. Exciting stuff. If only Meredith Hunter had been around to lodge a protest. (Or perhaps he's the unnamed man seen checking into a motel with a white woman.) But Ang Lee's film is less concerned with this corruption (although it does thankfully suggests that everybody listens to money). Lee is more interested in how people of all types — Jewish motel owners, the dutiful farmer and local chocolate milk magnate Max Yasgur, acidheads busing across the nation, theatrical performers fond of Happenings and disrobing, a Vietnam vet, a transvestite amusingly played by Liev Schreiber — came together in a anarchic haze to slide in the mud, listen to distant music, and kiss random strangers. Good times. But, as it turns out, the possibilities for unity were there all along. For before the Woodstock organizers roll into Bethel, New York, Eliot Tiber (both in real life and in this movie) was the president of the local Chamber of Commerce, patiently stamping permits and listening to wily eleventh-hour interlopers. And what makes the Bethel diner any different than Yasgur's rented farmland as an amicable place for congregation?
The film actually shares much in common with Thomas Pynchon's latest novel, Inherent Vice: an accessible mainstream story, streaks of subdued and audience-friendly eccentricity, a meticulous concern for landscape, and a celebration of misfit life just before its destruction by "progress" (for Pynchon, it's the toxic qualities of the information age; for Lee and screenwriter James Schamus, it's the transformation of free love advocates into avaricious capitalists). While Lee and Pynchon approach their respective canvases from two close but different time periods (and from two different coasts), I came away from both works with similar populist-minded emotions. I was greatly delighted to see so many perspectives united through a common mass experience, but very much aware that this is a harder reality in an age where careers can end with the judgmental spread of a sound bite. (Rebecca Solnit's fascinating new book, A Paradise Built in Hell, offers the argument that disaster is now the only way for disparate souls to band together, although both Lee and Pynchon make persuasive cases that passing along a roach might get some of the stiffs to expand their horizons — a sentiment I don't entirely disagree with.)
What happened to America's generous capacity to accept its freaks? Or to embrace those gritty human qualities nestled inside steely opportunistic hulls? It can't just be Thompson's self-preservation that lopped off the liberal and attentive ear. But these are questions worth asking four decades after Woodstock's inadvertently free event altered the cultural landscape. Lacking a chewy antagonist like Bigfoot Bjornsen (the cop in Inherent Vice who shares more in common with the libertine detective Doc Sportello), Lee and Schamus have shifted the conflict inwards to the Teichberg family, the managers of the El Monaco. But the Teichbergs are as stiff as dimensionless characters come until the brownies arrive. Imelda Staunton is given a Jewish stereotype. She runs around the hotel screaming at people, muttering Yiddish curses, and, in one terrible Shylock-like moment, is seen clinging to a stash of money in the closet. Surely the real Sonia Teichberg had more depth.
But maybe these skeletal characters represent part of the point. With Woodstock around, we all become insignificant. And, for what it's worth, Lee gets decent performances out of the actors who count. As Eliot Tiber, Demetri Martin manages to evince an appealing boyishness that matches his efforts to win the town over and his repressed sexuality. Eugene Levy is an inspired casting choice as Yasgur, particularly because Lee allows Levy to play the role straight. Dan Fogler, who I last saw in Fanboys, again shows great energy as a character actor. It's too bad the women here have been given very little. Surely, Woodstock was a two-gender affair. (And certainly this film features at least one free-form ménage à trois. They didn't call it free love for nothing, although it would be interesting to see Chris Anderson plagiarize a book on the subject.) And it's too bad that Emile (Speed Racer) Hirsch is unconvincing (and often laughably bad) as the aforementioned Vietnam vet.
Speaking of Hirsch, his presence here offers a sensible reminder that he also appeared in Gus Van Sant's Milk. And like that audience-friendly Trojan horse, Taking Woodstock does succeed very well in recapturing Woodstock's innocence and making you believe in human possibilities. "Hey, don't lose that creativity, man," says a character to Tiber, after he suggests an out-of-the-box solution . But he may as well be addressing the audience. Later in the film, after news of the hippie influx has made the rounds, Tiber finds himself unable to order "the usual" from the diner forming the Bethel social center. But the entire town hasn't quite turned against him. Happy entrepreneurs rush up to Tiber and thank him. Is capitalism then just as much of a galvanizing force as the Woodstock ideology? It would seem so. Michael Lang pays everyone in cash, bundled in brown bags of money. "$1 for water?" says Tiber's dad upon encountering some pre-bottled water entrepreneur. "Can you believe it?" (Just imagine if he'd encountered the inflated prices in the Coachella desert.)
The film then, despite being a crowd-pleaser, isn't afraid to focus on the Movement's dissipated energies. And while Taking Woodstock may come bundled with supporting characters who contribute little to the narrative, as well as annoying split-screen homages to the Michael Wadleigh film, there's a marvelous shot — which reminded me of the famous traffic scene from Godard's Weekend — in which Tiber heads down a jampacked Bethel street (courtesy of a motorcycle lift from a friendly cop) past a man carrying a sign BOB DYLAN PLEASE SHOW UP, bra-burners, war protestors, a booth with a sign reading MAKE YOUR OWN SANDWICH, and much more. Today, when such people gather together for an arts festival or a political rally, there is generally some snarky photographer who wants to snap pix and post the results on Flickr for others to ridicule. But presented within this context, only a mirthless asshole would fail to see the wonder of so many types together.
Lee's made a film that, like The Ice Storm, succeeds in getting us beyond our present historical reference point and reconsidering some of the virtues we abandoned in the past. And maybe the energies of self-preservation will be dissipated by the rush to collective understanding. Yes, that's a Utopian ideal. But, as Oscar Wilde once said, a map of the world that does not include Utopia is not even worth glancing at.