When Sony announced that it would be remaking the rightly beloved 1984 Ghostbusters movie, with women wearing the proton packs and Bridesmaids's Paul Feig on board to direct, you didn't have to look too hard at the galleon being craned up for a retrofit to see the unsavory barnacles of terrified white manboys clutching onto the hull for dear life. Fan entitlement, long rooted in a patriarchal sense of childhood nostalgia that the Daily Beast's Arthur Chu shrewdly pinpointed as "'pickup artist' snake oil — started by nerdy guys, for nerdy guys — filled with techniques to manipulate, pressure and in some cases outright assault women to get what they want," once again failed to do a little soul-searching and reflection on what its inflexible stance against the natural evolution of art truly means.
Just as some vocal fans protested the excellent film Mad Max: Fury Road for being "a piece of American culture ruined and rewritten right in front of their eyes," the Ghostbusters absolutists knew that the studios wanted their dollars and that they could still get away with voicing their reactionary sentiments through the same cowardly anonymity that allowed Donald Trump to emerge as presidential candidate.
Much as a "silent majority" had propped up Trump under the illusion that a billionaire's outspoken sexism and bigotry somehow represented an anti-establishment "candidate like we've never seen before," these fans downvoted the new Ghostbusters trailer in droves when it was released online in April. One month later, a smug bespectacled mansplainer by the name of James Rolfe put a human face to this underlying sexism, posting a video (viewed by nearly two million), shot in what appeared to be a creepily appropriate basement, in which he vowed not to review the new remake:
You know what everybody's been calling it? The female Ghostbusters. I hear that all the time. The female Ghostbusters. Does that mean we have to call the old one the male Ghostbusters? It doesn't matter. But I can't blame everybody for identifying that way. Because there's no other way to identify the movies. There's no other name for it.
Maybe you'd view movies this way if you'd spent a lifetime refusing to live with your shortcomings, carving the likenesses of Stallone and Schwarzenegger onto your own personal Mount Rushmore when not ordering vacuum devices or getting easily duped by Cialis scams. But the crazed notion that gender isn't just the first way to identify a remake, but the only way to do so, speaks to a disturbing cultural epidemic that must be swiftly remedied by more movies and television starring women in smart and active roles, unsullied by the sexualized gaze of a pornographic oaf like James Rolfe.
It's worth observing that Sony — a multinational corporation; not the National Organization of Women, lest we forget — had been in talks with the Russo Brothers well before Feig for an all-male remake, a fact also confirmed in a leaked email from Hannah Minghella. The Hollywood machine only cares about gender parity when it is profitable. It continues to promulgate superhero movie posters that are demeaning to women. It erects large outdoor ads flaunting violence against women. (Deadline Hollywood reported that the infamous X-Men Apocalypse ad featuring Mystique in a chokehold was approved by a top female executive at 20th Century Fox.) And when the studios do flirt with "feminist" blockbusters — such as Zack Snyder's Sucker Punch — the results are dismayingly objectifying.
Despite all this, I entered the press screening of the Ghostbusters remake with an open mind and the faint hope that there could be at least a few baby steps towards the game-changing blockbuster that America so desperately needs to redress these many wrongs.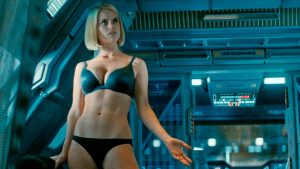 I'm pleased to report that the new Ghostbusters movie does give us somewhat reasonable depictions of women as scrappy scientists, at least for a mainstream movie. The film is refreshingly devoid of Faustian feminist bargains such as Sandra Bullock floating around in her underwear in Gravity or Dr. Carol Marcus flaunting her flesh in Star Trek: Into Darkness. We are introduced to Erin Gilbert (Kristen Wiig) practicing a lecture in an empty Colubmbia University classroom, having to contend with an embarrassing pro-ghost book (Ghosts from Our Past: Both Literally and Figuratively) that she co-wrote years before with her friend and academic peer, Abby Yates (played with the expected enjoyable verve by Melissa McCarthy). Erin, who dresses in wonderfully dorky plaid suits that the dean cavils about, is up for tenure and is understandably queasy about anything that stands in the way of her reputation. Leslie Jones plays Patty Tolan, an MTA inspector with a necklace telegraphing her name who serves as a counterpart to Winston from the original film, and has far more scenes to establish her character than poor Ernie Hudson ever did. Screenwriters Katie Dippold and Feig deserve credit for making Patty more than a token African-American, active enough to ensconce herself with the founding trio and provide some New York know-how in a way that Winston, confined to "Do you believe in God?" car banter and doing what he was told, never quite received in the original.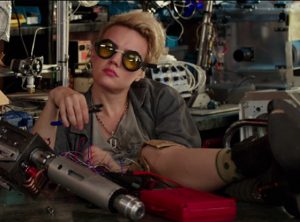 The sole disappointment among the new quartet is Kate McKinnon as weapons expert Jillian Holtzmann. McKinnon mugs artlessly throughout the film, almost as if she's channeling William Shatner or Jim Carrey at their worst, too smitten with an impressionist's toolbox of overly eccentric tics. While McKinnon's performances have worked in five minute doses (especially in her very funny impressions of Hillary Clinton on Saturday Night Live), this is not an approach that is especially suited for ensemble work on an IMAX screen. McKinnon quavers her bottom lip and enters each shot with a distracting "funny" walk that contributes nothing whatsoever to her character or the scene. The effect is that of an actor exceedingly ungenerous to her colleagues, one that not even the continuity person can track. (Jillian's glasses disappear and reappear several times during any given scene.)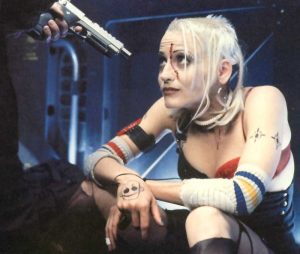 McKinnon seems to be doing a caffeinated and charmless impression of Lori Petty from Tank Girl. She's a terrible stage hog throughout the film, whether by her own choice or by Feig's design. Even accounting for the script supervisor's absenteeism, one gets the suspicion it's more of the latter, perhaps shoehorned into this movie because of a studio note. How else can one explain an early moment in the film where McKinnon stands passive before a ghost and says, "You try saying no to these salty parabolas" while chomping potato chips? This line, which sounded more like bottom-of-the-barrel Madison Avenue than a honed sentence written by Parks and Recreation alumni, justifiably did not get much of a laugh, not even among the ringers who were planted in the middle rows at the screening I attended. And when your source text has indelible lines like "Back off, man, I'm a scientist" and "You….you've earned it," it's probably best to work interactive human behavior rather than commentary upon a snack.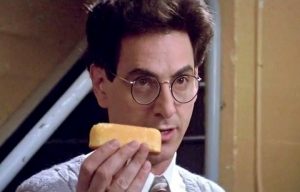 I've long maintained a loose theory that you can tell a lot about a comedy movie by the way it refers to food. Weird Al Yankovic's gloriously underappreciated UHF celebrates its benign strangeness with a Twinkie wiener sandwich (and the original Ghostbusters, of course, features Harold Ramis holding up a Twinkie with some class). Zoolander revels in its splashy flash with an orange mocha frappuccino. Shaun of the Dead features a completely invented snack called Hog Lumps, suggesting the mad invention pulled from cultural reference.
The Ghostbusters remake features a tired repeat gag of Abby constantly complaining about the lunch delivery man not including enough wontons in her soup. And there's really no better metaphor to pinpoint what's so wrong about this movie. Because while I loved 75% of the ladies here (and grew to tolerate McKinnon's annoyingly spastic presence as the film went on), there weren't enough dependable wontons floating in this movie. Not the dialogue, which isn't as sharp and snappy as it needs to be. Not the generic CGI look of the ghosts (including Slimer), which can't top the organic librarian and taxi driver in the original film. Not the story of a bellhop who hopes to unleash a torrent of trapped spirits into New York (although this is better than Ghostbusters II's river of slime). And based on the exasperated sighs and silence I heard around me, I wasn't the only one. It says something, I think, that the Ghostbusters end up fighting a giant version of their own logo at one point.
I really believe that there's a very smart story buried somewhere within this somewhat pleasing, if not altogether funny, offering. For example, Dippold and Feig have replaced the original film's EPA as meddlesome government entity with the Department of Homeland Security, which wants the nation to believe that the Ghostbusters are cranks. This is an interesting and timely premise to pursue in a reboot made in a surveillance and smartphone age. (Indeed, there's even an appropriate selfie stick gag halfway through the film.) It's moments like this where the Ghostbusters remake wins back your trust after a clunky moment. But there comes a point when the movie decides to throw its hands in the air, becoming yet another loud, boring, and predictable romp featuring the destruction of Manhattan. Again?
And there are cameos. Annoying, purposeless, time-sucking cameos from the surviving members of the original Ghostbusters cast. This not only adds needless bulk to the story, but it isn't especially fair to the new cast trying to establish themselves, especially in a movie that is already on somewhat shaky ground. Bill Murray as a famous debunker is the only cameo that is fun (and it also buttresses the film's half-hearted exploration into belief). But instead of confining Murray to a walk-on role, the filmmakers have Murray show up at Ghostbusters HQ (a Chinese restaurant instead of a firehouse), where one can't help but be reminded of the original's considerable strengths.
Feig and his collaborators have forgotten what made the first film become a classic. It was the funny human touches of Rick Moranis parroting William Atherton's pointing as Louis was possessed by Vinz Clortho or Bill Murray wincing as he opened up the lid of Dana's leftovers or Janine peering around a partition in the back (a shot repeated in the remake, but with tighter focus and less art and subtlety) as Venkman and Walter Peck squared off at the firehouse. There simply isn't enough of this in the remake. Today's filmmakers — even somewhat decent ones like Feig — seem to have turned their backs on why we identify with characters and why we go to the movies. And who the hell needs to pay a babysitter and bust out the credit card for a far too large tub of popcorn when there are far more interesting characters on television?
I want to be clear that I am not here to write a hit piece. This remake isn't awful in the way that Ghostbusters II was, but it's far from great in the way the original film was. This should have been a groundbreaking motion picture. It damn well needed to be to beat back the James Rolfes and the Gamergate trolls and any other boneheaded atavist with a keyboard and an Internet connection.
We sometimes have to vote for compromise candidates in two party political races. But when the summer gives us several dozen blockbusters to choose from, is the half-hearted Ghostbusters remake really the progressive-minded movie we should accept? Is an incremental step forward in mass culture enough to be happy with? Or should we demand more? I've thought about this for the past few days and I've increasingly come around to believing that audiences — and women in particular — deserve far better soup and a hell of a lot more wontons.