If you are a podcaster, do not use Podbean. This rapacious company of dishonorable thieves is now arbitrarily altering the terms of their business arrangements with producers without even bothering to notify them. Podbean is now gouging podcast listeners, asking them to pay for content with a custom currency called "beans" even when the arrangement between producer and listener never called for this. This is not only predatory and unethical, but it also hurts the ability of independent audio producers to maintain good will with their audience and recoup production costs. For producers who have taken great care to conduct their business with unimpeachable honor, this unannounced shift makes them appear like penny-ante predators. At a time in which Apple has introduced a special Podcast Subscriptions so that creators and producers can get paid for their labor, it's pretty clear that Podbean would prefer to decimate any good will established with producers in a desperate effort to survive as a company.
I run an audio drama called The Gray Area. For the second season, I put three years of my life and thousands of dollars (to ensure that all of my actors were promptly paid; I literally paid them cash the very minute that a recording session ended) to make this independent production happen. My strategy to recoup some of my investment (while also keeping the show free) was to include a premium channel at a reasonable and affordable price point — something akin to a DVD loaded with special features — whereby a supporter of my show could get early access to episodes, copies of the scripts, and special behind-the-scenes interviews and commentaries for each episode.
In 2020, I did serious research on the companies that could make the premium channel happen. And Podbean shot to the top of the list. As a fan of supporting small businesses, I liked that they seemed a little scrappy. Podbean felt like the mom-and-pop shop that would be a perfectly aligned ally to an independent producer. I had amicable and detailed telephone conversations and email exchanges. And the people at Podbean ensured me that I could carry on a business arrangement whereby a supporter of my show would pay a flat fee of $20 and have indefinite access to the premium feed. I was perfectly happy with this arrangement and appreciated the way that Podbean swiftly answered all of my questions.
My original marketing plan was to build up listenership (and thus paid subscribers) through in-person relationships and events — largely because I recognized that I was better at turning people into regular listeners in real life. This strategy, of course, was completely uprooted by the pandemic. Since none of us had any idea how long the pandemic would last, I decided to take the financial hit, finish editing, and release the nineteen Season 2 episodes in three tranches: Phase I, Phase II, and Phase III. I released the first two phases last year and did not experience any problems with Podbean. I heard from many fans of the show who were struggling during the pandemic and who apologized that they didn't have the $20, but who pledged that they would support my show when I reached Phase III. "No problem," I replied. "I'm a working stiff who's barely getting by myself."
Then, after many painstaking months of lapidary labor, I reached a point in the last week where I finally had a release date for Phase III. (June 22nd, to be precise.)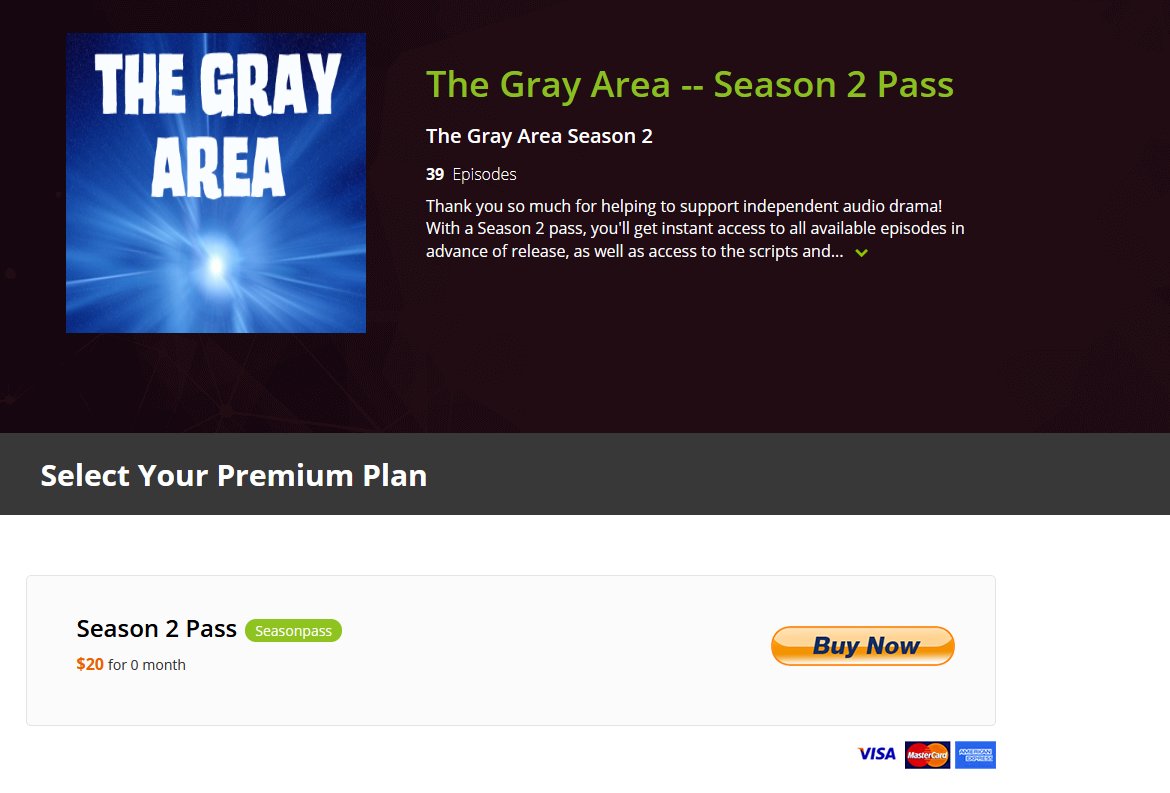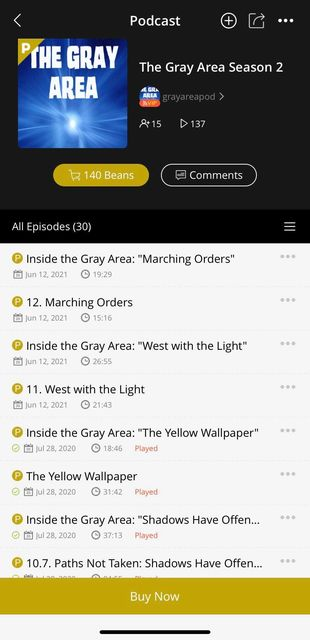 I released the first two sets (episode, behind-the-scenes, and script) to Podbean and alerted my audience. Much to my shock, my subscribers wrote back to me, informing me that they were being asked to pay "beans" for the new content — despite the fact that my premium channel points out that it's a one-time $20 fee.
I was stunned and angered by this betrayal. Three years of work on a well-received audio drama that had won awards and this was what I got? I contacted Podbean, but they refused to remedy this. I didn't even have access to a list of my subscribers through the Podbean dashboard. (Presumably, Podbean keeps this list secret so that it can clandestinely ask for more money so that you'll never know about it.)
I had already done some promotion alerting people to my Podbean feed. But now my Podbean feed is useless. Podbean won't fix it. Because if Podbean is going to shift the payment structure secretly like this, what's to stop them from doing this again? CEO David Xu may have all the coding skills in the world, but, when it comes to customer service and sustaining relationships with producers, he's as much of a shady swindler and a vulpine grifter as any dimebag capitalist.
Unless you enjoy being on the receiving end of zooerastic treachery, I strongly urge you to not use Podbean as a premium channel host. It's not only clear that these duplicitous bozos are not ready for prime time. It's clear that they're very keen on fleecing and dishonoring you by any means necessary.