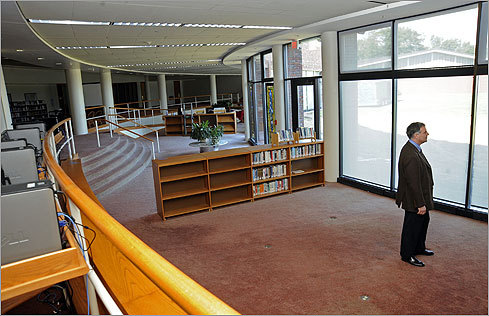 Dear Comrades:
James Tracy, headmaster of Cushing Academy, has a vision. While the academy has acquired a library of some 200,000 volumes over its 144-year history, Mr. Tracy believes that the future is digital. There is no need for the books.
To those who would deny the human species these bold and seemingly thoughtless steps forward in the name of progress, I submit that James Tracy is only scratching the surface. As someone who has been recognized by Wikipedia as "an expert in digital transition," I have assembled a Committee to examine the purpose of James Tracy. The Committee has spent several hours paying continuous partial attention. It has illegally downloaded torrents, played several rounds of Left 4 Dead, and studied Mr. Tracy's present life and sinecure. We are experts here. More importantly, we are correct. Do not argue with us. The Committee has multitasked and, in so doing, determined many viable solutions to the James Tracy problem. After some thought, we have concluded that there are presently very few reasons for the analog unit known as James Tracy to continue inhabiting this planet in his present form. We propose the following digital augmentations:
1. The removal of Mr. Tracy's penis: The penis has served humanity quite well for thousands of years. But when I look upon the penis today, I see an outdated technology. I don't wish to discourage Mr. Tracy from fucking his wife, if that is his choice. But this is an outdated form of sexuality. And our conversations with Mrs. Tracy, which were conducted in a sleazy motel room, indicate that she too is hoping to march forward with new digital possibilities. Moreover, there is a considerable hypocrisy to Mr. Tracy removing outdated books from the Cushing library while simultaneously maintaining his outdated penis. And the Committee recognizes that digital forms of sexual intercourse do not require anything as messy or as indecent as ejaculation. There is, of course, the problem of used condoms and Kleenex getting in the way of sleek digital efficiency. Since the machines (along with the Committee) have insisted that trivial feelings such as passion and lust often get in the way of the noble pursuits of knowledge and erudition, we must therefore conclude that Mr. Tracy should set an example and remove his penis. Furthermore, the Committee wishes to spend nearly $500,000 to create a "digital sexuality center," whereby students and faculty members of Cushing will receive voluntary castrations and purge any lingering sexual instincts through flat-screen TVs projecting pornography from the Internet. These outdated forms of sexuality will be upgraded during the digital revolution.
2. An end to Mr. Tracy's salary: It is now commonly accepted by the digerati that "the information wants to be free." Therefore, why should Mr. Tracy expect money for his services? As Chris Anderson has suggested, a machine wouldn't expect to be paid. No, let Mr. Tracy serve as headmaster on his own time and look upon his Cushing duties in the same manner that a hobbyist takes up stamp collecting. It is frankly insulting for Mr. Tracy to expect money for his human services, when he has clearly set himself up for the efficient and inhuman tasks that will be necessary in the new digital age. Let him find other ways to pay his mortgage. Our committee suggests that he take up a perch at an Arby's drive-thru window.
3. An iPod permanently welded to Mr. Tracy's brain. We want to ensure that Mr. Tracy continues to learn. And since those dusty analog books will no longer be available, we believe we can now control the precise conditions in which Mr. Tracy approaches literature. Therefore, the Committee allocates $15,000 to drill two eco-friendly holes into Mr. Tracy's head so that we can transmit books in audio form and control the precise manner in which he engages with books. One of the Committee's members had considered electrocuting Mr. Tracy should he fail to understand the audio piped into his head, but we were reminded of the unethical nature of Stanley Milgram's obedience studies. Fortunately, when Mr. Tracy was hired as Cushing headmaster, he forfeited all of his individual rights, giving Cushing complete surgical control for a new digital tomorrow. We also plan to allocate $30,000 a year to employ two part-time students to beam books into Mr. Tracy's brain 24/7, which will ensure that at least two bucking lads from Cushing don't go hungry.
4. Burning all of Mr. Tracy's books, papers, and mementos. It is unacceptable for Mr. Tracy to maintain analog books and papers in his office. It is also unsightly for family photographs and other needless personal trinkets to infect the forthcoming digital sterility. The Committee therefore recommends the complete incineration of any form of paper found in Mr. Tracy's office. If Mr. Tracy is seen opening an unfolded piece of paper from his pocket, we will have the newly formed Cushing Fire Brigade incinerate it on sight. We realize that these steps may cause Mr. Tracy to obtain third-degree burns. But let's not let a little collateral damage impede our necessary progress. You can't have revolution without risk.
5. Legally changing Mr Tracy's name. Let's face it. The name "James Tracy" sounds like one of those outmoded characters from a Frank Capra film. And nobody who participates on a social network believes in Frank Capra anymore. Fortunately, the Committee has consulted a branding firm and we have decided that "Jimbo" — no James, no Tracy, just one name: Jimbo — is a better appellation with which Mr. Tracy can "get down with the kids." The Committee has already confiscated the nameplate in Mr. Tracy's office and replaced it with the $15,000 Jimbo logo that will make Cushing a standout among all East Coast prep schools. This will be followed by a legal name change. Any student or faculty member caught using "James" or "Mr. Tracy" will be instantly expelled from the academy.
We trust that these digital augmentations will be executed at the earliest possible opportunity.
Sincerely,
James Fennimore Coupland
Acting President, The Cushing Academy Committee
(Image: Mark Wilson)