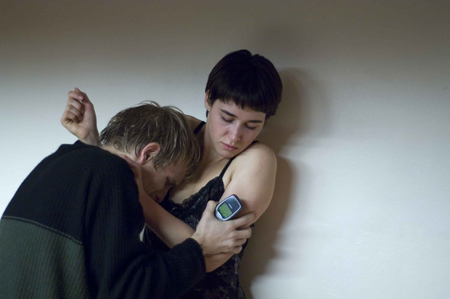 What follows are the notes I took during Lorna's Silence, which opens in limited release this Friday:
Shuffling of notes under window. Pan up to woman. Counting. 340. Appointment. A loan. Will be Belgian soon. Against yellow wall at beginning. Green. Red counter. Blue. Talking. Telecom. Hair. Roommate. One euro ten. Close the curtains. Moving the bed. Told him no. (No cards.) Turn the music down. Music. Not so bad. Hide her. Hold on. Lorna — calls in the night.
Have to be up at six. Not going. Quit. Look in. Must resist. An addict. Cloudy. A mess. He's quitting.
A cop. Give him. Will police pursue it? Just when you leave Belgium.
Buscopan.
Does bell ring?
Drug dealer. Buscopan for cramps. Selfishness. Paid to marry. Not divorce. Number 3. Phone calls. Water. Selfishness vs. selfishness. Cloudy Moreau. Two days. Going down stairs. Will somebody take care of me? Computer address.
Returning stuff when done. Bug. Blinds in hospital. Divorce. No. We picked a date to avoid divorce. Sokol — the Russian. If he DJs now, it'll be weird. Couple behind dating. Need to be a widow. Sokol — kissing him. Race to set. Will she fuck him? Almost 20,000 in the account. Wait for the Russian. Banker with addresses. Walking around. Tea held with both hands. Turning a light off.
Hitting arms against doorway. Bruises. Police. Her arms. Not enough for a fast-track divorce. Bruising — self-inflicted. Junkie and thief. "I've never hit a woman." Playing of cards. Five stacks. Bridge? He didn't turn violent.
Parking lot. Cars. You don't go to the cops. First deal with the Russians. Lorna I know. Guy at the station. Sokol beard shaved. Cleaners. Getting the divorce. Making dinner. Celebrate getting out. Her getting out. Fabio — waiting. Russian won't wait. Two weeks after divorce.
Taxi cab driver. Paid 5,000. Red pants. Red jeans. Russian agrees. Real violence. Stripping down. Sex. Naked crying. Attempt at play. Finally emotion.
Running after him. In love? I'd handle the dirty clothes. Funeral costs. WTF? See him one last time. Real? Yellow walls. Sure you won't stay? Running away. CO player. Thank me instead. Extra cont.
Heroin dealer. Duped him from buying it. Was that action part of the deal? Money nothing. Cleaning woman. See her at moments. At work. Drinking. Selling money.
A junkie prefers drugs to life. Three rooms and a garden. Yellow tables. With Russians. Long take. A carton of cigarettes in Moscow. Snack bar. Garden — even trees. Second floor bedroom. Wants money. Hides the money. Pregnant — saw this coming. Havent' eaten, low blood pressure. Same as hour. Account for baby. Pregnancy. Miscarriage. Not pregnant. Too late to accept it. X-ray. Leopard shirt. The loan. 7,000 Euros. Stay. Need to set. Don't be hard. With cock. We'll keep running. Cabin in the woods. Talking to herself. I won't let you die. Disappointing myth.