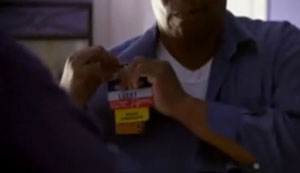 Last night, on Twitter, I got into a lively exchange relating to last night's Obama infomercial. I had initially watched ten minutes of this broadcast, and I grew increasingly upset by the manner in which basic realities about health care and the working poor have been severely overlooked in this presidential race. Upon being pressed, I watched the whole thing from the beginning. "Those weren't the working poor in that video? The 72 year old guy working at WalMart not poor enough?" argued Seth Harwood. While retired railroad man Larry Stewart putting on his Wal-Mart badge and taking out a loan on his house to help his ailing wife is indeed a crushing story (beginning at 7:30 in the Obama video), at least the Stuarts have a house to take a loan on. What of the doughnut hole created by a Republican-led Congress through the Medicare Modernization Act of 2003? What of those trapped in Medicare with chronic conditions who skip out on vital medications because they don't have the money? The situation is this: Under the Medicare Part D prescription drug program, if a senior has more than $2,250, but less than $5,100 in annual drug costs, the senior is required to pay these costs out of pocket.
Now consider the case of 65-year-old Frances Acanfora. Thanks to the MMA, this retired school lunchroom aide saw her drug costs jump up from $58 to $1,294 courtesy of the doughnut hole. She even had to temporarily stop taking her drugs after talking with her doctor. Did Acanfora have a partner or a home to fall back on? We know that she had a credit card. But is she still alive? One wishes that the Washington Post would conduct a followup story. Meanwhile, other seniors have stopped taking their drugs altogether. They couldn't afford it.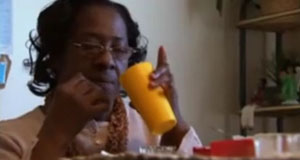 While it is true that Obama advocates the federal government negotiating with the drug companies to reduce prices under the Medicare Part D drug program (similar to what the Department of Veteran Affairs now gets), permitting citizens to purchase prescription drugs from outside of the United States, and closing the doughnut hole, let's consider why this policy was effected in the first place. The MMA came into being because of rising costs in prescription drugs and the inability of the federal government to allocate enough funds to pay for it. What we have here is a scenario in which the pharmaceutical companies hold all the cards. The companies set the prices. The generic drugs that were supposed to save people money have proven to be more costly thanks to the MMA. The companies claim that the drug prices are high because the companies need to spend this money on R&D. And, of course, the drug companies have lobbyists.
And if the drug companies hold such power, how can there possibly be negotiation? I can see the conversation going something like this:
Government: We need you to lower the costs of drugs. Now we'll be happy to take them all off your hands, guaranteeing X number of drugs over the next five years, if you'll lower the prices.
Drug Companies: You're already going to be getting X number of drugs over the next five years from us. With all due respect, what's changing here? We're your supplier. And wait a minute. I thought we agreed back in 2003 that we wouldn't be negotiating.
Or as Robert Laszewski put it, "If you go to a car dealer and tell him you're going to buy his car no matter what, and then try to negotiate, you're not going to get a very good deal."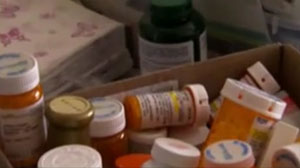 Which puts the government in the awkward position of going overseas to import its drugs for Medicare. But if Medicare's chief drug source comes from another country, how then can the FDA provide the essential oversight for the drugs? This leaves the government coming back to the pharmaceutical companies with its tail between its legs. I've looked around numerous places, but Obama has not specified how he can "negotiate" with these draconian realities in place. But to his credit, he did issue a press release last year condemning the Senate's failure to consider legislation permitting Medicare negotiation.
Let's return to the issue of Larry Stewart and Frances Acanfora. The rhetoric in this presidential race has involved speaking to Main Street and the middle-class, who we are told increasingly are having to "tighten their belts" to make ends meet. But what is not really being talked about by either camp are the 29.4 million Americans — up 4.7 million from 2002 to 2006 — living below the national poverty line. Tayari helpfully directed me to this Democracy Now! segment from a few days ago, which goes into this issue at some length. And indeed why should either candidate talk about low-wage workers when Obama leads 2 to 1 over McCain? (Incidentally, a majority of low-wage workers polled in this article indicated that their personal finances were unlikely to change — even with an Obama presidency.)
When you consider Medicare's reliance upon pharmaceutical companies and this regrettable framing emphasis away from the working poor, what Obama essentially presented to us last night was comfort food for the middle-class. (So flexible is the term "middle-class" that one can make a six figure salary and still remain lodged within an income bracket that likewise includes someone making $20,000 a year.) But none of this takes away from the fact that nearly 30 million Americans are impoverished, and that 47 million Americans are without health care. What this nation needs more than "hope" is a concrete and realistic plan. We need something more than promises to "negotiate" in nonnegotiable situations. Something that returns us to the dialogue kickstarted by John Edwards last year. Something that ensures that the dread P word spelling out our poverty will return to our national dialogue with neither shame nor flash, but with the maturity and grace that Obama has built his campaign image upon.