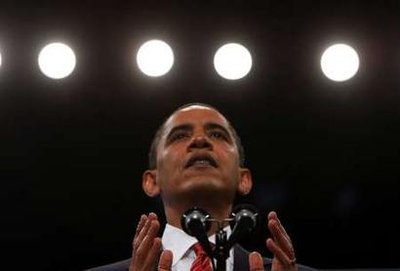 President Barack Obama stood tonight before the seated West Point cadets and revealed himself to be a shallow political opportunist, a man who views mortal sacrifice with all the cold and uncomprehending analysis of a clinical dilettante who is in over his head. Obama stared hard into his twin prompters, as if expecting some illusory plane to crash and conflagrate. One detected the whiff of self-sabotage as this newly christened lame duck spoke without spontaneity, failing to hit any note that even approximated empathy. Yes, he had signed letters of condolence to the families of every American who has given up a life. But there was nothing in his dead eyes to suggest a solace that extended beyond bureaucratic acts or a leader who knew what he was doing. This was shallow and unconsummated political theater, and, for me, a profound feeling of nausea kicked in at the ten minute mark.
Obama preferred to regale the crowd with hollow tough talk, but, judging from the few cutaway shots, the West Point throngs didn't seem terribly convinced. He reminded us all, including those brave progressives daring to huddle around high-def sets for some benefit of the doubt, that he was the Commander-in-Chief. In a line that will no doubt be fiercely argued by febrile teabaggers, he declared that he had seen "firsthand the terrible wages of war." It was as if he still needed to prove something just less than a year into his Presidency. But in an age of economic disaster, unseen relief, and international terror, the time for needless reminders and phony platitudes has now passed. Actions that live up to the mandate have become beyond necessary, and Obama demonstrated again that he cannot deliver. This geeky, number-crunching adolescent, who painfully reminded us that he had once stood against the Iraq War, pretended once again to be an adult, and his speech was a firm betrayal of the alleged ethos that secured his November victory. When that dreadful noun "hope" came up thrice, applied to Afghanistan's untenable wasteland, the linguistic political operator and almost certain one-term President came out of the closet. It was also an unpardonable insult for Obama to suggest that "we must come together to end this war successfully," a sentiment at odds with the exigencies of healthy democracy and language uncomfortably close to the previous Oval Office hick now laughing his ass off in Dallas. One expects a failure to grasp the realities of human conflict from some desperate corporate leader making an awkward speech at a company retreat, but not the ostensible leader of the free world. Had a cadet yelled, "You lie!" tonight, I would have applauded him as a patriot.
This was a hard spectacle for anyone on the left to endure. The social networks were strangely silent. It was eerily symbolic that YouTube opted to live-stream an Alicia Keys concert over tonight's cold hard truth. Obama, the man who had fueled his base through the Internet, had been abandoned by his most fervent online boosters. And this sizable cluster was really the canton who needed to hear this speech more than anyone else. Perhaps they will be braver in the morning, when they can stomach some predawn douse of icy and abrasive water. Obama's speech was a tremendous slur against optimism and possibility, for it invited cynicism rather than respect. This was not a delivery that could galvanize the hardscrabble American heart, for it offered only fungible realities.
Obama failed to sell the brave recruits or the American people on the reasons behind the Afghanistan surge. Lives would be lost, but for what? These unspecified threats and specious connections were the reasons why so many of us opposed Bush. Obama said that he owed us "a mission that is clearly defined, and worthy of your service," but remained too general on the details. His objectives involved denying al-Qaeda a safe haven, reversing the Taliban's momentum, and denying them the ability to overthrow the government. But these goals carried distressing echoes of the administrative arrogance depicted in David Halberstam's The Best and the Brightest, and remained doubly troubling with the assumptive hubris. For Obama was there to tell us that those seeing another Vietnam were relying upon "a false reading of history" and offered no text in return. His inference rested on the principle that Vietnam was the natural parallel, rather than the failed ten-year campaign by Russia, much less the ongoing clusterfuck in Iraq, which, in Obama's words, was "well-known and need not be repeated here."
Obama claimed that "this is not just America's war," He preferred to mimic the language of our previous President, awkwardly jutting his chin in deference to the eight-year charlatan's cowboy tic. But it did not seem to occur to him that such arrogance — conveyed through subdued and unconvincing burlesque and a stunning failure to be even remotely real — is not how any nation builds coalitions.
This was a Powerpoint presentation delivered without the slides. Obama sweated, looking like a boxer past his prime, and didn't seem to comprehend that human lives were in the balance. When Obama stated that "the days of providing a blank check are over," one was speedily reminded of the no-strings-attached check handled to the rapacious thugs at Goldman Sachs and the $787 billion stimulus package that has allegedly "created or saved" 640,000 jobs (or about $248,000 spent for each job). Obama offered a timeline, but for all of his talk about "addressing these costs openly and honestly," he was reticent to drop specific pecuniary numbers for his escalation plan. He offered yet another hollow promise to close Guantanamo Bay, but the travesty that continues to sully alleged American virtues must end with a decisive action.
When speaking about Afghanistan, Obama looked directly into the camera, as if expecting a pockmarked population to watch, and said, "We do not seek to occupy other nations. We will not claim another nation's resources or target other peoples because their faith or ethnicity is different from ours." But I did not believe him. And there is no reason to expect an Afghanistan civilian to believe him. Before the speech, two of his officials had used the word "surge" in relation to these developments. And Malalai Joya, writing bravely in The Guardian, intimated that an escalation of troops is a war crime against her country. (Both links found helpfully through Glenn Greenwald.)
None of these concerns were considered. There remained the cliched faith in "workers and businesses who will rebuild our economy," but none of this could atone for the pressing reality that more than a tenth of us are without a livelihood and nearly one fifth of African-American males are far worse off. As Obama heads on to Oslo to collect his Nobel Peace Prize, one is reminded of the 1973 Swedish hypocrisy. One begins to hear Kissinger's duplicities in Obama's dulcet voice.
Which leads anyone living in the waking world to conclude justly that Obama's idealism is gone. His rhetoric is hollow. This is a dead parrot.