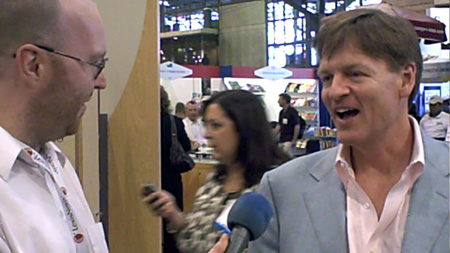 As the above photo reveals, I did indeed talk with Michael Lewis at BookExpo. Unfortunately, it appears that we didn't get audio for this three minute conversation. This was due to a regrettable technical glitch with the equipment. But in my defense, this interview occurred on a day in which I didn't really intend to do interviews. But the Norton people suggested it. And I had the equipment on me. And I had precisely 90 seconds to get everything out of my backpack. It seemed a good idea at the time.
Mr. Lewis, known predominantly for his financial writing, has a new book called Home Game: An Accidental Guide to Fatherhood. The book has cobbled together numerous journals that Mr. Lewis kept as he became a father. I asked Mr. Lewis if, over the course of this journal writing, he had viewed fatherhood in the same manner in which he viewed denominated bills, or whether he possibly arranged the book in chapters that lined up to specific monetary units. Mr. Lewis became a little confused by this, but he denied that he had set out to reconsider fatherhood in ones, fives, and tens. When I asked Mr. Lewis if his book had mentioned any dead presidents, he said that the book did not. I did not understand why Mr. Lewis dropped eye contact with me as the interview progressed. I thought we were having a pleasant conversation. Perhaps his throat was parched and he needed a bottle of water.
But let me assure you that Mr. Lewis does take fatherhood very seriously. And anyone who needs a serious book about fatherhood may want to consider purchasing Michael Lewis's Home Game: An Accidental Guide to Fatherhood for the family home. I thank Mr. Lewis and Norton for the three-minute conversation, and I apologize that this post serves as an accidental guide to a conversation in which I did not get audio.
I should also observe that Michael Lewis's shirt was somewhat liberally unbuttoned. Apparently, fatherhood is something in which your neck may require additional contact with the air. I sincerely hope that there is a chapter in Home Game that explains Mr. Lewis's sartorial decision.