Listen: Play in new window | Download
The national unemployment rate continues to hover just under 8%. It's been like this for about a year. That's higher than the 1991 recession. And the unemployment numbers are starting to match the recession of the early 1980s, just before unemployment hit over 10% in 1982. This program looks into whether or not the jobs are really coming back. Are we avoiding a serious problem that we don't have the courage to stare in the face? To what degree are we repeating history? We meet a man who motivates the unemployed in library basements, get experts to respond to Chairman Bernanke's recent claims that unemployment will fall between 5.8 and 6.2% by 2015, discuss the finer points of Beveridge curves with economics professor William Dickens, chat about how the last four decades of labor developments have contributed to the unemployment crisis with Down the Up Escalator author Barbara Garson, discover a company that protected the unemployed against discrimination with the National Employment Law Project's Mitchell Hirsch, and learn about discrimination and how local labor policy reveals national labor policy with Dr. Michelle Holder of the Community Service Society of New York.
---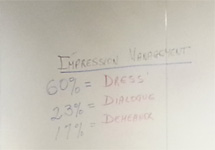 I Really Want This Job
Barry Cohen is a well-dressed man with impressive cheekbones and an indefatigable smile. He reminds me of some 20th century titan who wants you to sign on the dotted line for a set of steak knives. On hot summer nights, he can be found in the basements of public libraries addressing the unemployed on how to find and get the jobs they really want. We talk with Barry and the people who look for confidence and guidance in his words. It turns out that Barry is working from an unexpected vicarious place. (Beginning to 9:40)
---
Curves and Predictions
Last Wednesday, Federal Reserve Chairman Ben Bernanke told reporters that we were at the beginning of the end. He predicted that unemployment would fall between 5.8 and 6.2% by 2015. But William Dickens, Distinguished Professor of Economics and Social Policy at Northeastern University, feels that Bernanke is being overly optimistic. He also demystifies Beveridge curves for us and elucidates a policy paper he co-authored with Rand Ghayad that caused at least journalist to freak out in the final moments of 2012. (9:40 to 18:37)
---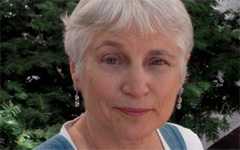 Down the Up Escalator
Barbara Garson, author of Down the Up Escalator, offers a more sociological view of the unemployment problem. She tells us that it's not so much the recession that reveals the causes of unemployment, but the American worker's dwindling prospects over the past four decades. We discuss the Pink Slip Club, the "new normal" of unemployment, and consider how the unemployed can contribute to society as they pine for nonexistent jobs. (18:37 to 29:10)
---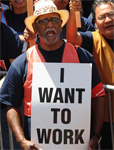 Discrimination
It's difficult to feel inspired and real when the deck is stacked against you. One little discussed truth about being unemployed is the rampant discrimination against job seekers who are not presently employed. The situation is so bad that New York City was forced to pass Introduction 814, a groundbreaking piece of local legislation that made it illegal under the human rights law for an employer to base a hiring decision on an applicant's unemployment. We speak with Mitchell Hirsch, the Web and Campaign Associate at the National Employment Law Project, to get a handle on just how bad discrimination against the unemployed remains. It turns out that Introduction 814 doesn't go far enough. We also meet Dr. Michelle Holder, Senior Labor Market Analyst at the Community Service Society of New York, to determine why New York is a good microcosm for American unemployment. The conversation reveals how local policy reflects national policy and gets into problems with the Georgia Works program and "business-friendly" politicians. (29:10 to end)
---
Loops for this program were provided by BlackNebula, danke, djmfl, drmistersir, EOS, JorgeDanielRamirez, kristijann, KRP92, MaMaGBeats, Megapaul, morpheusd, and ShortBusMusic. Follow Your Ears Theme (licensed) by Mark Allaway.
Follow Your Ears #7: Unemployment (Download MP3)
This text will be replaced