Joyce Carol Oates appeared on The Bat Segundo Show #426. She is most recently the author of The Corn Maiden and the editor of New Jersey Noir.
Listen: Play in new window | Download
Condition of Mr. Segundo: Contending with needless tempers and false heaters.
Author: Joyce Carol Oates
PROGRAM NOTE: For many years, I had hoped to schedule Joyce Carol Oates on this program. And the opportunity at long last came in November. Wishing to make the most of this, I read eight Joyce Carol Oates books in advance of the conversation. The interview was to take place in Otto Penzler's basement office at the Mysterious Bookshop.
There was just one problem. Otto Penzler didn't like me. You see, five years ago, I had written some satirical blog post about Penzler. Something I barely remember. For all I know, I was drunk or stoned at the time. I probably banged it out in about twenty minutes. What I did not know was that Penzler had neither the humor nor the ability to let any perceived sleights roll off his back.
Why is any of this important? Because during this program, I had the misfortune of having one of the audio channels – the channel that was recording Ms. Oates's voice – blow out on me. Normally, this wouldn't have been a problem. Because I could have salvaged the sound from the other channel. Unfortunately, because Penzler is not the type who likes to give up a petty grudge, he decided to turn on what he insisted was a "heater" during the course of our conversation. Not only did this "heater," which spewed out cold air, cause Ms. Oates to shiver, but it also disrupted the conversation. And this "heater" is also the reason why Ms. Oates, despite my best efforts with EQ and noise removing tools, sounds like a robot for about eight minutes of this conversation. It is also the reason why this episode contains the most passive-aggressive moment in the history of The Bat Segundo Show. Thank you for listening.
Subjects Discussed: Prolific writing, nightmares in fiction, psychological realism, Edgar Allan Poe, carving swastikas into foreheads, pesky heaters, feral characters, the history of violence contained within tragic narrative, stories generated by characters who meet, My Sister, My Love, experiments in style, being the child of a well-known infamous figure, JonBenet Ramsey, articulate sociopaths, writing in the satirical mode, Expensive People, humor in Joyce Carol Oates's work, characters who have a penchant for malapropisms, A Fair Maiden, characters who give into naive situations, pathetic fantasies, editorial relationships with Daniel Halpern and Otto Penzler, not sending novels out for publication until they're ready, advances and author contracts, needy authors and first drafts, Russell Banks, Richard Ford, when business concerns impede into artistic discovery, keeping a novel in a drawer for a year to avoid emotional connections, on whether JCO requires an immediate response to the world, contending with short story requests for anthologies, Otto Penzler's rejection of a JCO short story title, words that JCO is fond of (including "glisten"), word choice, Nicholson Baker, James Joyce, "formula" contained within Ulysses, similarities between feeling and image, the allure of vacuum cleaning, memoir vs. fiction, A Widow's Story, feral cats that wander around dumpsters, the tough clime of New Jersey, Martin Scorsese, organized crime, fictitious communities that are inspired by the classics, appropriating places and giving the place a very different way, places like Princeton, Russell Banks and Miami, Jaimy Gordon's Shamp of the City-Solo, Jonathan Lethem's Chronic City, revisiting a 1982 keynote address collected in Woman Writer, being a woman writer in 2011, William James and multiple selves, chick lit, Kate Christensen, contemplating The Sportswriter as a "boy novel," Margaret Atwood's In Other Worlds, Ursula K. Le Guin, Dostoevsky as crime writer, epistolary fiction, Twitter, the pleasures of reading letters, finding pleasure during the difficult early stages of writing a novel, TC Boyle, and comparisons between writing and heroin.
EXCERPT FROM SHOW: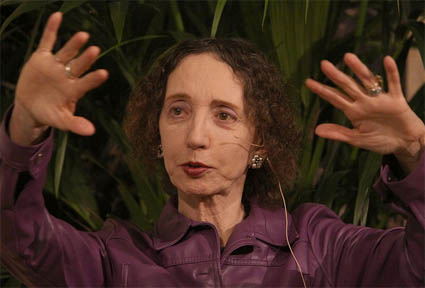 Correspondent: In considering the ideas of nightmares as fiction — because, of course, this is The Corn Maiden and Other Nightmares, that's the title of this book — I think of John Hawkes. I think of Poe. I think of Kafka. I think of Shirley Jackson. The nightmares in The Corn Maiden, I think, differ. Because these tales are careful in the way that they relate psychological realism to the dream state. In the title novella, you juxtapose this troubled mother who is losing her daughter with this sacrificial ritual. There's the psychological grief in "Helping Hands," which triggers a nightmare, it could be argued. In "Fossil-Figures," you describe Eddy Waldman's work as "covered in dream/nightmare shapes." So I'm curious how psychological realism gives shape to these nightmares that are in your fiction.
[Otto Penzler turns on an alleged "heater" in his office, which, unbeknownst to Correspondent and Oates, begins to pump cold air throughout the room in the next few minutes. Said "heater" also creates noticeable interference on the audio, which producer does his best to rid from this program with parametric EQ. Said hiss of "heater" also interferes with collective concentration.]
Correspondent: Do you find that, without such realism, these nightmares can sometimes be too burly to contend with?
Oates: Well, it's a very good question. I think it's a matter of what sort of genre one is working in. If you're working in a horror or fantasy genre, you would have no hesitation about writing about the supernatural. But I tend often to write in a realistic mode. And, of course, in reality, people have dreams. So the psychic experience or the neurological experience of a dream is real, even though it's invisible. So in writing about dreams and nightmares, I'm not writing about a supernatural world at all. Particularly The Corn Maiden is completely realistic. There's nothing in it that's far-fetched or particularly preposterous. Some of the other stories shade into the surreal. Sort of the Edgar Allan Poe zone. And I think Shirley Jackson often moved into that zone where the more supernatural figures.
Correspondent: Violence. I have to bring that up. It's an ineluctable quality in your work as well. In "Beersheba," you have a character who is denied his diabetic shot and who experiences this very specific yet savage wound. At the end of A Fair Maiden, another book, you have a character bleeding from a deep cut at his right eye and cuts at his nose and mouth. You have, of course, the trepanning in "A Hole in the Head." You have Herschel carving the swastika in Jeb Meunzer's forehead in The Gravedigger's Daughter. I could go on. But what I'm interested in is how precise your violence is. And this leads me to wonder. Well, what do you do to get that level of precision? Does this come entirely from the imagination? Do you read a lot of police reports? A lot of true crime stuff? What of this?
Oates: I don't read any police reports or true crime material really. I don't write about violence. I write about people. And some of the people find themselves in dramatic or tragic situations in which violence is a consequence of some choices that they made or decisions that they made. But I don't set out to write about violence. It's more about human beings and their complexity. And they might make a bad decision. When Shakespeare writes his great tragedies of Macbeth and Othello, they are extraordinary people who've made a mistake. And they take a wrong turn. King Lear is another great example. And Hamlet. They're all examples. But Shakespeare is beginning with the character. That's what interests him. And I begin with characters and with language. A certain tone. Certain cadences. A certain music. That to me is very interesting. And it's interesting. I'm surprised that you mentioned the swastika cut in the forehead in The Gravedigger's Daughter. Because that sort of came to me as I was writing that scene. That this particular character has been so mistreated, his family of Jews have been treated so badly, and now it's his turn to get revenge. And he does something almost spontaneously. Even unconsciously. He carves the swastika in the forehead of his enemy. But I didn't set out to write that. It's more like it was a consequence of that character.
Correspondent: Well, that swastika certainly makes itself known in the text. But describe this. How does such violence keep coming up in your work? Is it a matter of a character proving so feral that things up that way? I mean, how does this exploration of the human condition lead to such stark and striking imagery?
Oates: Well, tragic fiction — so tragedy deals with acts of violence that sometimes are ritualistic. In works of tragedy by Aeschylus or Euripides, the acts of violence are offstage or they came before. Before the action of the play. But it's caught in certain ritualistic, almost ceremonial language. And that's what I'm more interested in. How people enact their destinies. I'm interested in maybe two people meeting. Or three people. Or a family. Moving through time and encountering events that then translate into their personal destinies.
[Oates is now visibly shivering, with Otto Penzler seemingly oblivious to his malfunctioning "heater."]
Oates: It's just a little cold in here.
Correspondent: Oh. (to Otto Penzler) Uh, Joy…
Oates: Otto?
[Otto Penzler pretends not to be paying attention.]
Oates: Hello? Otto?
Otto Penzler: Yeah.
Oates: Hi. It's just a little cold in here. The vent.
Otto Penzler: (faux incredulous) It's cold? That's the heater.
Oates: It's the heater?
Correspondent: (baffled by this bizarre Dickensian exchange) It seems like cold air.
Oates: It's actually like an air conditioner.
Otto Penzler: It's not. It's a heater.
Oates: Oh.
Otto Penzler: But I'll turn it off.
Oates: Because it seems like the ai…
Otto Penzler: It's probably just because you're right in front of the vent, which is…
Oates: Okay. It seems like the air conditioner.
Correspondent: Yeah. It's cool air. Or it's one of those heaters that take the length of this conversation to get started.
Oates: Yeah. But also, it's a little distracting with the noise.
The Bat Segundo Show #426: Joyce Carol Oates (Download MP3)
This text will be replaced
(Image: Shawn Calhoun)