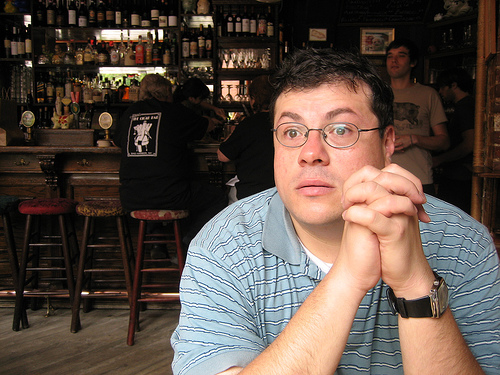 The SF Weekly's Joe Eskenazi reports that former San Francisco Chronicle books editor Oscar Villalon has abruptly left his position as publisher at McSweeney's. Villalon has not returned calls to comment upon what happened. McSweeney's has tersely responded, "Oscar doesn't work here any more."
Villalon's abrupt exit occurs only a few weeks after Villalon and Eggers sat together on a Berkeley School of Journalism panel discussing the San Francisco Panorama project — specifically, responding to remunerative controversies brought forth by Choire Sicha and this correspondent. Villalon's primary role at McSweeney's, as he explained in this interview with The Rumpus, was "to make sure the business is healthy, financially, and that we're growing." But while Villalon's modest elucidations (in which he reported that writers were paid between $200 and $1,000 for articles, with Stephen King working at particularly below-market rates) were more helpful than Eggers's adamantine silence, the Panorama numbers still remain fuzzy. And until either Villalon or Eggers go public with this imbroglio, McSweeney's inner operations remain, as usual, murkier than the Gowanus Canal — a somewhat paradoxical position for an operation predicated on alleged community and Eggers's rosy but naive optimism.
If Eggers still insists that newspapers can thrive, then the time has come for him to be transparent about his strategies and to likewise explain why Vilalon is no longer with McSweeney's. It's worth noting that a March 9, 2010 panel, free to the public, that was supposed to include Eggers, Villalon, and San Francisco Chronicle editor-at-large Phil Bronstein, is still scheduled to occur at San Francisco State University. Someone in San Francisco needs to attend this panel, assuming that the two remaining participants have the professional decency to carry forward, and demand answers to these important questions.