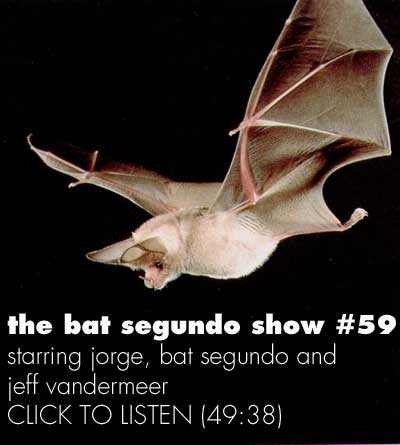 Author: Jeff VanderMeer
Condition of Mr. Segundo: Coming to terms with troubling generalizations.
Subjects Discussed: Mushrooms as inspiration, writing "Dradin in Love" while suffering from mono, Steve Erickson, the writer as sadistic god, on being perceived as "difficult," genre as revitilization device, the New Weird, China Miéville, the value of taxonomies, the use of parentheses for voice, reinventing the Ambergris mythology, scholarly discourse in fiction, underground scholars, Gormenghast, Nabokov, cities, Beirut, Albumeth Boulevard's inspirations, ephemera, balancing experimentalism and absurdism, objections to playful prose, the Dan Green dust-up, Shriek: the movie, The Church, the Shriek parties, balancing the day job and the writing life, and the importance of physical exercise for writers.
© 2006, Edward Champion. All rights reserved.