David Hajdu appeared on The Bat Segundo Show #207. Hajdu is most recently the author of The Ten-Cent Plague.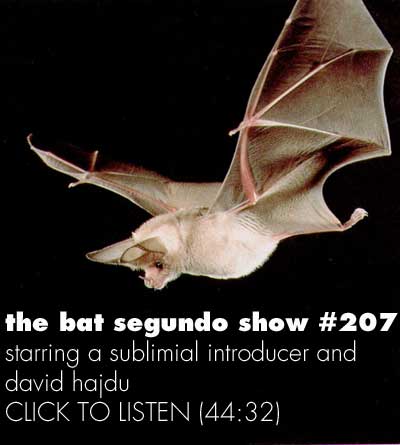 Condition of the Show: Dabbling into hidden threats.
Author: David Hajdu
Subjects Discussed: Hajdu's approach to journalism, primary sources vs. secondary sources, categories of people to talk with when preparing a book, tracking down people who disappeared, grassroots methods of finding people, changing names, the untold story of women in comics, Irvin Kersener's early career as an agitprop documentary filmmaker*, corroborating facts against shifting memory, telling history without a fully documented record, Billy Strayhorn's career before Duke Ellington, remembering details based on a nugget, the ever-shifting complexities of William Gaines, whether EC Comics could have survived if it shifted to magazine format, Will Eisner on not being taken seriously, what caused the great comics scare, literate comics, the fear of kids turning on parents because of a medium, Frederic Wertham's Seduction of the Innocents and the media's willingness to give credence to Wertham's anti-scientific tract, why America needs a lowbrow cultural blaming point for social ills, cultural class bias, pornography and other populist mediums as subliterary forms, comics decency legislation vs. the Hays Production Code, postwar censorship, comics being placed in a position not to challenge authority, Charles Biro's Crime Does Not Pay vs. yellow journalism, and Bob Wood bludgeoning a woman to death.
EXCERPT FROM SHOW: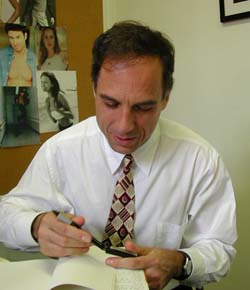 Correspondent: I'm wondering if certain artists may have changed their names because the comic book industry was considered a great calumny for many of these various artists and writers. Did you face a problem along those lines in tracking people down?
Hajdu: I did. I had trouble with people who changed their names, but not for that reason. Because most people used their real names. Most people, but not all. Some use pseudonyms. Still do in comics. But most people intended to use their real names. But women married. And women who married in that time took on their husbands' names. And I was surprised to find when I was doing my research how many women there were in comics. I mean, dozens and dozens of women who did terrific, beautiful, important work. Marcia Snider is one. I was never able to find her. I'd been told that she'd married. And nobody I could find knew what her married name was. In the case of the great many women artists, I only had their maiden names. And I couldn't find them. I tried social security records, but they weren't of that much value. And I did hit a wall with women artists. And I'm sure to this day, much of their story remains untold because they've been impossible to find.
Correspondent: Well, what steps did you take to atone for this? Because if you're slicing off a portion of comic book history — a very important part of comic book history that involved women — I mean, how did you make up for this?
Hajdu: Well, I sought to do justice to the story that I can tell. I don't know what I don't know. I did make a point to ask about those women to the people who I could find. And that's the only recourse.
* — Despite Hajdu's representations in this interview, Kershner remains quite alive!

The Bat Segundo Show #207: David Hajdu
[ 44:32 ]
Play Now
|
Play in Popup
|
Download