T.C. Boyle appeared on The Bat Segundo Show #273.
T.C. Boyle is most recently the author of The Women. To listen to our previous interviews with Mr. Boyle, check out The Bat Segundo Show #70 and The Bat Segundo Show #10.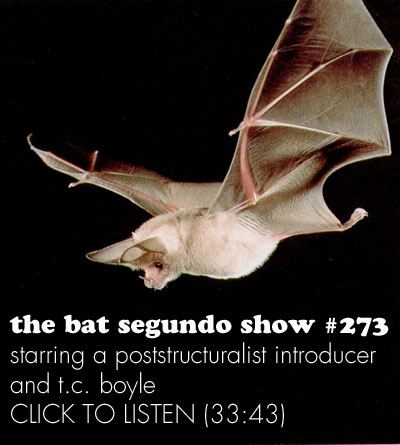 Condition of Mr. Segundo: Pondering new author taxonomies.
Author: T.C. Boyle
Subjects Discussed: How to conquer jet lag, Ellen Key's The Woman Movement, the individual vs. the spirit of the time, feminism and Frank Lloyd Wright, notions of education, Miriam's presence and hypercaffeinated prose, balancing the women in The Women, the ABAB narrative of the first section and Talk Talk, representing Wright through his women, novelizing a fictive novelist's biography, Blake Bailey, the burdens of chronological order, parallels between Wright and Boyle, the question of what anybody really knows about history from hearsay, seeing the details through an ever-shifting prism, the novel as a suspect medium, Riven Rock, dashes, sentences, and parenthetical information, annotations and "the rest is commentary," art standing above morality, balancing empathy and the satirical impulse, rejecting reader expectations, reputation and renown vs. not knowing, why cruelty is necessary, reevaluation, empathy and narcissism, and understanding an artist.
EXCERPT FROM SHOW: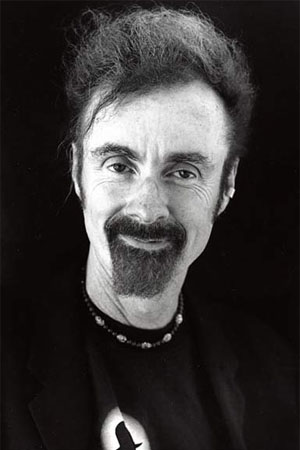 Boyle: I try to get it both ways. I try to involve you in something in a satiric way. And yet it should also move you. And of course, in this book, I had to do that because of the tragedy of Mamah, which will conclude the book. So you have to set the reader up for that throughout. And I think there is tragedy throughout the book. Tadashi's life is incredibly tragic in many, many regards. So again, I'm playing one element against the other throughout. And there is commentary upon commentary upon commentary. And, for me, it opened up the structure and it made it fun. It made it invigorating. A lot of the footnotes exist to give you information that I would like you to know about Frank Lloyd Wright and his buildings and where he was at any given time. But a lot of them also, I just express surprise on the part of Tadashi. And I find the hilarious.
Correspondent: Well, the question is: Okay, the reader wants to know about the artist. And essentially you believe — your own particular view is — that the art should stand above any morality. This is interesting because we don't know about the artists. And simultaneously, well, you do have many details about Taliesin, as well as the skies and the views and all that. But I'm curious if this almost runs counter to the impulse if you're playing with the reader's expectations. So that they will never know about the artist, even though this is, in fact, why they read your books. Whether that's entirely fair to the reader.
Boyle: Well, don't forget that when I am creating art, I don't mean to be fair to the reader or unfair to the reader. Those questions lie right outside the parameters of what I'm doing. I'm dreaming something. I'm creating something for my own purposes. I deliberate to you. And I hope that you interact with it in some way. And obviously you do and other readers do. Sophisticated art, to my mind, doesn't provide answers and doesn't have an agenda other than art itself. So I think a book like this one, of all my books, is probably the one in which the reader will be most engaged to try and unravel the truth of what it is in its own right. And don't forget. I'm not writing about an unknown figure here. Kinsey, as you know, was recognizable second only to the President in this country in his time. But by the time I wrote about him, everyone had completely forgotten who he is. No one knows who he is. And Kellogg too was lost to the mists of history. But again, Frank Lloyd Wright, there's been a thousand books. There's a cult. People are lined up in Chicago today, freezing, to get in and go on the tour. So this is someone who has been written about eternally and is very well-known. My interest is: How do I get a new angle on this?
Correspondent: So by him being more well known than Kinsey or Kellogg, you can then justify this notion of not knowing Frank Lloyd Wright. That's what you're saying. Of the reader not knowing.
Boyle: If this is your interpretation, I would say yes. But again, I think you do know him. You do see him from his point of view a few times. But I didn't want to represent his point of view a great deal. Because then you know his motivation and you know what he's thinking. I would rather have it — that's why I called it The Women. I'd rather have him viewed from other perspectives so that you can make your own determination. And, yes, I think part of that determination is that he was incredibly narcissistic. Maybe one of the most narcissistic people who ever lived. And yet narcissism, as we talked about with regard to Peck Wilson in Talk Talk, can be very damaging to everybody around you. I like to hope and think that I am sympathetic to people whom I meet and with people who are close to me. And that far from damaging them, I might even be aiding them in some way. A narcissist like Frank Lloyd Wright though, or Kinsey or Kellogg, doesn't view the world in that way. Everybody else is simply valuable, only as they fit into his regime. So I think that any reader, even the least sophisticated reader of this book, will have a portrait of Frank Lloyd Wright that may be more true than what you get from a biography.
(Photo credit: Christopher Felver)
BSS #273: T.C. Boyle III (Download MP3)
This text will be replaced