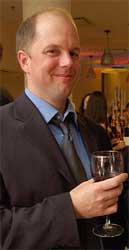 I had my own run-in with Time Out New York editor-in-chief Brian Farnham. But it appears that there may be additional problems within the Time Out empire. The Chicago Sun-Times reports that Time Out Chicago Editor-in-Chief Joel Reese has been fired for "violating a company policy." There's no word yet on what specific company policy provision was violated. And not even TOC Marketing Director Tony Barnett knows, or, at least, he's not willing to reveal what happened to the press.
This abrupt sacking — Reese was only on the job five months — comes hot on the heels of TOC losing art director Bryan Erickson to his original employer, Blackbook. The official spin, according to Barnett in another piece, is that Bryan "misses New York and wishes to return there." Although there were possibly other motivations at work here. The Sun-Times reports that Reese and Erickson clashed and that the latter left because he "could not execute his vision for the magazine's art direction."
It is also worth noting that former TOC publisher Steve Timble was ousted in September 2006 based on a "mutual understanding."
© 2007, Edward Champion. All rights reserved.