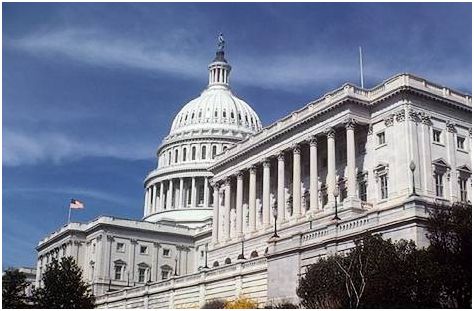 Here is a listing of racist incidents involving United States Senators presently in office:
BENNETT, ROBERT F. (R — UT)
On March 13, 1998, during investigations pertaining to the 1996 Presidential Campaign, Sen. Bennett remarked, "I stepped in and said, `No. I have owned a business in Asia. I have done business in Asia. Charlie Trie's actions are the typical actions of an Asian businessman.'" (CSPAN — video and transcript)
BOXER, BARBARA (D — CA)
On July 16, 2009, at an Environment and Public Works Committee hearing, Sen. Boxer was speaking to Harry Alford, president and CEO of the National Black Chamber of Commerce (an organization that Boxer confused with the NAACP), when the following exchange occured:
Boxer: Then we're going to put the NAACP resolution that passed saying this: The NAACP approved a historic resolution addressing climate change legislation for the first time in the organization's history.
Alford: What does that mean?
Boxer: Sir, we're gonna put that in the record, and you can read it cuz I don't have the time, but I'll read the rest-
Alford: What does that mean though? I mean, the NAACP has a resolution. What does that mean?
Boxer: Sir, they could say the same thing about what do you mean? I'm just telling you they passed it-
Alford: I've got documentation!
Boxer: Sir, they passed it. Now, also, if that isn't interesting to you, we'll quote John Grant who is the CEO of A Hundred Black Men of Atlanta. Quote: Clean energy is the key that will unlock millions of jobs, and the NAACP's support is vital to ensuring that those jobs help to rebuild urban areas. So clearly there is a diversity of opinion.
Alford: Madame Chair-
Boxer: If I can-
Alford: -that is condescending to me.
Boxer: Well-
Alford: I'm the National Black Chamber of Commerce-
Boxer: If this- if this-
Alford: -and you're trying to put up some other black group up to pit against me.
Boxer: If this gentleman- if this gentleman were here, he would be proud that he was being quoted. Just as-
Alford: He should have been invited.
Boxer: Just as- He would be proud-
Alford: It is condescending to me.
Boxer: Just as so- Just so you know, he would be proud that you were here. He is proud I am sure-
Alford: Proud, proud (bitterly and contemptuously).
Boxer: -that I am quoting him.
Alford: All that's condescending-
Boxer: Well, Sir.
Alford: -and I don't like it. It's racial.
Boxer: What's racial?
Alford: I don't like it.
Boxer: Excuse me, Sir.
Alford: I take offense to it.
Boxer: Ok.
Alford: As an African-American and a veteran of this country, I take offense to that.
Boxer: Offense at the fact that I would quote-
Alford: You're quoting some other black man. Why don't you quote some other-
Boxer: No.
Alford: Asian? Or some other-
Boxer: Well, lemme-
Alford: I mean- what- You are being racial here.
(Transcript and YouTube clip)
BROWNBACK, SAM (R — KS)
On July 10, 1997, when questioning a witness about a reward from Asian-Americans that Democratic fundraiser John Huang was to receive, Sen. Brownback remarked, "No raise money, no get bonus." (USA Today, Seattle Times)
BUNNING, JIM (R — KY)
At a March 20, 2004 Republican event, Jim Bunning stated that his opponent, Sen. Daniel Mongiardo, looked like one of Saddam Hussein's sons. (USA Today, Associated Press)
BYRD, ROBERT (D — WV)
"Senator Byrd quit the Klan in the 1940s and has renounced it since. On the other hand, his history is worth revisiting, since it's something Democrats have been willing to tolerate, despite Lott-like remarks that would have ended a Republican's career. Only last year Mr. Byrd told Fox News that 'there are white niggers. I've seen a lot of white niggers in my time, if you want to use that word. But we all–we all–we just need to work together to make our country a better country and I–I'd just as soon quit talking about it so much.'" (Wall Street Journal)
COBURN, TOM (R — OK)
During the July hearings for Supreme Court Justice Sonia Sotomayor, Sen. Coburn impersonated Ricky Ricardo from
I Love Lucy
, saying, "You have lots of 'splaining to do!" (
YouTube clip
and
The New York Times
)
CORKER, BOB (R — TN)
During his 2006 campaign, Sen. Corker used fears of interracial relationships and stereotypes against his opponent, Harold Ford, who was African-American. "Harold Ford looks nice," says one African-American woman, "isn't that enough?" "I met Harold at the Playboy party," says a scantily clad white woman. (
Truthdig
with video clip)
GRAHAM, LINDSEY (R — SC)
During the health care debates, Sen. Graham argued the following: "I have 12 percent unemployment in South Carolina. My state's on its knees. I have 31 percent African-American population in South Carolina." Later in the speech, Sen. Graham said, "My state, with 30 percent African-American citizens, a lot of low income people in South Carolina is going to cost my state a billion dollars, that's the same old stuff that I object to. That's not change we can believe in. That's sleazy." Rachel Maddow concluded, "The argument here appears to be that Sen. Graham believes it is sleazy to expect a state with lots of black people in it, to have health reform." (
Rachel Maddow video
and
Raw Story
)
MCCAIN, JOHN (R — AZ)
During the 2000 campaign, Sen. McCain told reporters, "I hated the gooks. I will hate them as long as I live." (Seattle Post-Intelligencer, March 2, 2000)
In 1983, as a young congressman, Sen. McCain voted against the recognition of Martin Luther King Day. (ABC News)
In an August 1, 2008 post, Capitol Hill Blue's Doug Thompson noted additional anecdotal examples of racism. (Capitol Hill Blue)
REID, HARRY (D — NV)
In John Heilemann and Mark Halperin's new book, Game Change Harry Reid stated that Barack Obama could become the first African-American President because he was "light-skinned" and because he did not speak with a "Negro dialect, unless he wanted to have one." (New York Times)
SESSIONS, JEFF (R — AL)
In 1986, Sen. Sessions was rejected from an Alabama judiciary seat by the Senate Judiciary Committee seat. In previous remarks, Sessions had claimed that the NAACP was "un-American," calling an African-American aide "boy," and describing a white civil rights attorney as "a disgrace to his race." Sessions also claimed that Klansmen were "O.K." until he learned that a few of them smoked pot. (Numerous articles
through Meet Jeff Sessions
. See also
The New Republic
.)
SPECTER, ARLAN (D — PA)
Before he switched parties from Republican to Democrat, Sen. Arlen Specter spoke at a November 1, 2008 pro-McCain rally, where he noted "a couple of hidden factors" in the 2008 presidential election: "The first is that people answer pollsters one way, but in the secrecy of the ballot booth, vote the other way." (
Salon
)
VITTER, DAVID (R — LA)
In October 2009, an interracial couple
was denied marriage
by justice of the peace Keith Bardwell. Sen. Mary Landrieu and Gov. Bobby Jindall both called for Bardwell's firing. But Sen. Vitter was the only senior official who refused to comment, running away when asked by a guy with a video camera. He also refused to comment
when asked three times by MSNBC
. (
YouTube video
,
Talking Points Memo
)
© 2010, Edward Champion. All rights reserved.