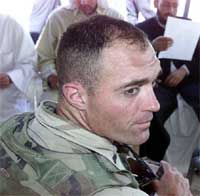 In today's New York Times, Battalion Commander Lt. Col. Nathan Sassaman had some helpful hints on how to garner respect from Iraqis: "With a heavy dose of fear and violence, and a lot of money for projects, I think we can convince these people that we are here to help them."
Forget homebaked brownies or even a mellow guitarist singing "Kumbaya" just outside a shelled building. Apparently, the way to secure peace, love and understanding is to scare the shit out of the people you're trying to befriend. So far, this has been accomplished with signs reading, "Do not approach or try to cross, or you will be shot" and by arresting family members of suspected "terrorists."
I may have been too busy laughing my ass off when I read How to Win Friends and Influence People years ago, but I don't think these unique approaches were mentioned by Mr. Carnegie.
Sassaman is 40, a pizza lover, and a former all-star quarterback for the Army, reportedly described as "cocky" by his peers. Some of his thoughts on handling situations can be found in this interview (user: dr_mabuse, pw: mabuse): "One of the seven rules I live by is, 'Never let a fat guy pass you.'"
The colonel, to his credit, is trying. Back in October, he spent weeks educating his soldiers on Ramadan. A pamphlet entitled "Ramadan: A Guide for Soldiers" was disseminated among troops. ABC News reported one of the helpful hints: "After sundown when the fast is broken, do not be alarmed if you see large groups gathering to share a meal."
In early November, Sassaman led a frenetic search through 70 homes for guns and suspects. The results? No weapons and resentment from the Iraqi people. In the same article, Sassaman was also reported as doing something highly undemocratic. As the Balad City Council was determining whether or not to get rid of a police chief, Sassaman grabbed the mike and boomed, "I hereby confirm the police chief to a six-month term."
Sassaman has a firm maxim: "Our policy from the start has been: If you don't shoot at us, you will be rewarded." But how have the non-shooting people of Abu Hishma been rewarded? Israeli-style fences, checkpoint cards written only in English, and buildings destroyed with a shoot-first-and-ask-questions-later mentality.
There's no possible way that any of us here on the homeland can be completely aware of the dangers in Iraq, or how the high-stress environment has taken its toll upon the soldiers. (To date, there have been nine suicides, most of them after combat operations were halted.) But last I heard, the whole idea of being in Iraq was to ensure democracy. While the deaths of soldiers has dwindled because of this new hard-line approach, I can't help but ponder the long-term implications Sassaman's actions will have: both for our troops and the people of Iraq.