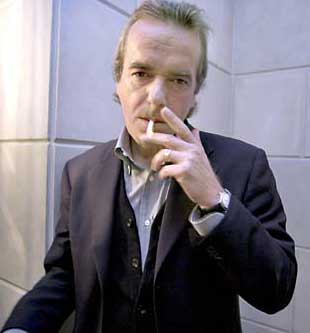 PopMatters reviews Martin Amis's Yellow Dog and berates Tibor Fischer for jumping the embargo. Meanwhile, Edward Guthmann interviews Amis in the San Francisco Chronicle, scoring a silly Keith Richards photographic homage and utterly strange description: "His voice is deep and rich, seasoned by a lifetime of smoking — imagine Ronald Colman or Jeremy Irons, only rougher. His mouth, often compared to Mick Jagger's, is full and voluptuous and, even in repose, suggests an incipient snarl."
The New York Times offers their Notable Books of 2003 list. (user: dr_mabuse, pw: mabuse)
Record label Murder, Inc. shall henceforth be known as "the Inc." I haven't seen anything this silly and squeaky-clean hit the hip-hop world since M.C. Hammer shortened his name to "Hammer" — an eleventh-hour career move to appear edgier.
Dark Shadows AOL IM Icons: Granted, this 1960s soap opera, now available on DVD, is an inexplicable form of crack cocaine, despite pillaging every known story in the classical horor canon. But who knew that people would get this obsessive?
And it appears that those sharp minds at the National Institute of Standards and Technology have decided to ask the dead for help in their September 11 investigations. What next? Enlisting an Ouija board for first-hand testimony? (via MeFi)
[3/16/14 UPDATE: As I fix the linkrot, there are a few surprises. The Dark Shadows buddy icons page isn't a dead link! When this blog post appeared, people communicated through instant messaging. Twitter, Facebook, and smartphones didn't yet exist. Back in San Francisco, I was acquainted with quite a number of tech innovators who have since become millionaires (and have forgotten me). But I remember encouraging many of them by IM. Today, any avatar you upload will be automatically resized. But in 2004, you had to resize it yourself using Photoshop or Paint Shop Pro. Deirdre Day-MacLeod's Yellow Dog review has been removed from PopMatters. But I've found it and added a link to Fischer's review. I'm also pleased to report that Ms. Day-MacLeod lives online here. The LiveJournal entry that I linked to is password protected through Web Archive, and I cannot find the original Metafilter thread. The Martin Amis photo is by Katy Raddatz.]
© 2003 – 2014, DrMabuse. All rights reserved.