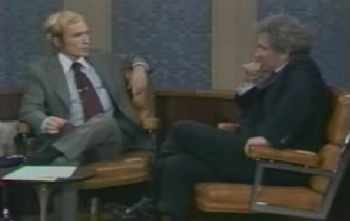 It turns out that the Charlie Rose shows on Google Video are good for something. As an addendum to Boris Kachka's Mailer enemies list, consider the following television history.
Rose interviews Cavett and plays an extended clip of the infamous Vidal-Mailer-Cavett showdown. It's at the 29:18 mark. It starts as a smackdown between Vidal and Mailer, with New Yorker writer Janet Flanner also commenting upon the verbal melee. And then Mailer turns on Cavett and boasts of his giant intellect. Witness Cavett's response. They don't make television like this anymore.
Sorry, Charlie. You're not one tenth the interviewer that Cavett was.