(This is the second of an interconnected two part response involving Alain de Botton. In addition to answering my questions, Alain de Botton was very gracious to send along this essay.)
Technology
Many people are only just waking up to how blurred web technology has made the boundaries between public and private. It used to be easy to know what a public statement was. It was one written for a newspaper or for a radio or television broadcast. But the web has made it harder to discern what is meant to be public and what private. A huge number of people now read newspapers only on the web, alongside other web windows like Facebook, Twitter and blogs. This equalises the difference between the two, it potentially places a Facebook status entry on the same level as the headline of the foreign affairs section of the New York Times. Simply on the basis of visual appearance, on your screen, there is no difference between the might and authority of a comment in the New York Times, and a note written in a blog run from the proverbial bedroom.
So it becomes hard, as a reader, to measure the degree of intent behind any statement one reads — and as a writer, it becomes hard to judge how seriously one's words are going to be taken and how large the audience for them will be.
How to review a book
Mr. Crain reviewed my book for The New York Times on Sunday 28th June, 2009. The book was accorded a full page review, a relatively rare honour, and was the third review to run in the pecking order. In other words, this was a prestigious slot in the most prestigious paper in the largest book market on the planet. The power of the New York Times in the world of books can't be overestimated. A review in the paper can close down a book or make its fortunes. With books pages being cut right across the world, it remains the authoritative place for information.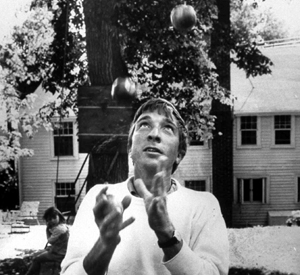 Given this power, the onus on any reviewer is to use it wisely, a wisdom to which there is no finer guide than John Updike and his six rules of reviewing as laid out in his collection Picked Up Pieces. Updike's concern was for fairness. This did not mean that he wanted every book to be praised. Rather, he wanted every book to be given it's 'fair due'. The end of a fair appraisal might mean the book was not recommended, but the author and reader could feel that the reviewer had kept his or her side of the bargain. Updike recommended that the reviewer try to understand what the author was up to, enter imaginatively into the project, and most of all avoid any kind of attack that felt ad hominem.
I have been in the writing business for 15 years and have received many bad reviews. However, when I read Crain's review, it was apparent that it was unusually uninterested in adhering to Updike's six golden rules of reviewing.
What can one do with a bad review?
There is no official right of reply to the judgement of reviewers. One cannot sue, complain or do anything that counts. One has two options: stoicism (batten the hatches). Or Christianity (turn the other cheek).
There is a third private option. To write to the reviewer in the hope of giving them a sense of their power and influence — and the effects to which they have used it. The hope is that by doing so, the reviewer may with time come to reflect on the matter and when they are next presented with a book, they may (and this is a very hopeful idea indeed) adhere a little more closely to Updike's six golden rules.
I hence found my way to my reviewer's website and there, in what I thought was a comparatively private arena, sent him a message that was deliberately hyperbolic and unstoic, the equivalent of a punch in words. The idea was to reveal honestly what effect he had on me.
The problem with overhearing people in private moments is that they don't follow the rules of civilised society and hence offend our sense of propriety (that's why the rules are in place). All of us, if cameras were turned on during our moments of rage, disappointment, fear and vengeance, would wince if the footage were then played back to us or – even worse – were played back to an audience of strangers. We value privacy for precisely this reason: it protects us our immaturities from wider display.
It can be appalling for all concerned if the private spills out – for example, if a guest was listening to a marital argument, both the guest and the marital couple would be appalled.
The reactions of others
My altercation with Caleb Crain has attracted a peculiar amount of interest at heart because its nature as a private communication has been misunderstood, both by me – and those looking on. It has widely been taken that I have written back to The New York Times directly to complain. Instead I wrote to Caleb Crain to speak very directly to him and not principally to the world at large. I feel very sorry that this tiff has been broadcast so widely. The embarrassment is as akin to an argument with one's spouse being inadvertently broadcast to one's work colleagues or a private letter appearing on a widely-read internet site.
I have been naive here. My conclusion is that one has to be extraordinarily careful about the internet. Nothing that one types here that others could potentially access should ever be phrased in ways that wouldn't make one happy if a million other people happened to see it. There should only be measure and reason – or else it will be judged along exactly the same criteria as one would judge an op-ed piece in The New York Times.
I continue to maintain that the subjects of unfair criticism have the right to protest and perhaps in heartfelt ways too – they should simply take extreme care that absolutely no one is watching or recording them doing so.