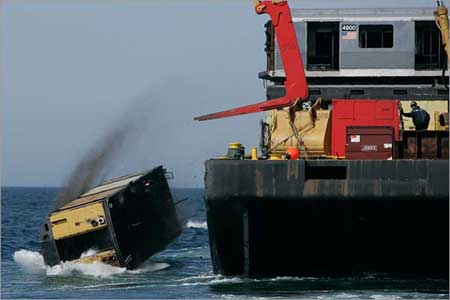 Ever wonder what happens to abandoned subway cars? Well, apparently, retired subway cars have proven to be quite helpful to the fish population just off coast of Delaware. Cars are dumped into the water, and the subway car's roomy confines has resulted in fish taking to the cars like, well, water. (There have been other efforts to dump aircraft, automobiles, and other vehicles into the ocean to create these reefs. But the fish seem to like the subway cars the best.) Red Bird Reef, named after the famed Redbird cars being used for this experiment, has seen a 400-fold increase in marine food per square inch over the past seven years.
Red Bird Reef is not without controversy. The American Littoral Society has expressed concern that the small levels of asbestos within the glue used to affix floor panels and the like might prove damaging to the environment. And since there are only so many retired subway cars to go around, other states are trying to compete for the subway cars. (New York provides these subway cars for free.)
So is this a waste of manmade resources? A sullying of the environment? Or is it very possible that, given the declining fish populations in the Atlantic, it takes this extraordinary manmade reef to generate a sustainable fish population again?