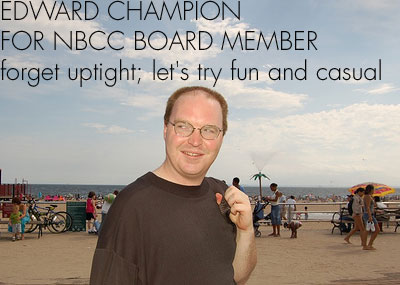 This notice serves as public announcement that I am running as Board Member for the National Book Critics Circle. Several people have suggested that I run. And while my political career has been limited to running for Treasurer in the seventh grade (and losing), I figured why the hell not? Someone needs to lay down the gauntlet and address some of the major problems that have caused the NBCC to remain a rather stiff organization. The time has come to inject more fun and debauchery into an organization that can do a good deal more for readers, critics, and the general public. I'd like to see the NBCC become a place that celebrates the reader, whether she be our most revered critic or the most prolific litblog commenter. Let's do away with the print vs. online battles. I'd like to see the NBCC listen to and embrace its misfits and muckrakers, and transform this organization into a nexus point that offers a little something for everybody. I have more than a few ideas about how the NBCC can be a major force in getting people excited about literature and how it can even help young critics starting out. And I'll be outlining my platform and positions in the forthcoming weeks.
But in the meantime, I plan a full-fledged political campaign. There will be commercials and testimonials. I'll shake hands. I'll kiss babies. But more important than any of this, I'll listen to any problems or gripes you have with the way that the NBCC is currently conducting its business. You can start by leaving comments here. Let's make the inner workings of the NBCC public, accountable, and transparent. With your vote, I pledge to communicate your concerns directly to the Board and make things happen. As Katharine Hepburn once put it, "You're going to get back on that horse, and I'm going to be right behind you, holding on tight, and away we're gonna go, go, go!"
And, by the way, if anybody wants to start an Edward Champion NBCC Blimp campaign, be my guest!
[UPDATE: Someone has been kind enough to create a Facebook group in support of my candidacy. I am happy to address any questions or comments from my supporters (or anyone on the fence) through this munificent use of technology.]