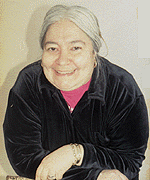 Harriet Klausner, known to the literary world as Amazon's #1 reviewer and known for her generosity towards every book that she reads, stunned the literary world when she rated a book three stars, instead of the accustomed four or five.
"She was probably having a bad day," said Penguin's Yen Cheong.
Publishers are now debating whether they should send Klausner any additional books in light of this critical solecism. They had counted on Klausner for a steady stream of uncritical raves and began to express some concern that there could be two-star reviews. Or even a one star review.
Klausner responded to these charges by pointing out that three stars was still "a decent rating, nothing to be worried about," and had merely wanted to shake things up to see if anybody was still reading her reviews.