As reported this morning by Slunch, it has become almost impossible to hate Sloane Crosley. Until now. Josie Harris, a 34-year-old paralegal, has decided enough is enough, and has decided to commit her energies to hating Sloane Crosley.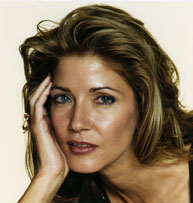 "There is nobody in the literary world I despise more than Sloane," said Harris. "Nobody can be that fucking nice all the time."
What's considerably astonishing is that Harris came out as a Crosley hater despite being on a considerable daily regiment of antidepressants.
But is Harris simply being contrarian?
"No. I read two sentences that Sloane wrote in the Village Voice and I was so angry that it caused me to place my pet hamster in the microwave and watch it explode. This is not a common reaction that I get from writers. But Sloane's words caused me to do this. I was depressed for weeks. And I blame her for running me over the edge."
Harris plans to advance her protests further. Mass book burnings of I Was Told There'd Be Cake, followed by a giant Sloane Crosley effigy in front of the Random House building. She has also issued an open challenge to enter into a kickboxing match with Crosley. Crosley, however, has not responded.