(This is the first of a five-part roundtable discussion of Nicholson Baker's Human Smoke. For additional installments: Part Two, Part Three, Part Four, and Part Five.)
Nicholson Baker's latest book, Human Smoke, hits bookstores on Tuesday. And we will be devoting the entire week here to discussing the book.
But I'd like to start by dedicating this roundtable discussion to Arthur Saltzman, the late author of Understanding Nicholson Baker. I had approached Saltzman to participate in this discussion, but I learned from his partner, Joy Dworkin, that he passed away a few months ago of a brain hemorrhage. He was only 54. So I devote this discussion to his critical work on Baker and offer Joy my most profound condolences.
Edward Champion writes: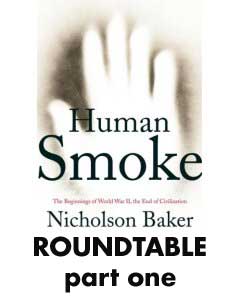 Nearly everyone I've talked with about Human Smoke has insisted that it's a departure for Baker. And I apologize, noble group. They came for my views and I DID speak out! (Apologies to Pastor Niemoller.) But aside from the lack of exuberance and perverse wordplay (no "assive-aggressive" here!), I don't necessarily think this is the case. There is certainly Baker's concern for details here. And when I consider that moment in The Fermata when we learn that Department of Defense funding is behind that bizarre sex laboratory or the humane qualities of the Death Watch Beetles parable in The Everlasting Story of Nory, I have a suspicion that Baker's contextual and pacifistic sentiments have been building up for some time. Perhaps even before the Bush II administration. (And I'll leave the theory over whether Human Smoke is, in some sense, a response to the hostile reception to Checkpoint for another to explore.) Consider also also Baker's essay, "Clip Art" (contained in The Size of Thoughts), in which Baker responds to Stephen King's charge that Vox was a "meaningless little finger paring" by pointing out that Allen Ginsberg had sold a bag of facial whiskers to Stanford and that, therefore, parings could not be "brushed off as meaningless."
So the first query I have is whether you think Baker's David Markson-like juxtaposition of historical data — adhering to a very specific timeline — is sufficiently objective. Does subjective interpretation here fall upon the reader? To what degree is Baker responsible for it? I'm also wondering if Baker is, in some minor sense, playing chicken a la King. I was certainly angered, saddened, and agitated by what the book presents — particularly many of the lost opportunities at peaceful negotiation and how obdurate decisions led to horrible consequences — but part of me pondered whether some of the anecdotes here could be willfully reframed, much like the "paring" scenario, and whether this tactic was entirely fair in some instances. I think of Gandhi's amazing December 24, 1940 letter to Hitler, in which he suggests, "We have found in non-violence a force which, if organized, can without doubt match itself against all the most violent forces in the world." While certainly Gandhi could back this up with his own efforts, I'm wondering if the circumstances of Nazi Germany and the Schutzstaffel's deadly realities even allowed for the peaceful resistance he championed.
The issue of responsibility — whether the so-called "good Germans" should be castigated because they couldn't prevent this from happening — has long been an issue taken up by second-generation Holocaust historians. (Goldhagen's Hitler's Willing Executioners comes to mind.) But I was fascinated by the ways Baker pins this on political ideologies. He doesn't outright blame people. He seems to suggest, particularly with Churchill's suppression of The Daily Worker (eerily preceded by socialist Richard Stokes asking why British fascists are in prison without trial while The Daily Worker appears on newsstands only one month before!) that an intellectual environment of hindering, restricting, and junking certain opinions led the world down this road. (This shares much in common with Baker's preservationist instincts, seen in Double Fold and his recent article on Wikipedia for the New York Review of Books.) What do you folks think about all this? To what degree is Human Smoke a response to the "good German" charge? To what degree is it a polemic FOR intellectual preservationism?
Also, what do you folks make of the cast of characters here? Christopher Isherwood, Chips Channon, and Victor Klemperer were just some of the many individuals here whose personal developments I found fascinating to track. And, of course, Churchill's gusto for war and Roosevelt's antisemitism come off particularly bad. But if Baker is presenting us with a capable crew of good guys and bad guys, as every narrative requires, do you think he's done a decent job? But this has us returning to that question I presented earlier about subjective judgment! So I'll shut my maw for now. Because I'm very curious what you all have to say!
Sarah Weinman writes:
Ed has offered so many interesting questions that my only response now is to ignore them and start with my take, responses to follow later on.
First, some context: I approached Human Smoke feeling a sense of guilt for how I had treated Baker's last book, Checkpoint. I'd never read his work before and rushed through it just so I could have an opinion along with the rest of the print and online peanut gallery, but I never shook the feeling that I'd given the book a bad rap, that Baker embedded far more than my mid-twentysomething brain detected. I'm planning to revisit that book soon, and my point here is that even if Human Smoke wasn't written as a direct response to the reaction to Checkpoint, my read of it probably reflects some desire to correct a perceived wrong, or at least concoct a more intelligent response to what Baker was after then.
Which brings me to now, the book at hand. Human Smoke seems set up to be a nearly 500-page Rorschach test, carefully designed so that whatever preconceived notions the reader brings to it will produce an equal response of shock, praise or vitriol, depending on the circumstances, political (or apolitical) leanings and the like. In my case, it's not so much a question of whether I agree or disagree with Baker's precis, but that my pre-formed thoughts about World War II, my dim knowledge of certain events and greater knowledge of others, creates the context for me to evaluate it. On the one hand, I think it's phenomenal. On the other hand, as I gulped down carefully laid anecdote after anecdote, forcing myself to put the book down because I wanted a breather from the cauldron of anger, depression and mind expansion that gave me so much to think about and the beginnings of a pounding headache, I couldn't help wondering what Baker had left out. I'll give an example, which also illustrates the Rorschach I just described: as I turned the pages and learned more about Roosevelt's anti-Semitism and the inexorable rise of the Nazis, I first wondered when Stephanie von Hohenlohe would make an appearance. She was Hitler's Spy Princess after all, someone who not only had the ear of the Fuhrer but whose popularity in New York and San Francisco social circles (not to mention affairs with several high-ranking government officers) so riled up Roosevelt and the FBI that she spent the bulk of the war in an internment camp. Granted, Stephanie's threat level may have been minimal, but considering she created such a stir during the exact time period Baker chronicled, the run-up to Pearl Harbor and just beyond, her omission struck me as odd – until I realized that this omission would probably be noted only by me.
Still, the "chicken a la king" feeling that Ed describes was very much on my mind, not just in terms of whether Human Smoke can truly be an objective read but in giving the reader the chance to make certain connections. I'm almost embarrassed to admit that my understanding of how the US-Japanese conflict dovetails with Hitler's murderous tramplings through Europe still remains on the dim side, except that Roosevelt & co., it seems, was waiting for a good excuse to break an election promise to stay out of the war without having to strike first. Although I was struck by Baker's juxtaposition of Roosevelt's early anti-Semitic vitriol with later policies, I'd have liked a bit more development of this connection as it seems to jump from the early 20s to late 30s without much preamble. But this, too, made me wonder if Human Smoke may have once been twice the length, and thus twice the opportunity to be wolfed down like potato chips. (as a side point, Baker remarked in an interview – I can't remember which one now – that he'd like to write a suspense novel of some sort. Perhaps this is it?)
More on the connections theme, I wonder if I was the only one to fixate on events taking place on September 11, or if this is an almost automatic thing to do now. Churchill decrying Hitler's "indiscriminate slaughter and deconstruction" in 1940; Lindbergh's much-booed speech the next year, the same day that Roosevelt made his "shoot on sight" speech. Is there a greater metaphor of looking for patterns that simply aren't there, looking for reasons to go to war to enact, at human level, a game in one's mind?
I agree with Ed that Churchill comes off very, very badly in Human Smoke. Almost as if he was well and truly pissed that World War I had to end and his power had been taken away, so the only way he could live and function was to do whatever he could to get war going again. Reading this made me rethink WWII from the Allied point of view; I'd always thought WWI was the pointless war, WWII with more of a firm rationale. But maybe there were simply more Archduke Ferdinands, more manipulated opportunities and missed chances at peace. Or maybe peace was never an option because Hitler and the Nazis were ready to propagate at all costs.
But in spite of my criticisms, there is one major reason why Human Smoke is a major work: it forced me to think about World War II at the detail level, on the day-to-day basis that everyday people faced when they woke up in the morning, read the newspaper, listened to the radio or huddled in a basement after a bombing or starved to death in a concentration camp. Baker's done his best to take a noise-laden topic and distill a relatively clear signal out of it, one that promotes a certain viewpoint by the juxtaposition of particular events, of course, but still a clear signal. In doing so, I couldn't help but flash forward to our time. The signal to noise ratio is far, far worse, with so many more and different types of media to sift through. How on earth can anyone concoct a clear signal out of what we're going through now?
More later, as I'm looking forward to what the rest of you have to say.
Levi Asher writes:
Hi everybody —
My reading of Human Smoke went in a completely different direction than Ed's. I take this as a dead-serious non-fiction book, in the style of Double Fold but with the increased intensity of an even more painful subject matter. I am a huge Nicholson Baker fan, but I do not detect that Nicholson Baker intended to put a lot of Nicholson Baker into this particular book. I think he has a big argument to offer, and this book is not about the writing — it's about the argument.
The argument, as best I can boil it down, is this: despite the cozy myths of American/British grace in World War II (or "the Good War", as we call it), Churchill and Roosevelt actually escalated and inflamed the war at many points, and also avoided many opportunities offered by the (losing) Axis powers to discuss a peace settlement that could have avoided future horrors. Despite the earnest efforts of many pacificist organizations and individuals, Roosevelt and Churchill insisted on the most militant approaches to problem-solving possible.
Churchill comes off particularly badly in this book, and I wonder if the book will be received with as much controversy as I think it will. Myself, I think this book is important because World War II books are such a cottage industry these days, and are more and more of the feel-good story variety every year. After I finished Human Smoke, I
went to my neighborhood Barnes and Noble to site with some history books and independently validate some of these facts. I was amused to find two entire shelves — two full 5-row shelves at Barnes and Noble — devoted to World War II books.
(I'm attaching a photo of this)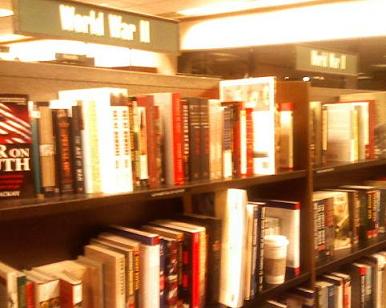 When I tried to look for hard facts inside these books, though, I found lots of repetition, lots of nostalgia, and lots of blood and guts and B-29s and turret shells. But I didn't find much actual history, certainly not of the investigative kind.
That's one reason I think Human Smoke will be an important book. I'm very interested to hear others' reactions.
Brian Francis Slattery writes:
Hello everyone,
I believe I've met exactly none of you in person besides Ed, and feel I should apologize for this. If you need to know more about who the hell I think I am, my website is here (www.bfslattery.com). But don't feel like you need to know more.
Ed brought up a very large number of points, and while I was typing my response, Sarah and Levi brought up even more; I'll take on the ones that coincide with the direction my own thoughts took while I was reading Nicholson Baker's excellent new book.
> > So the first query I have is whether you think Baker's David
> > Markson-like juxtaposition of historical data — adhering to a very
> > specific timeline — is sufficiently objective.
Is objectivity what Baker was going for here? I found his narrative here to be highly subjective, particularly given the basic questions he says he sought to answer (in the afterword): Was World War II a "good war"? Did waging it help anyone who needed help? Merely asking these questions, as Levi pointed out, is taking aim at the assumptions
upon which the United States' national mythology about World War II is built, and Baker doesn't stop there. Baker patiently dismantles the saintliness of both Roosevelts (Eleanor is an anti-Semite before page 25 is reached) and Churchill and lets the question linger as to whether Hitler was indeed bent on world domination. By the end of the book, at least in personal temperament, Churchill and Hitler are portrayed as more similar than different (p. 320; see also the Gandhi quote p. 407). And Baker goes to some length to suggest that higher-ups in the U.S. government at least strongly suspected that a Japanese attack was imminent and kind of sort of provoked them into it. All of these points and many others seem designed to chip away at the understanding of World War II that most Americans have: that Roosevelt and Churchill were the good guys and Hitler and the Japanese the bad guys; that the United States entered the war only after the surprise attack on Pearl Harbor. Etcetera.
Not that I'm scolding. Just saying that I don't think Baker was trying to be objective at all, and more power to him for it. I like to see national myths pulled apart and examined, and I think that, from an analytical perspective, it's what paficism–which Baker also aligns himself with in the afterword–is particularly good at doing.
> > I'm wondering if the circumstances of Nazi Germany and the
> > Schutzstaffel's deadly realities even allowed for the peaceful
> > resistance he championed.
I think this question can drive you absolutely crazy if you stare at it for too long.
> > The issue of responsibility– whether the so-called "good Germans"
> > should be castigated because they couldn't prevent this from happening
> > — has long been an issue taken up by second-generation Holocaust
> > historians. (Goldhagen's HITLER'S WILLING EXECUTIONERS comes to mind.)
> > But I was fascinated by the ways Baker pins this on political
> > ideologies. He doesn't outright blame people. He seems to suggest,
> > particularly with Churchill's suppression of The Daily Worker (eerily
> > preceded by socialist Richard Stokes asking why British fascists are in
> > prison without trial while The Daily Worker appears on newsstands only
> > one month before!) that an intellectual environment of hindering,
> > restricting, and junking certain opinions led the world down this road.
> > (This shares much in common with Baker's preservationist instincts, seen
> > in DOUBLE FOLD and his recent article on Wikipedia for the New York
> > Review of Books.)
It also shares much with historian Christopher Browning's take on the Holocaust. When I saw those ideas emerging in the book, I turned to the bibliography, and sure enough, Baker cites four Browning books–if I read the bibliography correctly, only William Shirer beats him by weight in the secondary-source department.
Christopher Browning and Daniel Jonah Goldhagen, dueling historians, went back and forth for a while over many aspects of responsibility for the Holocaust, but–at least as I understand it–one of the key points was whether there was something unique to the German character that allowed the Holocaust to happen, or whether the whole perpetrator-victim-bystander-objector dynamic is something more…innate to humans generally (I despise using the word "innate" here, but it's late, so I can't think of anything better).
Personally, to the extent that my own opinion is worth anything, I have always sided with Browning. I found Hitler's Willing Executioners to be more vitriol than anything, and in some ways I find the premise too easy–too hard on the Germans, too easy on everyone else. By contrast, Browning's account, at least in Ordinary Men, which I
remember most vividly, is at once much more sympathetic and much more chilling.
On one hand, he suggests that many people, in fact, did not kill unarmed defenseless people even when ordered to; that many who did once never did so again, deserting the army or facing death themselves in the process; that in order to make the Holocaust happen, Hitler essentially had to create an army of psychopaths to do his bidding,
and even then had to mechanize because there weren't enough people willing to do the slaughtering at the scare he required. There is some hope in that idea, a faint glimmer of it underneath all that horror.
But the flip side is that Browning's account doesn't absolve us. After I read his stuff, I came away with the distinct suggestion–I think with a great deal of humility on Browning's part–that none of us really knows what we would do in such circumstances. It is very easy to judge now; much harder to actually intervene when faced with
terrible situations, even when the moral choice is clear. (Raise your hand if you've booked your one-way ticket to Darfur. Okay, now raise your hand if you've been to New Orleans to help with post-Katrina recovery. Those of you who have raised your hands are better people than I.) The even darker corner of Browning's ideas is that the Holocaust is, alas for us all, not a unique historical event–which, sadly, the multiple genocidal episodes since World War II have borne out. The dynamic that Ed summarized so well–the restriction of ideas, of fitting everyone into tight little boxes the better to alienate
with–can be seen in the former Yugoslavia under Milosevic; it can also be seen in Rwanda, and, I imagine in many other mass killings that I know less about than I should.
> > To what
> > degree is it a polemic FOR intellectual preservationism?
I confess that I don't know what you mean by this, Ed. But random thoughts, off of Ed's, Sarah's, and Levi's responses:
1. Does Churchill come off as bad, or simply human? A deeply flawed man, a product of his time and own personal experience? Put another way: Is Baker turning him into a monster, or is he just stripping away the myth that surrounds him? I'm asking–I don't know enough about Churchill to say.
2. Regarding national myths again, it struck me that it would be really interesting to put HUMAN SMOKE together with your average U.S. high-school textbook that covers World War II. Then your average U.K. textbook. And German textbook. And Japanese textbook. Where would the greatest discrepancies lie? Which country whitewashes its own history–its aggressions or complicity in aggressions–the most? Which aggressions or complicities in aggressions does Baker himself leave out the most? And–assuming that he researched far more than ended up in the book–why? How did he choose what to put in and what to leave out? And what were the most painful omissions?
All right, off to bed. Good night, all. And hopefully I'll meet you all eventually.