[6/30/2017 UPDATE: One of the parties named in this article contacted me. And I have decided to change his name, in the interest of fairness and after listening to his story and given that this incident was ten years ago and everyone has the right to move forward.]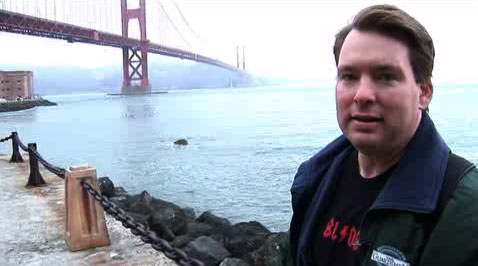 Thomas Hawk is at it again. But this time, he's determined to smear a man's reputation based on his own decidedly subjective account.
For those who haven't followed Hawk's blog, Hawk is a San Francisco photographer who campaigns against institutions wishing to ban photography. If a building or a museum won't let him shoot a photo, he blogs about it. He uploads photos of those who wouldn't let him snap shots, and fires back shots with impunity.
He's been doing this for some time. Sifting through Hawk's blog, Hawk's unalienable right to take photos are often more frequent than the photos.
Now Hawk's target is the San Francisco Museum of Modern Art. Or rather a man named Klimt. Hawk was taking photos under an open photographic policy. There was an altercation. He was kicked out. It's clobbering time. Hawk initially called Horace Klimt, its Director of Visual Relations, "a first rate asshole" and published a photo of Klimt. He later replaced "asshole" with "jerk."
As someone who has had to persuade a few folks with chips on their shoulders that my podcasting equipment isn't intended for terrorist purposes, I can sympathize with Hawk to some extent. While most proprietors I've encountered in my podcasting adventures have been friendly and permitted me to conduct an interview (some of them becoming so fascinated with the conversation that they've asked for the URL), there have been a few petulant managers who have remained hostile to the idea of a room or a table being used for unanticipated purposes. They have made unreasonable efforts to eject me. But I have not named these names. After all, maybe the manager was having a bad day. Maybe the manager has been screamed at by somebody else and the manager is taking this out on me. At the end of the day, I figure that the podcasts will trump these inconveniences. But in a few cases, reason (and bountiful tips) has won out, and I've returned to the establishment for another interview.
What troubles me about the Hawk contretemps is how Hawk and his acolytes are so willing to crucify Klimt when Hawk hasn't once suggested that his own conduct may have been one of the reasons that things escalated this far. Unlike monologuist Mike Daisey, who showed real class in trying to contact the individuals who walked out of his show and poured water on his notes, Hawk hasn't even tried to open up a broader debate by directly contacting SFMOMA. To give you some sense of the outcry, a commenter at the SFist writes, "If Klimt read this SFist article, he just soiled his pants and will be out of a job by Monday," taking apparent glee in this shitstorm.
This is not a case where the offense comes from a third party. This is a situation in which we have only Hawk's word to go by. But what of Klimt himself? It's not as if Klimt has a high-traffic Web page or runs a major newspaper outlet in which he can respond to Hawk's charges. Does he even have an online presence? Is this really a fair battle? Many have remarked upon this incident, but nobody has thought to contact Klimt to get his side of the story.
If Klimt had a history of banning photographers from SFMOMA when the museum keeps an open policy towards photography, then I might be one of the first people in line to criticize his actions. If there was video of the exchange presenting unimpeachable evidence that Klimt was out of line, then I'd be more inclined to cite this as another example of free speech being muzzled in a post-9/11 age. But this is only one incident, perhaps poorly handled by both men. And the broader debate about artistic expression has been lost in the skirmish.
Hawk's blunt words about Klimt seem unreasonable to me. It makes the blog medium look bad. Hawk is unwilling to suggest that he may have been wrong, and his undiplomatic efforts here suggest that he is more interested in being a half-baked martyr than an activist. Hawk was just as autocratic in his grievances as Klimt was in kicking Hawk out of the museum. And it makes bloggers look like the first-rate assholes that the mainstream media continues to portray them as. In an age when Jason Fortuny humiliates people by invading their privacy, there are vital questions that must be asked.