[This is the first in a series of dispatches relating to the New Directors/New Films series, running between March 25 and April 5 at MOMA and the Film Society of Lincoln Center.]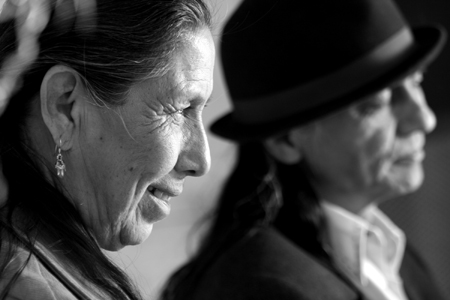 Oklahoma, a state unfairly associated with Rodgers and Hammerstein, is a vast prairie with a pan-shaped territory suggesting a definitive cooking surface for the great American melting pot. It has been dismissed by East Coast elitists as a hotbed of virulent Christianity and backwater intellect. But as Will Rogers famously quipped to the state's detractors, "When the Oakies left Oklahoma and moved to California, it raised the IQ of both states."
It's something of a relief to know that filmmaker Sterlin Harjo has dedicated himself to not only raising the stereotypical plateau with which his homestate is viewed and understood, but by documenting the state's Native American population over the course of three films. It should be noted that Oklahoma has 25 Native languages, which is more than any other state. The lingua franca is so fascinatingly variegated that the Oklahoma Legislature passed a bill in 1990 that permitted a Native language to serve as the state-mandated high school language requirement.
Language of an altogether different sort is what makes Harjo's third film somewhat interesting. Here is a young filmmaker struggling to collect the quiet experiences that older people often keep to themselves. At one point, our two heroes — Frankie, a man dying of cancer and hoping to clear up a few fractured relationships before passing on, and Irene, his ostensible soulmate — thumb a ride from a young couple from Tulsa. The young woman, Wendy, remarks to her husband about how adorable they are and how they might be able to forward to a future where they can be just as comfortable with each other. Her husband looks upon this lifelong commitment with a quiet horror. And when Irene brazenly announces that the two are not together, the young couple's illusion is shattered. But a mix tape serves as a cross-generational point of reconciliation. One particular song proves so intoxicating to Frank that we see him torturing Irene later, playing the tune over and over again in a car. Since the man is dying, he's excused for this apparent rudeness. But is it really rudeness? Or is this Frank's way of expanding Irene's rigidly parochial perspective? Is the lie that Irene committed years ago — a prevarication that Frank himself has quietly braced and has never attempted to clear up with anyone — worse than Frank's auditory sleight?
That such character questions are buried inside this film is a testament to Harjo's talent. Perhaps it's the landscape itself that's cloaking these concerns. Harjo frequently cuts away to shots of rusted stop signs and the flat terrain, as if to suggest that the patient and restricted Oklahoma culture may be responsible for some of these communicative failings.
There is one unexpectedly flamboyant scene at a diner that suggests an alternative Oklahoma. Irene, who only has a ten dollar bill for their journey, is in the habit of calling friends and relatives to get people to buy the two meals. She calls on a nephew that neither Frank nor Irene are particularly crazy about. The nephew and his friend are delightfully boorish. (The pal insists on ordering nothing but "a whole mess of bacon.") And Harjo films this scene using wild and often low diagonals, even capturing the large deer's head at the top of the wall. The glum waitress taking the order insists that every breakfast platter requires toast. And one gets a sense of the need to resist such rigid folkways by the bacon enthusiast's baseball cap reading RESIST.
"That's what I miss most about being young. Magic," says one character at one key point in the film. And this sentiment reveals the film's major flaw. Harjo doesn't quite have the chops to present us with the magic dazzling at the other end of life: that jam-packed existential epoch just after sixty troublesomely incompatible with Hollywood's commercial emphasis on the young and unshaped. Frank and Irene keep a very interesting enigma to themselves. But instead of permitting these characters to communicate the edges of this mystery with a telling look or a curious conversational fragment, Harjo spoils it all with that most amateurish of film narrative devices: the flashback. And once this mystery is revealed, Frank and Irene become thinner in character dimension than they have every right to be.
Here is an ambitious film that knows its underserved state very well, but it doesn't quite know people as well as it should. But I harbor a faith that Harjo's subsequent films will become more expansive as this young filmmaker matures with time. Let us hope that some benefactor permits him to make more films and hone his craft. His voice, as unformed as it is, is needed.