On Tuesday afternoon, I discovered this report from NPR Ombudsman Edward Schumacher-Matos. NPR hadn't aired a single story in relation to the Occupy Wall Street protests, which I had reported about on Sunday in relation to the pepper spraying incident. I decided to walk across the Brooklyn Bridge and attend the protests myself. What follows are nine conversations I had with various individuals at the protests.
Douglas: "I'm here because I'm American. I was born here in New York. I was born here in Manhattan."
This text will be replaced
Jeff and Miike came from Colorado.
Miike: "We came on Sunday specifically for this. And we decided we wanted to come down for the week also."
Jeff: "We had already planned a trip to New York. And then they were talking about it on the radio station that I listen to in Denver. And they were saying there's a total media blackout on this whole thing. And so I said I'm going to go down there. I called them up and said I'm going to go down there."
This text will be replaced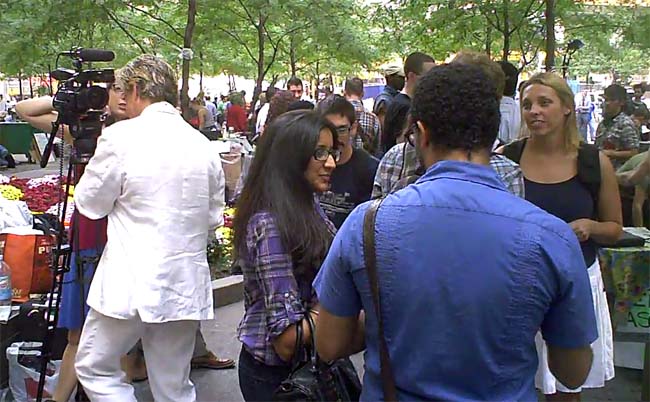 Dorjee: "I hope it brings it down completely and we get a completely new system of human respect with viable resources and fair trade, instead of I lend you. You, you need a thousand dollars. Okay, I'll give you a thousand dollars if you pay me back $1,000 plus $200."
Me to Dorjee: "Be careful with that fist. Because you're trying to be peaceful, right?"
This text will be replaced
Marvin was holding a sign that read JESUS IS NOT FOR CORPORATE GREED. What will the protest actually do?
Marvin: "It will make people more aware that we live in a capitalist system where more people are living in poverty than ever. And the most ironic part of it is that it's a capitalist system, but we live off the Communists. We have to borrow money from Communists to even exist."
This text will be replaced
Mary was a tourist who had stopped by Liberty Square on the last day of her vacation.
Mary: "I'm surprised it hasn't happened earlier. Now it has. I started following it on Twitter. And then I thought I'd come down and see what was happening."
This text will be replaced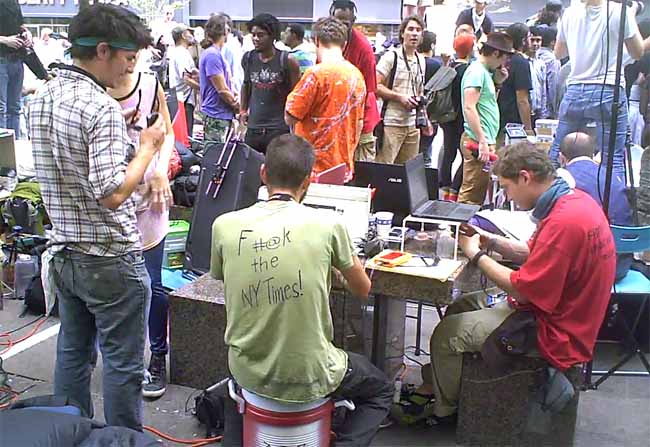 Ed and Robin came to the protests all the way from West Virginia.
Robin: "The corporations have done a great job in dividing people, separating people into issues. People are coming together here and realizing that we have much more in common with each other than we do with the people who are trying to sell us on what a good way of life is here."
This text will be replaced
Ed and Robin were also kind enough to perform their song "Let 'Em Eat Cake" for me. Here is Uncle Eddie & Robin's website.
This text will be replaced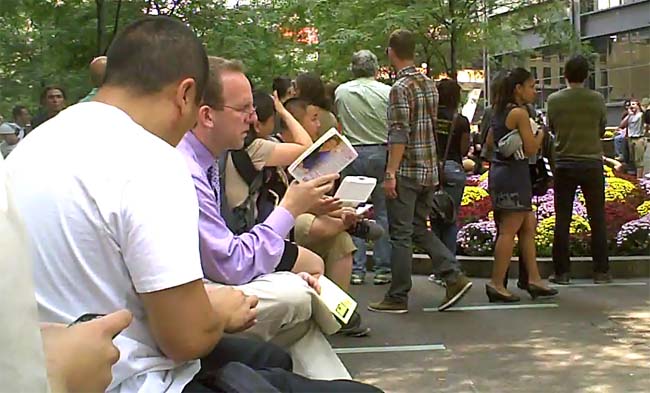 Roman carried a sign calling for President Paris Hilton and had some unusual ideas about making sex appeal a more predominant characteristic than others.
Roman: "I'm an aspiring, you know, Paris Hilton. I want to just be able to live and party. I live with my parents right now but we don't have much money. And I think that if Paris Hilton becomes President, you know, she can help everybody just party."
This text will be replaced
Brian worked very close to Liberty Square. He was checking out the protests on his lunch break.
Brian: "This is funny anyway. [indicating sign] I mean, who hasn't tried to go to school looking for a job when they first get out of school. I mean, that's what we all do. It's hard to find a job. But, like anything, you continue to look and try until you find one and do what most of us have done."
This text will be replaced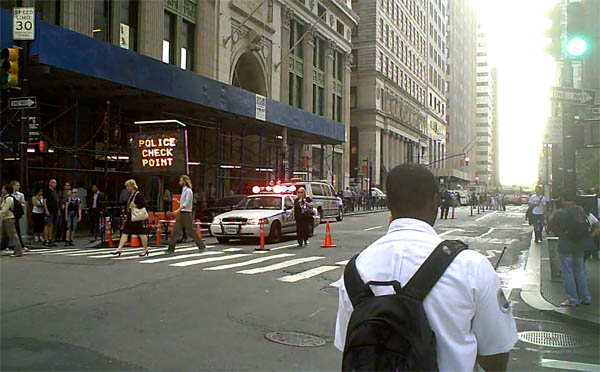 [EDITORIAL NOTE: Please note that an earlier version of this story misidentified "Steven Levy" as "Wired senior writer Steven Levy." Reluctant Habits expresses its apologies to Wired's Steven Levy and greatly regrets the error.]
As I was circling Liberty Square and talking with many people about what it meant to protest, I observed an older man berating a young man going by the name of Matt. It was the only contentious banter I had observed in what was otherwise a peaceful gathering — complete with donated food, plentiful signs laid along the ground, activists singing protest songs on banjos and guitars, and even a library established in close proximity to the main dais.
I was curious about what had caused this older man to lose his gasket. Because while I had talked with people who did not approve of the protest (including some cops who declined to go on the record, but all NYPD officers I observed were calm and professional), the older man was the only one prepared to go ballistic. This being a public space, I naturally began recording audio and approached the shrieking man, hoping that I might use this moment to generate a civil discussion. But the man, who identified himself as "Steven Levy" (not to be confused with the Wired senior writer) wasn't especially interested in explaining to me why he was upset at Matt.
"He and I were just talking with another woman," explained Matt after the exchange. "And I think they're more on the liberal interventionist side of the economic policies — at least in terms of their opinions. And I was like saying, 'Look, I'm personally against Keynesianism. Because I think Keynes is all about government spending. And I don't believe government is a good allocator of spending.'"
This position apparently infuriated Levy. When I approached Levy and Matt, Matt was explaining to Levy that the two of them were on the same side. Levy responded, "You don't read well."
I decided to intervene. I merely wanted to know what Matt was misrepresenting. The results can be listened to below:
This text will be replaced