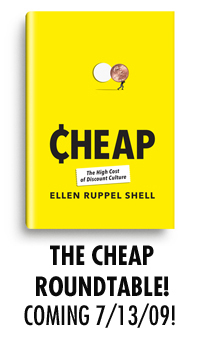 Ladies and gentlemen, during the week of July 13th, 2009, an intrepid team of journalists, unusual voices, first wave bloggers, and second wave bloggers will congregate on these pages to discuss Ellen Ruppel Shell's Cheap: The High Cost of Discount Culture. We will be serializing our discussion over the course of that week and, as always, your feedback is welcome in the comments.
You might remember Ellen Ruppel Shell's previous book, The Hungry Gene, which explored the topic of obesity from numerous angles. Shell's latest book tackles the subject of discount culture and its impact upon American life. Yes, we've all been cheap bastards at some point in our lives. And the present economy has certainly forced many of us to bargain hunt. But what's the impact of our decisions? And are there ethical ways to approach discount culture?
With our forthcoming mix of thoughts, feelings, and anecdotes, we hope to investigate some of these questions and possibly get lost in a few new ones. Feel free to tag along during the week of July 13th! The talk will indeed be Cheap!