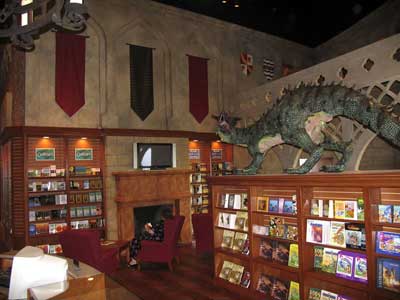 This morning, booksellers finally figured out what to do about the massive influx of pretentious literary fiction that has taken over the "Fiction" section in bookstores. Starting next month, "Pretentious Literary Fiction" will get its own section in bookstores, in an effort to hinder confusion for today's customers. Nearly all books published by Ecco would be part of this new reorganization.
"It was really getting out of control," said Thelma Rhustein, manager of a Barnes & Noble in Peroia, Illinois. "These New York people actually believed that these mutant books were fiction, and tried to ram them into our stacks."
Of course, there is only so much space. Since other genres — such as science fiction, mystery, YA, comics, chick lit, and romance — have become less pretentious and are now more acceptable to the reading public, the elaborate plan calls for these genres to be integrated into the main Fiction section.
Many newspaper book review sections have begun adjusting their sections accordingly. Now that "pretentious literary fiction" is a lesser genre, many plan to begin ghettoizing "pretentious literary fiction" to capsule reviews while moving previously little-regarded genres up to full-length reviews.
"It's purely a business decision," said a spokesman for Tribune Newspapers.
Ecco spokesman Michael McKenzie could not be reached for comment. He was reportedly too busy playing an addictive Flash game. But he did pledge to a co-worker that he would cut down on his pedicures in an effort to figure out what it was that average people found pleasurable about books.
Psychiatrists have also been enlisted to make many pretentious literary fiction publishers less douchey.