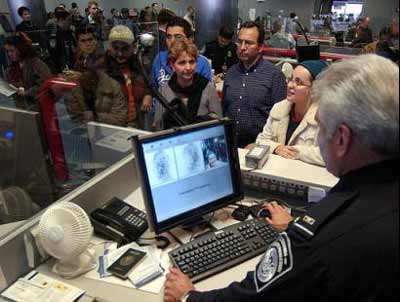 US Customs and Border Protection, galvanized by their successful efforts to prevent Sebastian Horsley from entering the United States, have decided to take things further in an effort to protect America from itself. Starting on January 1, 2009, all writers who look or sound even remotely foreign — and that includes those pesky Canucks who don't know how to pronounce "about" correctly — will be prevented from entering the American homeland.
"Frankly, these foreign writers all sound a little faggy," said Cletus Dorrell, a 44-year-old director who rose up the ranks quickly because of his commitment to stubbing out moral turpitude. "And we have plenty of writers here in America. Just look at John Grisham!"
How this would effect such events as the PEN World Voices Festival remained to be seen, but PEN America was considering renaming their annual event the "PEN America We're #1 Voices Festival."
New York Times Book Review editor Sam Tanenhaus welcomed the move. "All the damn bloggers keep complaining about how little we cover translated titles. Well, I've always been a company man who never asks questions. And this policy certainly explains why things have been the way they have been on the Review's pages. Frankly, I've been munificent under the circumstances."
© 2008, Edward Champion. All rights reserved.