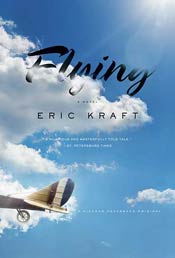 Beginning on March 2, 2009, this website will be kickstarting a lengthy roundtable discussion of Eric Kraft's Flying over the course of the week. (For those hoping to follow along with the discussion, this is the same week that the book comes out.)
Who is Eric Kraft? Well, as I learned when enlisting roundtable participants, a lot of people aren't all that aware of him. In fact, I only found out about the guy by accident about a decade ago, when I stumbled upon a series of paperbacks labeled The Personal History, Adventures, Experiences & Observations of Peter Leroy at City Lights. I flipped through the pages, and found a number of pleasantly fabricated pictures, diagrams, and illustrations, ended up purchasing a number of these books, and began reading.
Peter Leroy, as it turned out, was a guy in the present writing his "memoirs." Except that these memoirs are fabricated from hazy childhood memories. Or are they more accurate than can be believed? One of the pleasant side effects is that the lie of the "memoir" often reveals ebullient truths about the human condition. But we never quite know how much of this is invented and how much of this is true. Why is Peter's wife, Albertine, so patient with his imaginative condition? Or is this likewise a put on? One character, Matthew Barber, is a miserable toy executive with an alter ego named B.W. Beath who he impersonates when he reviews restaurants for the newspaper. In Reservations Recommended, we initially believe Barber to be real. But we learn in that book, and, most notably in Passionate Spectator, that he is fabricated and that the alter ego within the alter ego is of great importance to the "real" Leroy.
Now my description here suggests that Kraft's novels are needlessly complicated and will give you a headache. But they're really not. What's especially striking about Kraft's work is that none of these postmodernist tricks come across as exceptionally showy. His books are perverse, funny, obsessive, entertaining, and sometimes quite heartbreaking.
But Kraft hasn't quite found the great audience that he deserves. And one of the reasons I maintain this website is to draw attention to overlooked and underrated authors.
So in a few weeks, we're going to have about fifteen people here discussing Kraft's latest book. There is also a separate podcast interview with Kraft in the works, in which I will do my best to conduct as definitive an interview as I can. (I have read all ten books in the Leroy series. This is the first author interview in which I have conducted this kind of insane preparation.)
The book that we will be discussing is Flying.
Flying is composed of three novellas ("Taking Off," "On the Wing," and the previously unpublished "Flying Home") and follows Peter Leroy's pursuits, as he sets out to build a flying motorcycle that will carry him to such exotic places as New Mexico. Each novella takes on one part of the journey, and the "journey" often involves numerous side quests and other divagations. But how much of this adventure is by design? What of the reconstructed Babbington Historical District that looks suspiciously similar to the Babbington in which Peter Leroy grew up? And what does all of this have to say about memory, permanence, and experience?
Well, we hope to answer these questions and more when the roundtable discussion begins. Until then, keep watching the skies!