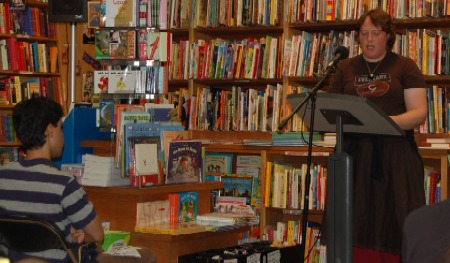 On Wednesday night, an appreciative crowd of thirty gathered to hear Kelly Link read at the Booksmith. Harcourt has recently issued Magic for Beginners in a paperback edition and have sent Link on a ten-city tour to promote the book. Link, clad in a no-nonsense beige Eveready T-shirt, threw the crowd a monkey wrench by reading "The Wrong Grave," a story uncontained within Magic and set to appear in a forthcoming Candlewick anthology edited by Deborah Noyes. This YA story, as fluid in its twists and turns as nearly all of Link's fiction, managed to combine poetry, grave robbing, mistaken identity, and a curious fixation on beef jerky. Link was initially a bit nervous, but found a firm confidence as the crowd responded. The tale was to form the centerpiece for the Q&A that followed.
A young man asked a preliminary question concerning Link's natural intuition as a storyteller, wondering how she had managed to evade the stigma of cleverness. Link noted that she found stories scarier when they involved things like Cherry Chapstick. She noted that the story she read had been troubled by an intrusive omniscient narrator, but she had felt as comfortable reading this particular tale as she had writing it.
The tale had been inspired by the title, "The Wrong Grave." It sounded like something culled from Edward Gorey: something a bit macabre and a bit stupid. Link was considerably self-effacing, pointing out that she was "still working through her obsession with Buffy the Vampire Slayer" and that this story served as a way to contend with this. The story centered around a young poet named Miles. Link had pursued the story after becoming interested in the idea of a person who was single-minded in their pursuit of art.
Link's Nebula-winning story, "The Faery Handbag," had recently been optioned for a film. And Link confessed that she hadn't expected the words, "My story has been optioned for a film," to escape her lips. She indicated that she would have no problem if the film production company screwed this up, that she would enjoy any resultant bad movie that came from this, but that she hopes to enjoy the process.
When another questioner brought up the subject of YA, Link noted a recent conference in which a person had suggested that a YA author could do anything but be boring or present beastiality. When this had been said, already the YA writers' eyes were rolling over how they could circumvent these restrictions. The apparent impression in today's YA climate is that you can, in fact, do anything. Which is good for a writer like Link.
The intrusive narrator in "The Wrong Grave" had been inspired by the previous Link story, "The Great Divorce." It was something that Link had hoped to expand upon, only to determine while writing the story that this was a bad idea.
A main character, Link contended, should do stupid things. A character who didn't do this would end up being another unfortunate case of "moral fiction."
Asked about Small Beer and the zine Lady Churchill's, Link indicated that the long-term goal of the former was not to go too much into debt and the goal of the latter was to break even. She noted that there was something "deeply relaxing" about a low-production zine and indicated that Lady Churchill's had a two-year backlog that motivated Link and co-editor Gavin Grant to keep working on it.
For those who desire more, I'm happy to report that a future Bat Segundo podcast will feature an interview with Kelly Link.