Cynthia Ozick appeared on The Bat Segundo Show #210. Ozick is most recently the author of Dictation.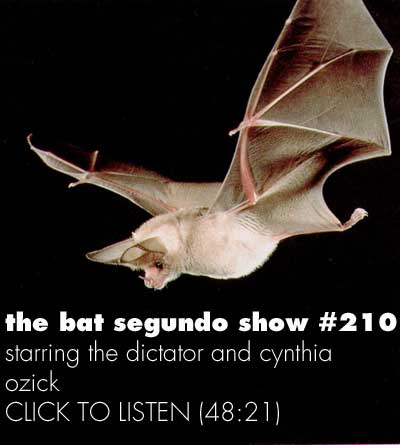 Condition of the Show: Overtaken by a tyrannical dictator.
Author: Cynthia Ozick
Subjects Discussed: Balancing two authors, two secretaries and other stylistic repetitions that evoke typewriters in "Dictation," purloining language from Henry James and Joseph Conrad's letters, Henry James's "forgotten umbrella," "Literary Entrails," parallels between the last two turns of the century, feeling like Queen Victoria, the language GNU within "What Happened to the Baby?" and open source GNU, crosswords in "Actors," agonizing over every particular sentence, the slowness of sentences, auctorial fingerprints, John Updike, not wanting to be a writer of drafts, a lost manuscript by Lionel Trilling, whether postwar critics are being suitably remembered, those who mock Trilling for his moral seriousness, the origin of names, fiction as a pack of lies, being a stickler for the details vs. sustaining ambiguity, contradicting yourself in essays, when essays are unduly compared with fiction, John Barth's "The Literature of Exhaustion," the current literary critical environment, E.M. Forster, descriptive references to necks, on not leaving the house, not writing stories set in the present day, getting lost in one's head, re-rereading Sense and Sensibility, how much Ozick has to think about a book before writing it, the reputation of America over the past fifty years, defining a "contemporary" novel, the dangers of writing in the present moment, clinging to brand names, books that rethink a particular epoch, religious identity in "At Fumicaro," pretending about pretending, literary impersonation and multiple personalities, and anchoring fiction with reality.
EXCERPT FROM SHOW:
Correspondent: I wanted to ask you about "Dictation," the title story. This was very interesting to me for a number of reasons. Because here you have two writers, Henry James and Joseph Conrad, two secretaries of Henry James and Joseph Conrad, and then on top of that, you have a number of repetitions throughout the story, as if to echo or beckon the typewriter. Like in the very beginning, when you have Henry James describing Almayer's Folly, you kept saying, "He saw. He saw." And there's a number of interesting things you are doing in the syntax of the story that almost echoes the typewriter. So I wanted to ask how this particular stylistic device came about. I know you spend a lot of time on your sentences. So you had to have been at least somewhat aware of this.
Ozick: Well not so much of the repetition in consonance with the typewriter, no. I wasn't aware of that at all. And I'm rather taken aback by hearing you say, "Have you actually seen this or heard this?" I have not. (laughs) I have not. I'm sorry to disappoint. That is not what I had in mind. What I had in mind really was the joy of the mischief when it occurred to me. And the stylistic aspect had to do more not with the sounds — if that's what you're getting at — but with the tones and styles of speech of these people in that era. Particularly with the formality of the young ladies, who must call each other "Miss." To venture into a first name is really quite forward and not to be countenanced by polite society at first. And also the great pleasure of, I suppose, my parodying of James and Conrad. Though, here's a confession, and having very much to do with style. I purloined certain phrases directly from the letters of James and Conrad. So there are sentences buried in there which are absolutely authentic. Because they're stolen directly. Not full sentences, but phrases here and there. So that gave me a lot of joy too. Because it was a kind of imitation, mimicry, reflection of what these two amanuenses were up to in their mischievous plan.

The Bat Segundo Show #210: Cynthia Ozick
[ 48:21 ]
Play Now
|
Play in Popup
|
Download