Alison Bechdel recently appeared on The Bat Segundo Show #250.
Ms. Bechdel is most recently the author of The Essential Dykes to Watch Out For. To listen to our previous interview with Ms. Bechdel, check out The Bat Segundo Show #63.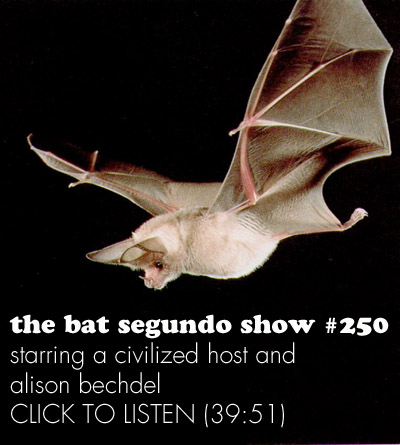 Condition of Mr. Segundo: Overly concerned with modifiers attached to artists.
Author: Alison Bechdel
Subjects Discussed: The relationship between visual developments and storyline developments, how personal developments worked their way into Dykes to Watch Out For, Tips o' the Nib, narrative authenticity, research through asking people, being afraid of the telephone, the comics world as a simulacrum of the real world, being overly stimulated by the real world, developing specific background details, the risks of diverting attention between graphic novels and comic strips, dwelling upon a community vs. dwelling upon the self, therapy, Woody Allen, being ahead of the technological curve, Proust and the first telephone call in a novel, laziness vs. being seduced by technology, scanned lettering, managing all the characters in the strip, having characters refer to each other by first name, the advantages and disadvantages of deadlines, adapting media messages for the comics medium, Mad Magazine and Mort Drucker, fear of empty space, when text and images are not enough for comics, political semiotics and behavior, strips with little to no dialogue, artistic influences, fitting multiple people into a frame, portraying the butts of various characters, contending with censorious requests from newspaper clients, the limitations of four rows, Madwimmin Books and big box stores, why the bookstore is the perfect social nexus, the outcry upon introducing Stuart, the ideological balance between Mo and Stuart, gender jokes as cheap shots, contending with those who didn't understand Bechdel's storytelling style, the role of politics in Dykes, the moral responsibilities of a cartoonist, and Proposition 8 and the future of cartooning.
EXCERPT FROM SHOW: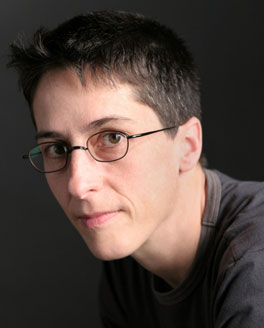 Correspondent: I think we should really clarify this for the record. I mean, the stripes on Mo's shirt become more pronounced over the course of time. And they increasingly grew thicker during the course of the early '90's. And then sometime around 1995, they solidified into that absolute thickness that we have enjoyed for the last decade or so. I know there have been many Harry Potter jokes that you've thrown around. But you were there, of course, before Harry Potter.
Bechdel: That's right.
Correspondent: But I have to ask you about the stripes. Had it occurred to you at any time to have Mo not wear a striped shirt? Or did you feel that this was such an indelible part of her disposition?
Bechdel: I think there might be one scene where she's not wearing a striped article of clothing. But I can't remember what it is or what its significance is. Indeed, the stripes did grow thicker. Very good observation!
Correspondent: Yeah! They did! They did! It was really great to read this all in one burst, because there are so many different character developments, which I plan to ask you about. But maybe I could probably phrase this better by pointing out Sparrow, for example. How the front curls that she had were chopped off to fit in with the adjusting times. And I'm wondering when you decide to change the look of a character. What circumstances dictate that? And some characters, of course, like Mo, stay the same over the course of time.
Bechdel: Wait, can I just make an observation? Thinking about those thickening black stripes, I think that's of a piece with the increasing darkness of the strip and indeed the era in which it was passing through.
Correspondent: Yeah, yeah, that's true.
Bechdel: Maybe now if I were continuing to write it, Mo's stripes would continue to get thinner and thinner.
Correspondent: Thinner, thinner, thinner.
Bechdel: No, I mean literal — I mean like figurative darkness.
Correspondent: Figurative darkness!
Bechdel: Yeah! Yeah!
Correspondent: So there's some allegory here, I see. So it's
Bechdel: Yeah, I'm totally bullshitting. I'm totally making this up.
Correspondent: Ah! No, no, this is good. This is good.
Bechdel: But…
Correspondent: But we can give the listeners something to latch onto here. Great allegorical decisions upon your part. I mean, how much of this is intuitive? And how much of this is really a conscious effort? Well, you know, Mo's stripes look better. They just look better.
Bechdel: No, it was purely a visual decision. I don't know. I just used a different pen or something. And it looked better thicker.
Correspondent: Okay, what about Sparrow's hair?
Bechdel: Sparrow's hair. Well, what made me decide to do that? I don't know, but interestingly it prefigured her crossing over from being a lesbian into being a…
Correspondent: Yeah.
Bechdel: …a bisexual. I forget what she called herself. A bisexual lesbian.
Correspondent: I think she did.
Bechdel: But she didn't want to completely let hold of her lesbian title. But she got this slightly more feminine-looking haircut.
Correspondent: Yeah, she did. She did. I mean, did you plan her to essentially shack up with Stuart?
Bechdel: No, not at that point. I didn't.
Correspondent: How much does a visual decision like this predate the actual plotting? Or perhaps anticipate it in some way? It's a very interesting observation.
Bechdel: It is interesting. What's even more interesting is that the way that these storylines and developments prefigure my own life. Or are a reaction of things going on in my own life. Which I don't like to admit, typically. But as I looked back over the book, I could see all these absurd parallels with my own life. It seemed almost indiscreet to have included them.
BSS #250: Alison Bechdel (Download MP3)
This text will be replaced