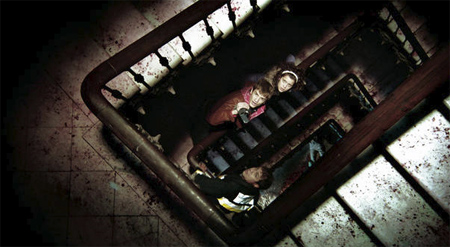 Nobody seems to agree on the precise pronunciation of [REC]. And I haven't even brought up the potentially controversial notion of pronouncing the brackets. (A throat-clearing sound?) I had been saying it wrek — in large part because I spent some of my childhood living in a sketchy apartment complex with a dubious "rec room," and enjoy a little symmetry in my horror nomenclature. I talked with a friendly horror aficionado before the screening who insisted on spelling it out ar-ee-see, as if the title were an acronym. Another film critic pronounced it with a long e. I must presume that the film's title, much like the film itself, is what you make of it.
But just how do you name a sequel in a franchise based around a camera button? [REC] Again has little zip, suggesting to the audience that they've made some mistake, perhaps missing the taping of some vital House installment. [REC] with a Vengeance insinuates that the button has become sentient, transforming into some mechanical Charles Bronson-style vigilante. (This wouldn't be entirely out of line for the [REC] films, seeing as how the camera is just as much of a character in as the reg folks gone aggro.) In the end, writer-directors Jaume Balagueró and Paco Plaza have opted for numerical superscript for their sequel — much like the Aliens films. I am pleased to report that the camera perspectives do indeed live up to this squared sensibility.
For those of you who have no idea what the hell I'm talking about, you should probably check out the original [REC]. Unlike many mindless horror franchises, the [REC] movies feel as if the filmmakers have given serious thought to the environment. (Or perhaps they know how to improvise better. The Saw series's endless "twists" — in which the Jigsaw Killer's plan becomes increasingly more baroque and laughably improbable with each installment — have readily revealed the creative bankruptcy in milking a cash cow.)
But with [REC] 2, you may be just as lost as the survivors if you haven't experienced the previous film. Made in 2007, the first [REC] is a pretty terrific little horror film that presents a zombie plague entirely from a single camera perspective. Like The China Syndrome, there isn't any music. But the results aren't obnoxious like Mike Figgis's disastrous (and dated) Timecode — surely the last decade's answer to Woodstock or More American Graffiti.
A cameraman and a television presenter named Angela Vidal — both filming a disposable reality TV series called While You're Asleep — visit a firehouse to find out just what firemen do. Angela awkwardly asks the fire chief, "You're the boss, right?" She puts on a firehat and a uniform, jumping about for camera-friendly frivolity. She suggests to another fireman she's interviewing that the alarm should go off for full dramatic effect. There is a basketball game that is interrupted by an alarm, which takes yawning firemen and bored camera crew to an apartment building, where a zombie infection is underway.
Life, in other words, needs to be shaped into a juicy narrative by the camera crew. But the viewer is part of a different narrative, thanks to the unedited tape that comes with the epidemic. While this may seem to echo the setup of George A. Romero's Diary of the Dead (more satirical), The Blair Witch Project (a narrative designed out of a savvy marketing strategy), and Cloverfield (the handheld gimmick used to present a pedestrian Hollywood narrative in a "different" way), [REC] works so well because the camera is instrumental in portraying the panic. When the camera is hit, the audio gets bumped right along with it. Near the end of the film, the camera must rely on night vision.
The camera crew makes desperate efforts to maintain some journalistic facade when sealed in the building by mysterious government forces, continuing to conduct interviews with the survivors. But these efforts soon dwindle as the need to survive becomes more pressing. As the environment becomes more unruly, the cuts between the camera being on and off tell additional stories. Where Diary of the Dead placed its faith in the idea that young people would continue to seek fame when there wasn't much of an audience left, and where Cloverfield's camerawork often proved ridiculously stable near cantilevered edifices, [REC] considered how people would act to apocalyptic events and how the camera would be instrumental in conveying this behavior. And this approach, thanks to Manuela Velasco's fish-out-of-water performance as Angela and the more naturalistic acting (for horror, anyway), strongly suggested that Balagueró and Plaza had carefully studied The Battle of Algiers (certainly a good deal more than the Blair Witch bunch, who should be commended for bamboozling the American public).
[REC] 2 doesn't quite match the first film's gripping suspense, but it comes extremely close. Like the first film, the behavior, dictated by the camera, changes through the movie. We're introduced to soldiers who are rather by-the-book and not particularly insubordinate. The ostensible commander insists on recording everything. But as the film progresses, a more human element of fear and frustration creeps in, and, with this, a very pleasing sense of revolt that is perhaps best signified by the liberal use of firearms.
[REC] 2's narrative feels more like a Valve video game or the Sunday New York Times crossword puzzle — a journey to be filled in once you've explored the unknown space.
OBJECTIVES: 1. Get blood vial. 2. Go downstairs. 3. Find Patient Zero.
You get the idea. And if you can't get behind this crass fun, then I sentence you to a lifetime of soporific Merchant-Ivory movies.
One POV shot, in which a soldier blows away zombies with a machine gun, comes across like a Left 4 Dead installment five years from now, with a better engine and more heat-sensitive hardware. There is a moment in which snipers shoot at the building that had me wondering if I was re-experiencing Half-Life 2. There is even a secret door leading to a bonus world, further cementing the gaming comparisons. Should cinema resemble a first-person shooter? In most cases, I would advise against it. But because the [REC] films are very much about playing with our narrative expectations with the camera-audience relationship, this cross-media mimesis somehow works. It wouldn't work without the camera. And while sometimes this feels like a cheat, we are given enough unexpected developments to keep feeding in our quarters.
There are more cameras here than the first film — including several lipstick cams placed upon soldier helmets, reminiscent of the second Aliens film, that are occasionally patched into. There's a second perspective emerging midway through the film. There are more characters — including a group of foolish teenagers. But there are also more opportunities for zombie destruction. Aside from some head explosions, there is also a very satisfying moment in which a zombie flails about with a bottlerocket in its mouth. At one point, when a zombie runs towards the camera, the image freezes on its quite open and terrifying mouth. The filmmakers also offer a greater attention to accumulating scrapes and bruises as our intrepid heroes are attacked.
If you can accept that [REC] 2 is a carnival ride, then you'll probably like this flick as much as I did. I certainly enjoyed [REC] 2, despite all of its supernatural contrivances, considerably more than the boring art house film I'd seen earlier that day. And maybe that's because Jaume Balagueró and Paco Plaza really love making movies — in a way that seems to have eluded the pretentious and the avaricious.