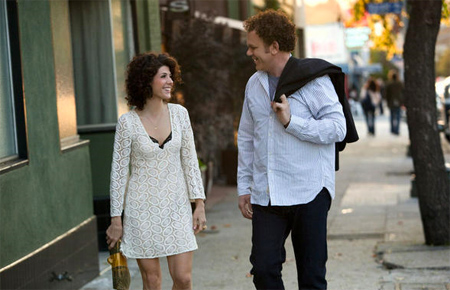 "What kind of comedy would you say that was?" said the man.
The marketing guy had observed my considerable laughter during the movie. While I don't believe in withholding my emotional response within a screening room, and while I cannot in good conscience fall into that dishonest "Oh, I loved the movie!" mode practiced by certain joyless New York film critics judging a flick after observing the collective herd, my approach does run the risk of Bernaysian collisions.
"I'll give you a hint," I said. "Albert Brooks."
Surely my insinuation would lead the man to remember the great film, Modern Romance, where Brooks played a film editor attempting to grapple with his romantic neuroses. Surely this mention would cause the gentleman to observe that John C. Reilly's character was also a film editor, and just as neurotic as Brooks. Alas, Albert Brooks, as great as he is, cannot be called "box office draw" even after the most creative fudging of the numbers. Alas, this marketing man was more concerned with general taxonomies. This was hardly a matter of artistic comparison. It was crass bean counting.
"Well, is it black comedy?" he said. "Quirky comedy?"
"Psychological," I replied, beating a hasty retreat to the elevator and hoping to consider my thoughts and feelings on the subway home.
I want to be clear that the man was perfectly nice and was only doing his job. But the idea that a "psychological comedy" — particularly one as well-made as Cyrus — can no longer be marketable is something I must object to. When we live in a world in which a self-serving BP executive bemoans wanting his life back and in which millions of unemployed individuals cannot find jobs (with their unseen plights ignored by media and government alike), it would seem to me that the need to convey American psychology is more pressing than ever. Not through marketing, but through artistic representation.
I am delighted to report that Cyrus lives up to this task. Written and directed by Jay and Mark Duplass, and featuring John C. Reilly, Marisa Tomei, and Jonah Hill in plum roles, Cyrus is one of the few American comedies in recent memory where the character dysfunction invites us to examine motivations rather than bask in base American Idol-style ridicule. It's a great relief to see the Duplass brothers reclaim reality television's handheld camera work for their film, which neither overplays its quietly empathic hand nor resists portraying embarrassing truths. This Duplassian commitment establishes itself with our first introduction to John (John C. Reilly), ostensibly in the midst of masturbation. "I have jock itch," John explains to his ex-wife Jamie (Catherine Keener), who has showed up, unannounced, to check up. It continues when Jamie invites John to a cocktail party, where "people who will stimulate you intellectually" fail to do so. After our intoxicated hero strikes out with libidinous prospects, he goes outside to pee, meeting up with Molly (Marisa Tomei), who quickly responds, "Nice penis. Go ahead. Finish up." But the two hit it off. They return inside. The Human League's "Don't You Want Me?" — which John considers to be "the greatest song" — causes John to dance and embarrass himself further. Molly joins him. Our two middle-aged heroes return to John's, where John declares Molly "a sex angel." John awakes to a note reading JOHN: THAT WAS AWESOME. CALL ME. And after Molly accepts an invitation that very evening to a home-cooked meal at John's, an impromptu relationship is formed.
"My life is really complicated right now," explains Molly. John drives out to Molly's house the next morning to knock on her door. His efforts are interrupted by the titular Cyrus (Jonah Hill), who is revealed to be Molly's son. Cyrus is a boomerang kid — one of those post-teens who clings to parental comforts rather than making a move in the real world. He's pursuing a dubious music career involving avant-garde keyboard compositions. "Sounds like Steve Miller," says John after Cyrus plays a sample. "No, it doesn't," replies Cyrus. But Cyrus has unspecified psychological problems and a morbid sense of humor. "Don't fuck my mom," says Cyrus, once the parental relationship has been laid out. "I'm just kidding," he says next without skipping a beat.
The Duplass brothers are extremely effective in using our established ideas of these actors to their advantage. Jonah Hill's warmhearted presence takes some of the edge off Cyrus. And because of this, we become tremendously curious about the hold Cyrus has over his mother. And if John were played by an actor other than John C. Reilly, we might interpret his morning drive to Molly's home as stalking. Yet Reilly is so good at maintaining an avuncular balance between loneliness and a goodhearted nature that we accept his moves.
And while Marisa Tomei is extremely good in this movie, I'm wondering just how long she'll be able to play the middle-aged woman who has seen it all and yet quietly accepts her fate. Cyrus follows The Wrestler and Before the Devil Knows You're Dead in this line. And while these films have permitted Tomei to shine, I'm baffled as to why filmmakers haven't centered their films around Tomei, rather than making her the supporting nurturer.
Perhaps the answer to that latter concern has much to do with the marketing man who accosted me during the closing credits. Fox Searchlight threw a considerable amount of cash attempting to promote Cyrus. In the week before its release, the film sponsored numerous WNYC programs. Pop-up ads invaded several major movie-related websites. Yet my conversation, which I felt compelled to note here in the interest of ethical transparency, would seem to indicate that today's studios don't see "psychological comedy" as an audience draw. That's truly a pity. Because Cyrus demonstrates why it's so important to pay attention to the smaller people around the corners. For their stories are often more fascinating than the loud explosions.