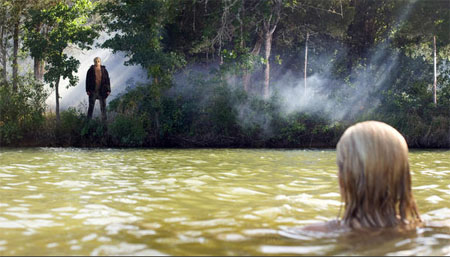 Why in the hell would anyone want to see a reboot of Friday the 13th? Well, the killings, of course. Jason has such a physics-defying command of the machete that he can stab the top of a woman's skull through the floorboards of a dock, pull the woman up with the machete so that the camera can conveniently film her tits, and then plunge her back into Crystal Lake. I'm surprised that Jason never made an appearance on Letterman's Stupid Human Tricks or Playboy After Dark.
Over nearly three decades, the people who have made the Friday the 13th movies have transplanted Jason into Manhattan, shot the undead psychotic into space, and pitted him against Freddy Krueger. But the silent and murderous hockey-mask-wearing killer is such a bore that even these "high-concept" storylines have revealed just how utterly hopeless this horror series is. Jason has spent too many years lumbering like a dopey hulk with a chip on his shoulder. He's the kind of mindless zombie who could probably use some therapy, but he never seems to talk back. Although he does stop sometimes if you're a woman who looks like his mother with the talent to shout "Jason!" in an obvious and peremptory tone. Which is too bad, because even Michael Myers — the character who Sean S. Cunningham ripped off — had Sam Loomis. And unlike Freddy Krueger, you don't even get the benefit of the wisecrack when the blood gurgles from your throat. Which seems impolite at best and a missed opportunity for full-scale vengeance at worst.
It doesn't help that the people killed are just as vapid as our intrepid murderer. Jason's victims, by and large, are dopey teens who like to fuck each other's brains out. Jason — that great American Puritanical impulse — is always there to redefine the terms of afterglow. His victims have included Crispin Glover and Erin Gray. But Corey Feldman was recast between films before he could be eviscerated for popular audiences. At least there's some more explicit sensuality in this film. Characters jack off to Hustler (and a winter catalog, of which more anon) and, put their noses close to bottles of alcohol and marijuana crop. Presumably, this permits them a last fix of living in lieu of the Krueger bon mot. Oddly enough, nobody in this film smokes cigarettes. I can really see Jason making a mortal statement on behalf of the Surgeon General.
So what do director Marcus Nispel (who also remade The Texas Chainsaw Massacre) and writers Damian Shannon and Mark Swift bring to the formula? One of the most deafening sound mixes I've ever had the misfortune of being subjected to. Nispel is so incompetent at executing a proper shock that he's had the sound designer on this show crank up the volume at the highest fucking decibel level. And this is perhaps a worse crime than the feds blasting heavy metal to ferret out Manuel Noriega. He's even added in inexplicable whooshes of the flashlight. So be sure to bring your earplugs. That is, if you haven't lost your hearing already. (And perhaps that's the demographic this film has been designed for.) There's also been an effort to incorporate present technology into this movie. You've got your GPS systems, iPods, and the cell phones that malfunction at convenient moments. Jason now has a mine beneath the dilapidated camp, where a victim has been held for six weeks and still manages to have impeccable hair and makeup. I presume that Jason has offered full continental breakfast service between murders. Or maybe she was fed and kept hydrated by the random rats running around.
We also meet some of the people who live around Crystal Lake, which include a redneck stereotype fond of smoking and dealing weed and permitted to live until Jason feels the need to kill him to obtain his hockey mask. (That great Puritanical impulse again. The redneck stole the weed from Camp Crystal Lake.) And I'd hate to be employed as the poor cop, who doesn't seem to be fully aware that there's been a major spike in disappearances and murders. There's product placement for Pabst Blue Ribbon and Aquafina, explicit in the dialogue, which I believe may be a first for the Friday the 13th series. The murky photography is perhaps the grainiest of any of the Friday the 13th films. The dunces who shot this movie don't seem to understand that low light, high speed stock, and silver halides aren't the best combo.
Perhaps the film's greatest innovation is the introduction of racism to the Friday the 13th series. We've come to expect sexism. But here, we get a token Black Guy and a token Asian Guy (and I hope that Angry Asian Man will be on the case with the latter). There's initially some promise with the former, as he confronts a white woman who assumes that his music career involves rap. "Because I'm black, I can't listen to Green Day," says the Black Guy. And there was a brief moment in which I thought to myself that the filmmakers might actually subvert the formula. Alas, Caucasians are the only ones who get down to business in this movie. Our Black Guy, hearing all the white people getting lucky upstairs, is forced to sift through a winter catalog so that he can masturbate to a rich-looking white woman. And he doesn't even get the consolation of ejaculating. For the door is opened, the Black Guy zips up his pants, he rushes out to look after his friend, and is then axed (asked?) in the back by Jason, wailing at the top of his lungs for his friends to save them. Well, they never do. He's bait, you see. And Jason turns him around and punctures the axe through the front of his chest. The brother always gets it.
The Asian Guy appears inspired from the Long Duk Dong stereotype in Sixteen Candles. He drinks from a shoe and is mocked for purchasing condoms at a store. He knows how to fix things. And even the Black Guy persuades all that he knows how to fix things. (Presumably, the Asian Guy operates a rickshaw business too.) He expresses sexual interest in one of the white girls and, as he's about to down a flaming shot, he's too clumsy and falls over. He is mocked further. And then he goes out, drinking directly from a bottle of scotch, and is found chopped up in a meat locker.
So if you're white, you'll get laid. In the view of Nispel and company, you are the bacchanalian master race. And you have to hand it to Nispel and his collaborators for making Crystal Lake a world where the whites win. Where douchebags named Trent may whimper like a coward when faced with death, but inevitably get cowgirls bouncing up and down on their cocks.
I wouldn't be surprised if Friday the 13th becomes a big hit among Ku Klux Klan members. It does succeed at upping the stakes in the Friday the 13th series, but then the stakes were atavistic in the first place.