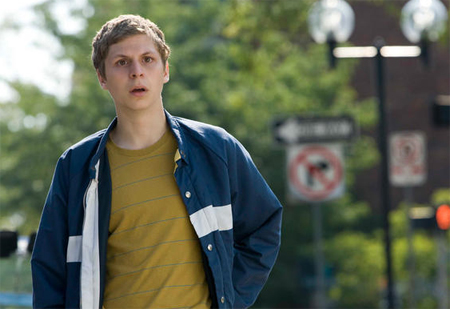 Michael Cera, a reedy actor known for grilling his thin mix of thespic tricks into crepe-like pipsqueaks quietly braying the predictable coups de foudre, is not necessarily a man to be disliked. But there doesn't seem to be a filmmaker with the guts to discourage his predictable instincts.
Miguel Arteta would seem to be that man. The director has served up a commendable body of work (the underrated Chuck & Buck, The Good Girl, and episodes of Six Feet Under and The Office) reflecting his knack for getting quirky and engaging performances from his cast. But it does not follow that, just because you affix a beret and a moustache onto Cera's boyish poise, you will be guaranteed a performance that treads beyond established terrain. These sartorial embellishments, which emerge with Cera's unconvincing puffs at jaspers, are intended to create an imaginary alter ego to Cera's established protagonist. But the results demonstrate that Cera lacks the possibilities of an Elijah Wood, coaxed into enjoyable cartoonish viciousness by Sin City's Robert Rodriguez.
The Cera predicament is especially troubling for Arteta's latest film, Youth in Revolt, which, my Cera criticisms aside, is a fairly engaging diversion — one that caused me to laugh, even when the needlessly condescending interstitials (various animations, disastrously calculated to appeal to some misunderstood Williamsburg demographic) threatened to uproot the delicious anarchy buried beneath. These concessional interludes caused me to wonder whether a few nonconformist kinks were ironed out during the reported reshoots early last year, and whether a more dangerous film, truer to C.D. Payne's subversive source material, was lurking under the restitched seams. The film business, being as secretive and as protective as it is, will no doubt stay mum on this point.
Cera plays Nick Twisp, a teenager who is "a voracious reader of classic prose" and who likes Frank Sinatra. He complains that he lives "in a city filled with women who have zero interest in me" (honestly, in Berkeley?) and is mercilessly ridiculed when he rents La Strada from a video store. His mother has a taste for dumbbell fuck buddies (the first played by Zach Galifianakis, a noisy neo-Belushi whose supporting comedic turns I am becoming rather fond of). The promised Summer of '42 moment emerges with a girl named Sheeni Saunders (played winningly by relative newcomer Portia Doubleday), who takes to Twisp's naive disposition and expands her lips further after he unleashes an alter ego: a lumpen lothario named Francois Dillinger, the alter ego I quibbled with above.
Dillinger persuades Twisp to do bad things. Arson with $8 million in damages. A ruse involving sleeping pills. All in the service of winning Sheeni's heart with dangerous behavior. Much of this is fun, but Cera's plodding one-note performance prevents this gleeful mayhem from living up to the disastrous possibilities of a Frank Oz-directed comedy.
It is troubling that Arteta casts so many of his supporting actors right, while failing to elicit much out of Cera. Adhir Kaylan nearly steals the movie as Twisp's pal, Vijay, imbuing his character with romantic neuroses that are far more plausible than anything Cera has to offer. Fred Willard is cast as a naive and burned out activist, and demonstrates once again that he's brilliant at getting inside the surprisingly dimensional mentality of a clueless buffoon. I failed to mention that Jean Smart, who can do little wrong, plays Twisp's mom. Even Steve Buscemi manages to show up as Twisp's dad.
There are also some amusing oddball moments, such as Sheeni's father revealed to be a lawyer, who proceeds to cite conditional legalese when Twisp arrives to hang out with Sheeni. Sheeni's family lives in a preposterously baroque trailer with multiple floors. And in a surreal flourish, a car, for reasons that I won't divulge, is trapped within the Twisp living room.
Many of these eccentricities existed in Payne's novels, and they have been adapted well by screenwriter Gustin Nash (and uncredited polisher Mike White) into the requirements of cinema. It's just too bad that Cera isn't up to the material's feral exigencies, and that Arteta (or some other unknown production force) has neutered the promise of a teen comedy as reinterpreted by Preston Sturges. This film is very good in spots, but why diminish the insanity?