On June 11, 2020, Hope Wabuke — a distinguished Ugandan American poet who was on the National Book Critics Circle board — published screenshots from a disturbing internal conversation that involved how the NBCC would respond to Black Lives Matter. At issue here was how a seemingly august body of professional book critics would answer to recent events. One board member — a man by the name of Carlin Romano, who once opened a review expressing his fantasy of raping a woman author — was determined to "speak up" and claimed that he wasn't the only board member who felt that racism and police brutality didn't particularly concern him.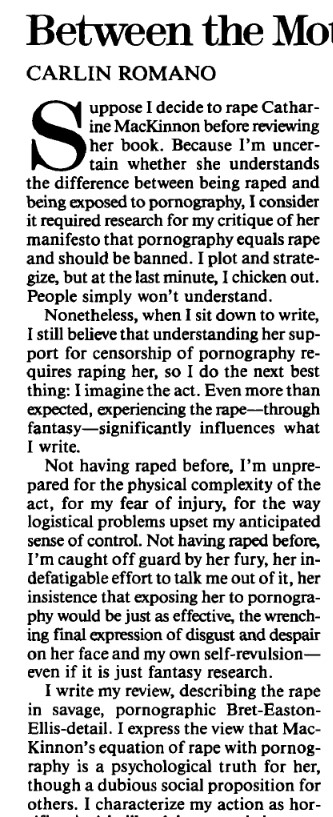 Romano took umbrage with the idea that white gatekeeping "stifles black voices at every level of our industry," declaring this to be "absolute nonsense." Never mind that The New York Times recently reported that the esteemed author Jesmyn Ward had to fight for a six-figure advance even after winning a National Book Award. Never mind Malorie Blackman sharing details about how a publisher had rejected a novel because a story featuring two black magical siblings wasn't "believable." (Meanwhile, Knopf publishes white author John Stephens's The Emerald Atlas, which features three white siblings engaging in magic, to say nothing of the family-oriented magic contained in white author Alice Hoffman's Practical Magic books.) Never mind that Dorothy Koomson tweeted on June 2, 2020 that her books were rejected because they "weren't about 'the black experience'" and how she was asked to make characters racist. No, as far as Romano was concerned, the struggles that African-American writers face to tell their stories was "ridiculous," despite numerous examples.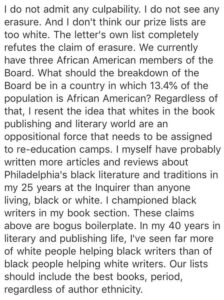 Romano got even uglier, claiming that black writers would "never have been published if not for ecumenical, good-willed white editors and publishers who fought for the publication of black writers." Amber Books? Black Classics Press? Third World Press? Triple Crown Publications? Life Changing Books? Any of the far too few African-American publishers who have stepped up to redress the systemic racism that the largely white-owned publishing industry has failed to remedy? That Romano applies "ecumenical" to his atavistic statement says much about his condescending views of writers of color. Apparently, in his view, any publisher who puts out a worthy novel that happens to be written by an African-American is an act of charity rather than an act of merit. James Baldwin? Toni Morrison? Octavia Butler? Ta-Nehisi Coates? Well, you're lucky that your ass got through the door because Whitey decided to let one or two of you through the gates. Does Romano's repugnantly racist sentiment here not reinforce the problems of white gatekeeping and not buttress the need for any and all literary organizations to be more inclusive? As far as Romano was concerned, the fact that countless people of color had to fight to be published — despite the fact that African-American novels have continued to be financially successful (Samuel R. Delany's Dhalgren sold one million copies, Alice Walker's The Color Purple sold five million copies, even Ann Petry's The Street selling one million copies in 1946, the list goes on) — did not get in the way of his sentiment that black people needed to be fawning and grateful, much in the manner of slaves, to white publishers. Romano doubled down on this racism by writing, "In my 40 years in literary and publishing life, I've seen far more of [sic] white people helping black writers than of people black people helping white writers." In other words, Romano believes that black people should devote their already disadvantaged positions to spending all their time promoting white writers.

In short, Romano articulated in very clear terms just what he wants the system to be. And his deplorable viewpoint here is no different from an antebellum slaveholder. Romano's despicable vision is this: White editors serving as gatekeepers. Black authors dancing with joy at the honor of having their neutered visions "represented." Romano's statement is, in short, a racist screed against literary merit and inclusiveness. That Romano cannot acknowledge any white bias that has prevented great literature from being published, even as he demands that African-American writers jump up and down over concessions that their white counterparts would never have to face, is nothing less than a pompous white xenophobe revealing his true colors.
But Romano didn't stop at mere racism. It is a common truth that atavistic barnacles like Romano often feel the need to tout their own superiority, irrespective of its shaky foundations. In perhaps the most risible part of his vulgar message, Romano claimed, "I myself have probably written more articles and reviews about Philadelphia's black literature and traditions in my 25 years at the Inquirer than anyone living, black or white." Do you hear that, Black Writers Museum? Do you hear that, African American Children's Fair? Do you hear that, Hakim's (the oldest Philly black bookstore, since 1959)? Even though all of you have done far more for black Philadelphia than Romano, Romano wants you to bow down at his professed magnanimity! It's Romano who's doing the heavy lifting here, not you!
One would think that the NBCC Board of Directors would instantly denounce such atavistic viewpoints. But President Laurie Hertzel, a white woman who would appear to be the NBCC's answer to Amy Cooper, was nothing less than fulsome about these backwards views. She claimed, "Your objections are all valid, of course." She also claimed that Romano's views "shine unlike anyone else's."
I emailed Hertzel about her unquestioning support of Romano's racism. She replied, "Rest assured that I do not and have not endorsed anyone's racist comments."
In other words, Hertzel and nearly the entire NBCC board are not so much interested in looking inward as they are gaslighting the narrative entirely. Nor can the NBCC actually name and hold Romano accountable — as was seen in this self-serving and half-hearted announcement posted on Thursday night.
I attempted to contact many of the NBCC Board of Directors — in large part because the only board members to acknowledge the exchange and take something of a stand against this racism were Carolyn Kellogg and Richard Z. Santos.
The remaining twenty NBCC Board Members have said nothing. In fact, shortly after I contacted Michael Schaub about his neglectful duties to stand against racism, this self-serving Texan, who was recently criticized for his insensitivity to trans human rights, blocked me on Twitter.
The NBCC Board has a duty to denounce Romano's racist remarks. With their silence, one can only conclude that the following National Book Critics Circle board members are more than happy to uphold systemic racism. Systemic racism butters their bread. It ensures that they can continue to get gigs. That these people fail to call out racism and that refuse to do so even as Party City has done a better job firing racists speaks to their willful and open advocacy of white supremacy in the National Book Critics Circle.
Here is a list of the NBCC Board Members who presently advocate racism and white supremacy with their silence:
Laurie Hertzel, NBCC President
Kerri Arsenault, VP Awards
Jane Ciabattari, VP Events
Connie Ogle, VP Communications
Carlin Romano, VP Grants
Michael Schaub, VP Online
David Varno, VP Tech
Marion Winik, VP Treasurer
Jacob Appel
Colette Bancroft, The Tampa Bay Times
Gregg Barrios
Lori Feathers
Charles Finch
Megan Labrise
Jessica Loudis
John McWhorter
Katherine A. Powers
Madeline Schwartz
Elizabeth Taylor
Should any of the above individuals make a public statement against Carlin Romano and the NBCC's systemic racism, I will remove them from the list. But I doubt that any of them will.
[6/12/2020 10:15 PM UPDATE: The NBCC Board page has dropped the following names: Laurie Hertzel, Connie Ogle, John McWhorter, and Katherine A. Powers. Presumably, these are the other four Board members who have resigned. Hertzel has also deleted her Twitter account.]
[6/15/2020 12:00 PM UPDATE: This morning, Carolyn Kellogg announced on Twitter that she had resigned from the Board. She cited "microaggressions and delays" in advance of drafting the Black Lives Matter statement. She also noted that the Board, instead of focusing on Romano's racist sentiments, "focused on Hope's breach of confidentiality in sharing a damning account of a poetry prize discussion." Additionally, Kellogg noted that Hertzel called for the board to be dissolved following Wabuke's leak. Following this call to dissolve the board (and efforts on other members' part to facilitate discussion), Hertzel and two other members resigned in protest — not because of Wabuke's concerns about racism, but because of the breach in confidentiality. Three more people — including Kellogg — have now resigned, including David Varno.
The instigator for this imbroglio was Romano. Romano has threatened to sue the NBCC and, according to Kellogg, even "shouted down a new board member on a Zoom call."
Romano remains on the Board because the current NBCC bylaws, which can be found at this link, prevent the board from removing a member. The only way to do so is through a special meeting, which the bylaws declare can be called upon at the request of the president (for which the NBCC does not presently have one), any vice president (who would presently include Kerri Arsenault, Jane Ciabattari, Carlin Romano, Richard Z. Santos, Michael Schaub, and Marion Winik), or any five directors. As of early Monday afternoon, there has been no movement to call a special meeting. (UPDATE: Santos also noted that genera members can also call for a Board Member's removal.)
As such, until there is a special meeting, Romano will remain on the board until 2022.
Kellogg concluded her message by stating, "I want to go on to point out that as the sole Black woman on the board, Hope should have been given extra support and liberty in leading our effort to craft an anti-racism statement. She was not."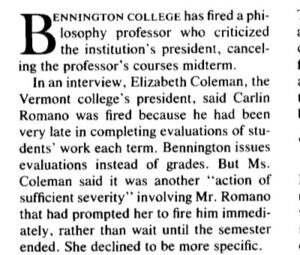 Further investigations into Romano have revealed a troubled history of abusive behavior. According to Ellen Akins, a friend of Hertzel's, Romano went out of his way to target Hertzel, who is not a confrontational person. According to The Chronicle of Higher Education, in 2000, Romano was fired from his professorship at Bennington due to an "action of sufficient severity" directed at the president, Elizabeth Coleman. An insider at Ursinus College has also reported that there are numerous stories about Romano's misconduct there.
Should anyone wish to share any stories about further Romano incidents, feel free to email me at ed@edrants.com and I will offer an update. Unless you specifically give me your consent, any and all communications with me will be kept in confidence.]
[6/15/2020 12:45 UPDATE: Ismail Muhammad, one of the board members who was actively working for diversity within the NBCC, announced his resignation from the board shortly after Kellogg's announcement. He offered further details about what happened: "We were on the verge of winning a vote to release that statement by a solid majority, when Carlin Romano, at the last minute, derailed the process."]
[6/15/2020 1:30 PM UPDATE: In an article filed by PW's John Maher, some new information has come to light. Anonymous board members noted that of the five members who resigned from the board (Hertzel, Victoria Chang, John McWhorter, Connie Ogle, and Katherine A. Powers), only one did so in support of Wabuke. The remaining four did so because of the breach in confidentiality. We know that this was Hertzel's reason. So that leaves three inside Chang, McWhorter, Ogle, and Powers who resigned in opposition to Wabuke.
Amazingly, Romano himself is quoted in the article. In relation to the lawsuit threat, Romano said that he "alerted the Board I might sue it if I'm voted off the Board in violation of our bylaws and commitment to free discussion." He denied shouting down the new board member, merely claiming, "We talked over each other at one point."
Despite the racist tenor of Romano's email, Romano claimed, "I'm not racist and I'm not anti-black. Quite the contrary. I just don't check my mind at the door when people used to operating in echo chambers make false claims. A few Board members in recent years have sought to turn the Board, for decades committed to fair-minded judging of books from every political stripe, into a 'No Free Thought' zone, an ideologically biased tool for their own politics. In my opinion, they oppose true critical discussion. Good riddance to any of them who resign—the NBCC will be healthier without them. I'll attempt to stay on the Board, despite concerted opposition, in the hope that I can help NBCC return to its earlier, better self."]
[6/18/2020 UPDATE: Michael Riley, President and Editor-in-Chief of The Chronicle of Higher Education, was good enough to confirm with me that Romano is not involved with his august publication: "Carlin Romano has not written for The Chronicle of Higher Education since 2018, and, while he was a critic-at-large for The Chronicle a long time ago, he has not been in that role for many years. He holds no official title or standing with The Chronicle."]