Every time Chuck Todd says something particularly idiotic (which is about 74% of the time that he's on camera), my 2019 Todd takedown, in which I outlined Todd's considerable mediocrities and his wholesale lack of qualifications in lively vitriolic style, goes viral on Twitter. But now that I've seen how Peter Alexander — another dim bulb at NBC News who inexplicably hasn't been replaced by the janitor — has used his Twitter audience of more than half a million followers to whip up conjecture and unsubstantiated rumors as a vital investigation into an attempt to overthrow the government is underway, I'm wondering if the problem isn't so much Chuck Todd, as it is the way that NBC newsroom culture continues to tolerate piss-poor "hot take" "reporting." I mean, just look at the man's eyes. It's clear that he was manufactured in a hatchery. Has this dullard ever had an original thought or a big scoop? One rarely encounters this level of innate dudebro vacuity outside of aspiring Wall Street sociopaths meeting for an early lunch at some otherwise charming Water Street bistro. But it does tempt me to posit a thesis. NBC News is apparently the ideal place for any mediocre man to rise up the journalistic ladder with the speed of the Parker Space Probe. Not only can you get away with mediocrity. You don't even have to practice journalism at all!
Here was the "big scoop" from Alexander the Far From Great: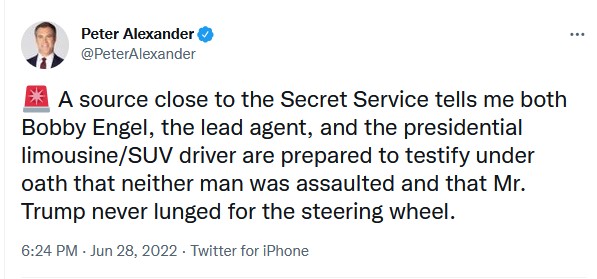 If I told you that "a source close to a prominent DC sex club has told me that Peter Alexander is a bottom who enjoys being flogged every Friday night by tall men who weigh over 300 pounds to the point of profuse bleeding and to the point where Mr. Alexander yells, 'Keep going, big boy! I want to be Phyllis Schlafly's he-bitch!'" you would rightly ask, "Well, wait a minute there, Ed. Why didn't you confirm this with Alexander or the club owner?" Or you would ask me what that source is. Or you would ask me what my journalistic motivations are. But because Alexander works for NBC News, his journalistic malpractice — fueled by the type of Bob Woodward "on background" sourcing that he wishes he were capable of — is completely sanctioned by institutional incompetence. Never mind that Secret Service agent Bobby Engel has already testified before the Select Committee behind closed doors and that a professor of law at NYU has already stated that Cassidy Hutchinson is consistent with what Engel has already said. For a low-class Trump rentboy like Alexander, the truth doesn't matter.
That Alexander is both arrogant and stupid enough to believe that a Select Committee assembled to expose Trump's wrongdoing would not go out of their way to get it right after two unsuccessful impeachments says everything about Peter Alexander's pathetic and desperate lunges towards relevance. It's the kind of bullshit that would be roundly denounced by other journalists (and where is that aging and fatuous gasbag Jack Shafer on Alexander?) only five years ago. But I've been waiting for other journalists to call this self-serving turkey out. And they haven't. So I guess it has to be me. Again.
In the eyes of a grasping and hopelessly corrupt opportunist like Alexander, any form of hearsay is fair game. And sure enough, the right-wingers have scooped up Alexander's "alternative facts" with all the hunger of a starved beaten-down puppy who just wants to be loved but who will likely die in a ditch because it can't meet the adorable criteria.
This isn't the first time that Alexander has tilted at windmills (though without quixotic flair). Just two months ago, as White House Correspondent, Alexander inserted a desperate hoot into a garden-variety dismissal of Republicans by President Biden. Knowing that he didn't have a story, Alexander tried to manufacture a story through a belabored hem that wouldn't pass muster at community theater.
And now he's done it again. Except that the deplorables who wrap their fat idiotic asses in the Confederate flag are lapping this Alexander tweet up as the smoking gun — despite the fact that Alexander's "scoop" is the epitome of laziness. But Alexander is doing this not only because he knows it gets him inflated attention and artificial "hits" that are the new standard of "success," but because he knows that NBC News will do nothing whatsoever to reprimand him. The only way that Alexander would suffer serious repercussions for his malfeasance (and even do some serious soul-searching) is if we lived in the Time of Icarus.
[6/30/2022 UPDATE: Snopes has now weighed in on L'Affaire Alexander and debunked his story as "False."]
[7/1/2022 UPDATE: While Peter the Scumbag was busy coasting on his illusory "source close to the Secret Service" rumor to gain traction, CNN was doing actual reporting and talking directly with multiple sources at the Secret Service, who confirm and corroborate Cassidy Hutchinson's testimony. It's mind-boggling that a tenth-rate amateur like Alexander still has a job.]