[This is the second in a series of posts relating to the 2009 New York Film Festival.]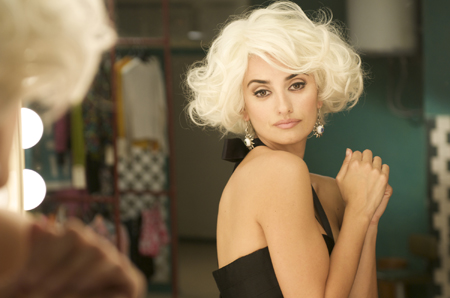 There once was a time in which I flocked to a new Pedro Almodovar film with a mad and unstoppable gusto, wondering just what iconoclastic ideas Almodovar would unleash upon the screen. You never knew if you were going to get an extended rape scene brazenly challenging gender assumptions (the notorious sequence in Kika) or Antonio Banderas confronting some dormant and out-of-left-field sexual feelings (well, just about every Banderas-Almodovar road show). But then came All About My Mother, a perfectly respectable film that softened Almodovar and revealed that there was a pedestrian melodramatic filmmaker underneath the madness. Almodovar, like many filmmakers in their fifties, lost his bite. And all he had left was the lachrymose material.
And it is my sad duty to report that Broken Embraces represents more of the same. Broken Embraces may offer a film within a film (Girls with Suitcases) that bears suspicious similarity to Almodovar's Women on the Verge of a Nervous Breakdown. Girls with Suitcases is intended to be Mateo's masterpiece, maligned by other hands. But when we actually see the footage, even the good takes that Mateo approves of aren't particularly funny. And Almodovar falls into the all-too-common artistic trap of having other characters comment upon how brilliant and side-splitting an alleged comic masterpiece is, without injecting hilarity into the material itself. "Films have to be finished," remarks a character at Broken Embraces's close. And it's something you do blindly. But is Almodovar really all that blind?
Here's a filmmaker fond of staging dialogue scenes by dollying the camera from character to character, instead of panning. Here's a filmmaker fond of split diopters. Here's a filmmaker who gets winning performances from his two leads. Here's a filmmaker who can make a half-decent film in his sleep. So why does Broken Embraces feel like Almodovar settling for something less? Even a moment featuring a DJ doing drugs, with the obligatory MDMA reference, feels as if it's been directed by a guy who hasn't set foot in a club in at least a decade.
Almodovar certainly tries to inject his contrived story with a few interesting elements. He gives us filmmaker Mateo Blanco (winningly played by Lluís Homar), blinded by an automobile accident and denied his visual strengths. He also gives us a lip reader hired by a wealthy businessman named Ernesto Martel to make sense of secretly videotaped video. There's the hint here of a broader moral dilemma concerning the relationship between sensory limitation and media saturation. Is Mateo really blind? When a mysterious stranger knocks on Mateo's door, Mateo looks through the door's eyehole. And we're left to wonder whether Mateo is playing a role, just as the actors he once cast in his films played a role. (In the case of Penelope Cruz's Lena, it's an Audrey Hepburn wig.) We believe initially that the film itself may be using melodramatic elements to uproot our expectations. Unfortunately, Almodovar doesn't quite follow through. It turns out that Mateo really is blind. And the roots of his blindness, both literally and metaphorically, are pounded home with all the subtlety of a jackhammer filling in for a clock radio at an early morning hour. Secret lovers? Check. Cliched fuck bunnies? Check. Animalistic sex scenes? Check, but the feral nature of these scenes just doesn't ring true. Almodovar's promising subtext subsides for an easy-to-guess storyline that is all about his father figure.
Almodovar's strengths have worked best when there's a natural edge and energy laced within his narrative. It's not so much the story elements that have mattered, but the way in which Almodovar's characters disclose wholly unexpected personality qualities at moments we can't possibly predict. For Broken Embraces's first 30 minutes, Almodovar comes close to these instincts. He has Mateo (now in the self-made role of Harry Caine, a screenwriter who pretends to be a former adventurer) bed an attractive woman who has helped him cross the street. The camera dollies along the edge of a couch, eventually focusing on this woman's raised foot and painted toenails, which fall beneath this line of demarcation upon seismic satisfaction. It's a typical Almodovar moment: fun, perverted, and wildly improbable. One detects the indelible fingerprint of a younger and hungrier Almodovar. But this regrettably subsides to a pre-Internet flashback to the early 1990s, where Mateo falls in love with Lena, who is Ernesto's mistress and the father of Ernesto, Jr., known in the present day as Ray X. Get it?
I was complaining on Twitter this morning about the needlessly bleak programming in this year's New York Film Festival. I'm certainly not against depressing films, but the human spectrum also includes hope and felicity. But Broken Embraces's "comedy" feels stale and septuagenarian. And if Broken Embraces is the "comedy" to balance out all the heavy and esoteric dramas, then I suspect that this year's programmers are probably humorless and terrified of letting anyone know that they enjoy ice cream. I don't think it's Hoberman's fault. And for all I know, the insufferably smug Scott Foundas might even have a few decent jokes in him. But Broken Embraces isn't comedy in the way that great films are comedy. It feels more like a Golden Girls rerun, which is strange given Penelope Cruz's presence. It's something you tolerate because nothing else is on. But you know deep down that Almodovar can deliver more. Let us hope he doesn't calcify like Woody Allen.
* * *
On October 7, 2009, the New York Film Festival held a press conference with writer/director Pedro Almodovar and star Penelope Cruz. To listen to the press conference, as recorded and mastered by Edward Champion, click on the podcast below. Almodovar answered questions in both English and Spanish, with English translation provided by Richard Peña.
Press Conference: Pedro Almodovar & Pedro Cruz — October 7, 2009 (Download MP3)
This text will be replaced