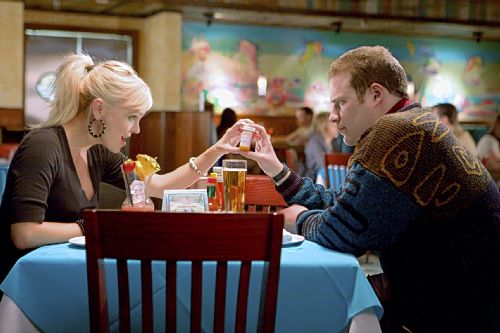 Observe and Report's most memorable moment involves the appropriately named Randy Gambill's penis, which flaps in slow motion beneath Gambill's developing pot belly as Seth Rogen chases him in a mall. Gambill, who the IMDB reports is making his big screen debut with this scrotal ballet, is not an actor of much range. His character has spent a good portion of the film flashing people. And now he has flashed us. I was neither shocked nor offended by Gambill's flaccid member, but I must commend Gambill and writer-director Jody Hill for going out of their way to give us a flapping penis in a mainstream comedy. Alas, the moment is neither funny nor amusing. Indeed, the penis here is quite gratuitous. It simply just is. Beyond pushing the penis camera time beyond Graham Chapman's famous flash in Life of Brian, the penis remind us that we're watching a film that may have been cooked up in a locker room. (To give you a sense of the stillborn thrust here, let's dispense with Gambill's penis and observe how disarming it is to see a grown and limited man like Gambill act like a predictable teenager.) The penis bouncing up and down in this mall scene is not really a revolutionary act, but it does tell us that the moment in which dicks are afforded the same cinematic exposure as breasts is inevitable. Cocks are coming to middle America whether the red states like it or not.
I just wish that the occasion for the third leg peek was more momentous. This movie isn't an outright travesty. I've seen many films that are worse. Whoever cast this movie was smart enough to give Collette Wolfe a thankless role as a handicapped employee who gives Seth Rogen his free daily coffee. But Wolfe is good enough to transcend the material with her eyes and her winning solicitude, even if her doting over a jerk is sexist and stereotypical. I am, however, losing patience with Anna Faris's overacting, particularly with the eye-bulging and chronic face-expanding that is less about making the other actors look good, and more about hijacking a scene for attention. Faris appears destined to play Scary Movie-like bimbos for the rest of her career and she makes Drew Barrymore's occasional hysterics look like Meryl Streep's subtle craftsmanship. I've set down my issues with Ray Liotta's acting before. The man once again keeps his mouth hanging open through most of the movie, and the audience feels compelled to bolt Liotta's mandible in place. Nevertheless, before Liotta explodes on Rogen, he's actually somewhat interesting as a contained cop trying to stay professional.
As for Seth Rogen, I should note that I've performed my constitutional duties. Without really trying, I have seen a good number of the films in which Rogen has played a prominent or supporting role. I have seen Zack and Miri Make a Porno, Pineapple Express, Knocked Up, Superbad, and The 40 Year Old Virgin. And I have liked the majority of these films. But the upshot is that Rogen does the same schtick every time: that chortle suggesting a cross between Beavis and Butt-Head and some avuncular fortysomething in the making watching the last of his twenties wash away and that deep voice sounding like a harmless Canadian stoner. In fact, it's fairly effortless to impersonate Seth Rogen. I should report, in the interest of cultural journalism, that a friend and I recently had a twenty-minute conversation, both of us doing Rogen, one of us hungover. Scholars believe that just about any male living in North America can impersonate Rogen, rub his belly, walk, and chew bubble gum at the same time. I don't really have too many problems with Rogen, but I have a feeling that if he doesn't shake up his routine in the next few films, his audiences will lose patience with him. Needless to say, Observe and Report doesn't really give Rogen much to do except, well, play a slightly more psychotic version of Seth Rogen. (The psychosis, of course, is underdeveloped and makes no sense. For example, Rogen effortlessly kils six criminals at one point, but he evades arrest? Rogen takes on the entire police department single-handedly, but he's still allowed to walk the streets? I guess, if you're a Seth Rogen character in a movie, you can rape some random stranger's pet at a Starbucks and invite all surrounding children to join in a bestial gangbang. And you'd still be able to get away with it.)
So, yeah, the movie here is pretty bad. It has some promising ideas, such as Rogen cracking skateboarders over the head with their skateboards, but it has no clue about how to make these ideas funny. To offer one example, there's a moment in which cop Ray Liotta and rent-a-cop Seth Rogen are talking with a Spanish-speaking employee, hoping to find out who is robbing the mall. Rogen is jealous of Liotta's attention and gets more frenetic. He claims to know Spanish, but he doesn't. Jody Hill could have had Liotta effortlessly speak Spanish to the employee and then escalate the conflict between the two characters. With one simple decision, we then would have zeroed in on the conflict. How does a screwup like Rogen operate in a world in which calm competence like Liotta's is valued? (And had Liotta not freaked out, then Jody Hill would have reversed our expectations. For nearly everybody associates Liotta with his crazy or psychotic roles.) But Jody Hill doesn't understand that Rogen's appeal lies in the audience's capacity to relate to him. Instead of giving the audience what it wants, he simply has Rogen go crazy (the violence described above) and it's just not funny.
Having not seen Paul Blart: Mall Cop (I presume its success will unleash an endless spate of mall cop movies in the Police Academy vein), I cannot make any serious artistic comparisons between the two films. But Observe and Report has a flapping penis and Paul Blart doesn't. Given this superficial criteria, I can probably make the wholly uninformed conclusion that Observe and Report may be a better film. The film has the courage to flap a penis, but it doesn't have the courage to push Rogen beyond type.