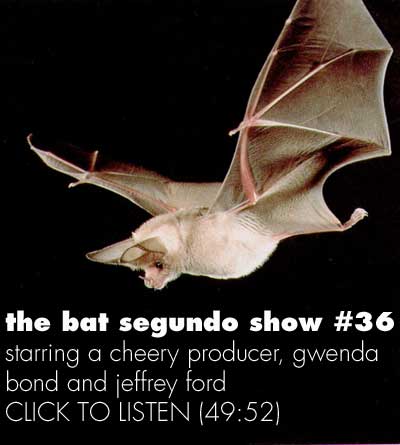 Authors: Gwenda Bond and Jeffrey Ford (LBC nominee, Spring 2006)
Condition of Mr. Segundo: Absent, abstaining from Bolshevik operations.
Subjects Discussed: On writing a book with "everything but the kitchen sink," baroque vs. simple language, the influence of Hammett, Glen David Gold's Carter Beats the Devil, Rex Stout, creative serendipity, eugenics, on "playing it safe" in light of the extraordinary research unearthed, the "literary" inspiration behind the character names, Rupert Thomson, auctorial voice, on being a student of John Gardner, confrontational vs. direct prose, Sturgeon's law, Harlan Ellison, on young writers drawing attention to themselves, Chuck Palahniuk, beleaguered college students, Dave Itzkoff's "reading list," the influence of the New York Times Books Review, The Girl in the Glass being pigeonholed as a young adult novel, reviewers overanalyzing the word "mawkish," and genre classification.
© 2006, Edward Champion. All rights reserved.