"Turn Left" isn't quite as appalling as last year's "This didn't really happen" two-part Doctor Who finale. But it's still filled with Russell T. Davies's insufferable complacency. There doesn't appear to be much of a purpose to this episode, other than for Davies to remind the Who fans just what he's given them. It reminded me of the childish "Dimensions in Time" promotional nonsense that John Nathan-Turner was once deservedly ridiculed for, but that Who fans now accept without question. (I also don't think it was an accident that we were given a moment in which the TARDIS was gutted by Torchwood, with numerous wires and cables affixed to the dying police box. There seemed something metaphorical here about Davies's relationship with the show.)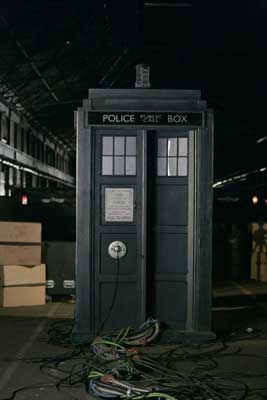 Now I'll give Davies last week's "Midnight." Once you got past that episode's first ten minutes of touchy-feely nonsense (Wow! A lesbian!), Davies did spin a half-decent claustrophobic yarn, helped in part by Alice Troughton's crisp direction and the fascinating bigotry channeled by David Troughton. But let's face it. On the whole, Davies's writing contributions have amounted to little more than camp, politically correct casting, and speculative fiction premises that are about as cutting-edge as a Betty Crocker recipe unleashed at an Eisenhower fundraising event.
"Turn Left" reminds us of the reprehensible fat blob babies from "Partners in Crime," the disappearing hospital from "Smith and Jones," and numerous other references to the last four years that suggest deep import. But it's been Paul Cornell, Mark Gatiss, Robert Shearman, and Steven Moffatt's scripts that have offered originality and intelligence, and have kept the show rolling. (The less said about Helen Raynor's "give the people what they want at the expense of Who mythology" two-parters, the better.)
That insectoid on Donna's back was about as convincing as a leftover prop from a Roger Corman cheapie. Hell, Alpha Centuari, that silly six-armed alien from the Pertwee Peladon stories, was more convincing. And you want to know why? Because at least that silly supporting character had heart. The unspeaking insect was utterly ridiculous in its purpose and its motivations. "Turn Left"'s premise, complete with the insultingly pedestrian paradox presented in the episode's title, was bullshit. We're expected to believe that the Doctor wouldn't regenerate after being smitten down by a spider queen. Never mind that the Timelord was able to regenerate after being poisoned by spectrox toxaemia. Rose Tyler appears from another universe that she was supposedly trapped in without any reasonable explanation. And it has long been clear to anyone watching the show that the Doctor is useless without his companions. So why ramrod this point into the audience's noggins?
Next week sees the first of a two-part finale featuring Captain Jack, Daleks, three companions, and a partridge in a pear tree. It too is written by Russell T. Davies. And I fear the worst. I hope that some of the "Midnight" special comes through. But until Russell T. Davies is gone permanently, I suspect that I will be forced to drink copious amounts of bourbon to cope with Davies's unpardonable tamperings.